Hiking in the desert comes with its own unique set of challenges. Whether you're planning a Death Valley trek, climbing at Joshua Tree National Park or even going overseas to places such as the Atacama Desert, you'll need to be physically prepared and make sure that you have the correct gear.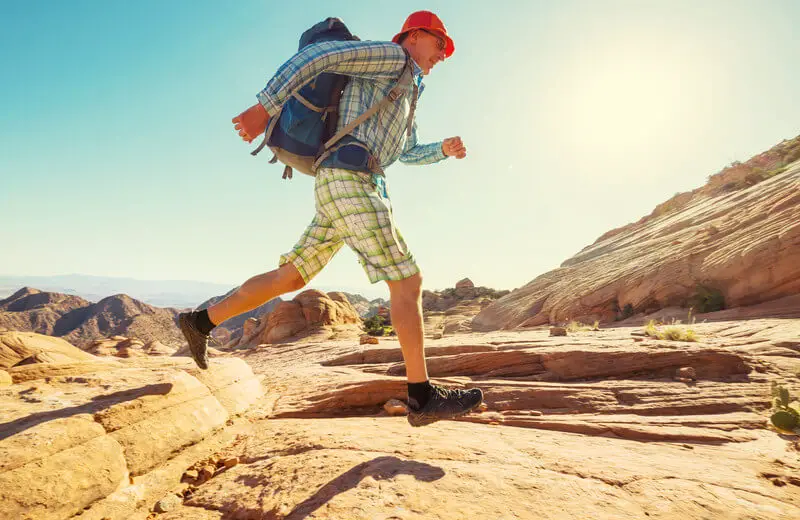 If you're not familiar with hiking in the desert, you may well struggle to find the best shirt for desert hiking. You'll need to dress appropriately for maximum water retention, protection from the sun and to attempt to maximize your body's ability to cool itself down.
Read on to find out what you need to wear and how your choice of shirt can help you to avoid overheating.
If you just can't wait and want to know our recommendations fast, we recommend the Columbia PFG Tamiami II Long Sleeve Shirt and the Super Bonehead Classic for Men, as well as the Columbia Silver Ridge shirt and the Super Bonehead II Shirt for women. Note that the Bonehead shirts are made from cotton.
Desert Hiking
Deserts are very different to most other climates you'll encounter when hiking. It's not only the high heat that you will need to cope with, but also the low humidity.
When we get too hot we perspire. This layer of sweat on our skin cools us as it evaporates, however, with the combination of low humidity and high temperatures in the desert, sweat will vaporize almost instantaneously.
You will, therefore, not benefit from the cooling effect of sweating as you will not have the layer of moisture over your skin to evaporate, cooling your body as it does so.
As any sweat produced will be immediately vaporized, your body will not feel the benefit and continue to produce more sweat attempting to cool down, leading to extra water loss without effective heat loss.
Your clothing for hiking in the desert will, therefore, need to fulfill two main objectives: protection from the sun and maximizing the efficacy of perspiration.
Regular hiking clothes usually tend to wick moisture away from the body, to keep you dry. However, not only can this be somewhat unnecessary in the desert, but also a bit counter intuitive, as you really want to retain a maximum amount of water next to your skin to mimic the regular way in which you sweat in normal conditions.
Shirts for Desert Hiking
Shirts can be a good option for hiking in the desert, as they can fulfill several functions. For example, it's easy to increase ventilation in a shirt, simply roll up your sleeves, or open a few buttons.
Shirts can also have specific functions built in to the material, like UPF protection into the material and so on. Let's look at some of the main aspects you should consider, when looking for a suitable shirt for your hiking adventures in the desert.
Material
Contrary to regular hiking rules, cotton is in fact a good material for a desert hiking shirt. This is precisely so for all of the reasons that we are generally advised not to wear cotton in normal hiking conditions.
Cotton holds moisture and will therefore holds your sweat much longer in its fibers, than any man-made materials that have good wicking qualities.   
In the desert, this moisture retention can be used to our advantage. A cotton shirt, either soaked in an available water source, or wet through perspiration, will hold the moisture and allow the skin to cool off.
Moisture will evaporate allowing cooling of the skin through evaporation to take place, thanks to the cotton's retention qualities. By holding moisture against the skin for longer, the conditions created will mimic those of sweating in a cooler climate, and reduce the amount of perspiration required to regulate body temperature.
On the downside, some people may find that the damp material against their skin can lead to chafing, or they may just find it uncomfortable. If this is your experience, you may want to experiment with cotton or non cotton blends (Nylon, polyester, elastane, etc.), which may still offer some moisture retention, although not to the same extent as 100% cotton.
This should keep you drier although warmer. In any case, as with any trek that ventures into a hostile environment far from civilization, you'd be well advised to take spare items of clothing and a change.
Other Things to Consider
Also, remember that it can get very cold very quickly in the desert when the sun goes down, so a wet cotton shirt could quickly become a liability if you have to stay outside overnight. Again, a change of top can help with this.
As already alluded to, you will also want to make sure that the shirt you're looking for has a good UPF rating for protection from the sun's rays. Cotton that has not been treated with UPF protection has a low UPF protection score, so be sure to check the manufacturer's information for details of any additional treatments.
Fabrics with a dense, tight construction will reduce the amount of UV light that can pass through, as do certain chemicals and dyes that have been proven to absorb UV rays.
Breathability
You will need to look for lightweight, breathable desert clothing to keep air circulating. This will help your body to regulate temperature and stop your clothes from sticking to you.
As the body cools by moisture evaporating from the skin, you will need the fabric to breathe, to allow air to circulate to evaporate the dampness provided by your cotton shirt.
Fitting and Features
When you're choosing a shirt for desert hiking, you should go for one that has a loose, baggy fit. This will encourage air to circulate and help your body to cool down.
When you have a good cotton shirt that retains moisture, you still need this moisture to evaporate so that your body can perform its regular cooling process by evaporation. The moisture that is held against your skin by the cotton will need air to pass to cause it to slowly evaporate.
When you're picking a shirt for desert hiking, make sure that it has long sleeves. You will need maximum protection from the sun to stay cool and avoid the damage that the rays can do to your skin.
Any sleeveless tops and shorts can be worn, but be very careful, as you can get cooked very quickly in the desert sun! Better to keep them for when you're back in civilization. As a general rule, cover as much of your skin as you can when hiking in the desert.
Remember, the more coverage you have, the safer and the cooler you will be. Make sure that the collar and neckline of your shirt will provide adequate protection. Ladies, in particular, pay attention to any lower fastening shirts.
You will need to apply sun block to any exposed areas and will definitely want to protect your neck with a bandanna or Buff, as well as a good sun hat. Choosing a shirt with a higher fastening neckline and collar will help to maximize your protection against the sun and prevent burning.
Ventilation
One very useful feature found on shirts for desert hiking are hidden air vents. Hidden air vents allow air to circulate without exposure to the sun, nor having to rely upon a large weave fabric, which will let in a large amount of UV rays. Combined with a loose fit, air vents will help you to stay cooler and more comfortable.
Color
Apart from being a matter of personal choice, color has an important role to play in keeping you cool. Lighter colors tend to reflect the sun's rays, rather than absorb them, like darker colors do. The more light that an object absorbs, the more heat it will absorb, as light is essentially energy.
Black colored shirts will absorb all wavelengths with zero reflection. At the other end of the spectrum, white reflects all light wavelengths and therefore absorbs a minimum amount of heat.
Your back, chest and shoulders, along with your head of course, tend to get the most sun exposure depending upon the time of day. Selecting a light-colored shirt for your desert hiking trip is an easy, foolproof way to keep a little bit cooler with no effort or discomfort involved.  
However, do bear in mind that it is a good idea to have some part of your gear to be extremely bright, for emergency search and rescue, so if you have a great cotton shirt that's a desert-like tone, make sure you pack, hat, or pants that are extra bright to compensate.
Your warm evening or overnight clothes you pack, could also be bright and used to draw attention in case of an emergency.
Recommendations
Below we list some shirts, all of which happen to be from Columbia, that offer all of the features you'll need for effective protection in a harsh desert environment.
We're giving two options, the first is the non cotton option, and our favorite, mainly as they're more versatile for all types of hiking. The second shirt listed is our favorite cotton option, which is definitely worth a look too.
Our #1 Hiking Shirt Option For Men
This comfortable and airy Men's PFG Tamiami II Long Sleeve Shirt from Columbia is a great choice for a desert hiking shirt. It has long sleeves and UPF 40 for added sun protection.
Its soft and functional construction will prevent sweat from quickly evaporating, helping to stop you from overheating. Vents enhance air circulation and ventilation, helping to keep you cool and comfortable as you hike.
Our #2 Hiking Shirt Option For Men
This comfortable and airy Super Bonehead shirt from Columbia is a great choice for a desert hiking shirt. It has long sleeves and UPF 30 for added sun protection.
Its soft, 100% cotton construction will prevent sweat from quickly evaporating, helping to stop you from overheating. Mesh-lined cape vents enhance air circulation for evaporative cooling.
Our #1 Hiking Shirt Option For Women
This Women's Silver Ridge shirt from Columbia is a great choice for desert hiking. Comfortable and lightweight, it is made from Elastane and Polyester providing a comfortable fit.
The stretched fabric will ensure air flow for enhanced cooling through ventilation. It is available in a range of colors.
Our #2 Hiking Shirt Option For Women
This women's Super Bonehead fishing shirt is another great choice for desert hiking. Comfortable and lightweight, it is made from 100% cotton.
The hidden back venting will ensure air flow for enhanced cooling through evaporation, as the cotton will retain the moisture from perspiration against your skin. Available in a range of colors.
Conclusion
When you're looking for the best shirt for desert hiking, it's important to go for one that will help prevent you from losing too much moisture too quickly.
Cotton, which holds sweat for longer, will help you to stay cooler, however, many people don't like the feel of damp cotton and so nylon or polyester can be a better choice for them. The ideal desert hiking shirt will also be loose fitting, light in color and have a high UPF rating.
Don't forget that although cotton is recommended for hiking in extreme heat with a very low humidity, in almost all other circumstances you'll want to avoid wearing it for hiking.
Once the sun drops, be sure to change quickly into a dry, warm outfit as desert temperatures drop extremely low overnight and any dampness will very quickly lead to you getting cold.