Today I wanted to take a look at a very popular pair of Salomon hiking boots, the Quest 4D GTX Boots. Please note, these hiking boots are no longer available. Please check out the hiking boots page for more information on some great hiking boots.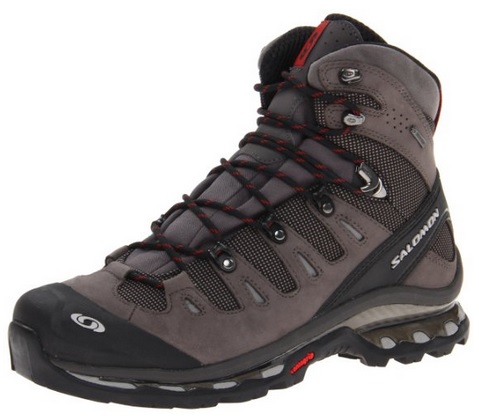 Average Customer Rating: 4.5 stars out of 5 (270+ Reviews)
Available Colors: Autobahn/Black/Flea (pictured), Olive/Dark Olive/Black, Absolute Brown-X/Burro/Wood Beige, Grey
Where to Buy: Sorry, no longer available 🙁 check out the new version of the Salamon 4D 2 GTX here
Review
Salomon have a long history of making quality hiking boots so I was excited to come across the Quest 4D GTX.  This boot is a very popular choice and for good reason. It has been around a while and so has been tried and tested many times by many folks with the vast majority of reports and reviews of it being positive. First off let's look at the shape and make up of this boot.
The Quest 4D GTX is quite a tall boot and so provides a lot of ankle support. Ideal for hiking and a necessity for backpacking. The split suede leather and textile upper securely holds your foot in place which reduces strain on your toes during downhill sections. Some people think I'm crazy but I nearly prefer hiking uphill to downhill and this is one of the reasons why. It's good to see that this boot can keep your toes comfortable going downhill, a bug bear of mine. The boot is also quite lightweight, employing a molded EVA mid-sole. Again, great for all types of hiking and backpacking.
The Quest is waterproofed using seam sealed gore-tex lining which is of course breathable. This means you more or less have a year round hiking boot here. It will keep you dry in wet conditions and comfortable when your feet sweat in warmer climes.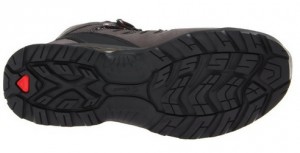 There are any myriad of ways to make a good outsole on a hiking boot and I'm always interested to see how companies approach this critical part of the boot experience for a hiker. The Quest has a rugged non-marking contagrip outsole. It contains an ascending lug pattern in the front and a braking pattern in the rear which provide extra traction for rough terrain. The 4D advanced chassis between the midsole and outsole slso enhances stability by reducing ankle strain and controlling flex. In short, you can expect good grip on the trail on varying terrain.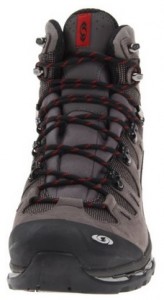 Now this next thing is something I really like in these boots. There is an 'OrthoLite footbed', which is designed with cushioning foam to reduce friction, keeping your feet comfortable as you run! EVA in the heel provides extra cushion for heel striking! Now, I think this is something that isn't considered in many hiking boots. Sometimes, running on the trail is required and to see that these boots have taken that into consideration gets the big thumbs up from Cool Hiking Gear.
Finally, the Gilly lacing on the Quest 4D GTX boots ensures a customized fit for a wide variety of feet. There is also a gusseted tongue which not only keeps trail debris out of your boot but also relieves lace pressure as required. The Quest also has rubber toe and heel caps to protect the sensitive areas of your feet from abrasion.
Pros:
Suede Leather Upper and Lightweight Midsole for Stability
Waterproof Gore-Tex for Year-Round Hiking
Contagrip Outsole and 4D Chassis for Sturdy Grip
Gilly Lacing System for Customized Fit
OrthoLite Footbed Keeps Feet Comfortable (even when running)
Cons:
Some folks mentioned the boot squeaks a lot while walking. However, manipulating the Gilly lacing system seems to have sorted this out for most.
Specs (at a glance):
Split suede leather and textile upper is flexible and secure
Gusseted tongue locks out debris
Waterproof and breathable Gore-Tex Performance Comfort
Non-marking rugged Contagrip outsole with multidirectional lugs for traction
4D chassis controls flex for stability
Gilly lacing system
Protective rubber toe and heel caps
Control flex and reduce ankle strain with this stable, protective hiker from Salomon
Conclusion
There are a lot of things to like about these boots from a hikers perspective. They are very functional and target all the standard things you want from a good pair of hiking boots. They have a technical aura about them without being too flashy though which I have to say I like. The many reviews I have read on them show a lot of satisfied customers. All in all this is a top quality boot that should meet practically all your hiking needs year round!
Have you tried the Salomon Quest 4D GTX hiking boots for men? We'd love to hear about it in the comments below.