Today I want to take a closer look at a pair of hiking shoes I bought recently, the Lowa Men's Renegade II GTX Lo Hiking Shoes. I've been wearing them about 4 to 5 weeks now and overall I have been very pleased with them to date.
Pros:
Comfortable and very sturdy
Nubuck leather and Gore-tex provides good waterproofness and breathability
Minimal break-in period
Good traction
Good multi-purpose hiking shoes
Cons:
May be too heavy for some i.e. if you prefer a lighter shoe
Lowa Renegade II GTX Lo Hiking Shoe's For Men Features Summary
Gore-Tex performance comfort membrane
Nubuck Leather upper
GORE-TEX® Lining
Climate Control Footbed
PU MONOWRAP® Frame Midsole
VIBRAM® Renovo Outsole
Color options:

Espresso /Brown (Featured in this post)
Black /Black
Dark Grey / Navy
Grey / Rust

Weight: 2.7 lb /1.2 kg (pair of size 12 US)
If you day hike mainly on trails and paths, a light hiking shoe can be a good option.The Lowa Men's Renegade II GTX Lo hiking shoes are a great pair trail shoes.
Overview
As stated above, I bought the Men's Lowa Renegade II GTX Lo Hiking Shoe's about two months back but I only really started wearing them about 4 or 5 weeks ago.
I was interested in these shoes as the Lowa Renegade GTX Hiking Boots, have been a top performer with many happy customers for some time now so I wanted to see if the same level of quality would pass into the hiking shoes. They retail at a high enough price so definitely in the higher range for a pair of hiking shoes so quality would be expected for sure.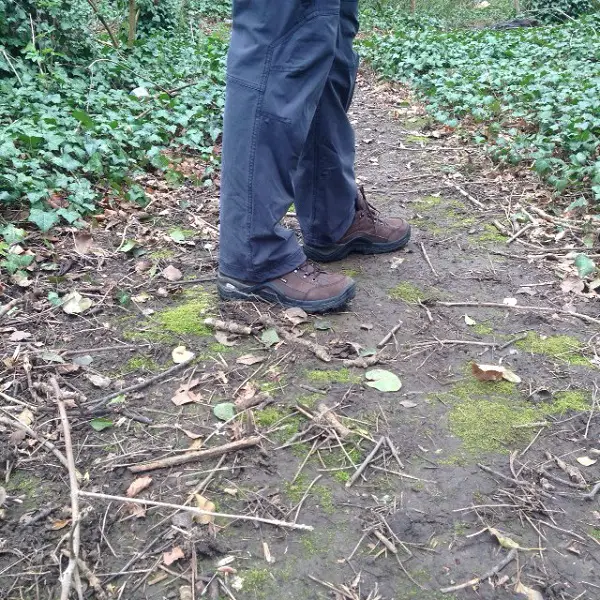 It's worth noting that these are the second pass at these shoes, hence the 'II' in the title. The first version proved very successful and I believe there is even a III available soon but from what I have seen it veers away from the style and look of the 'I' and 'II' which is broadly similar and I have to say that, in terms of looks, I prefer this version.
The shoes feature a very warm and practical look. The upper is made from a mixture of waterproof nubuck leather and Gore-tex. The outsole features the VIBRAM® Renovo which is a tried and trusted industry performer so you can expect a lot of good grip on all types of terrain on the trail.
The Lowa logo appears on the side of the boots, but in a very tasteful manner. All in all I was very happy with how the shoes looked, they are perfect for the trail but also look great with a pair of jeans.
There are four possible color combinations to choose from:
Espresso /Brown (Featured in this post)
Black /Black
Dark Grey / Navy
Grey / Rust
Now, I feel that I should state here that my primary purpose for buying these shoes was more for day-to-day use as opposed to hiking, I needed a good solid pair of sturdy shoes for general use in the very wet and crappy winter weather I am currently enjoying 🙂 When I go out hiking, onto mountains, I nearly always wear hiking boots only occasionally will I use hiking shoes.
However, in saying that, I often go for longer walks along a river close to where I live, the path is made up of grass and muck and these shoes are perfect for that type of short walk for me. So, let's take a closer look into the Lowa Renegade II GTX Lo Hiking Shoe's to see what more we can learn.
Comfort
Starting with comfort, the insoles on the Lowa Renegade II GTX Lo Hiking Shoe's come in the form of a removable foot bed. I can't ascertain from the shoes themselves or from the product information what the insoles are made of, but I can tell that they are comfortable. I've been wearing the shoes regularly now for a bout 5 weeks and I have found the foot bed in the Lo hiking shoes to be very comfortable.
As already mentioned, the insoles are removable, so you can take them out to let them breathe. The Lo shoes feature climate control technology which helps to create a cooler and drier environment for your feet
Similar to hiking boots, these shoes feature a padded collar which fits comfortable around the base of the ankle.
The tongue of the shoes is of course also padded, as per the photo below, as well as gusseted. A gusseted tongue helps keep debris out your shoes as it is to the upper of the shoes by a material bridge. This is something I always look for in hiking boots, and although they won't be able to perform in the same manner, as they're not boots and so lower down, it is good to have any help to keep unwanted debris out of my shoes and away from my feet.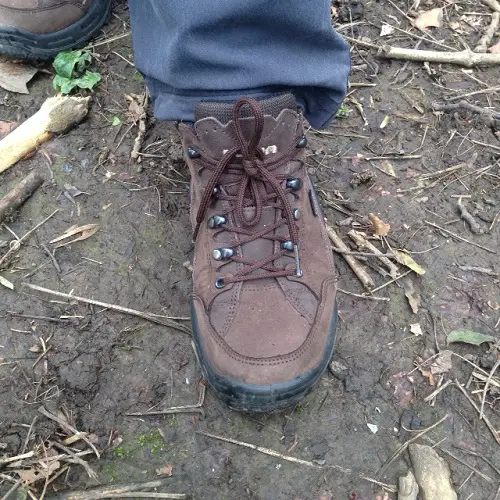 In terms of a comfortable and secure fit, I have been really pleased with the Lo shoes. they feel really solid when you put them on and they have got more comfortable as they have adapted to my feet. The lacing system on the Lowa Renegade II GTX Lo Hiking Shoe's works well but I have found that a retie is needed every so often.
My hunch is that that is more to do with me that the actual shoes. I have noticed that when I put my foot on a step, nice and horizontal with my foot in a good position, when I tie them then, they hold very well and the laces seems very functional. If however, the foot positioning is off, I invariably have to tie them again. No issue here but something to note when you try them, get your feet into a good position before securing the laces.
Looking into the lacing system more closely, as you can see in the photo below, you can see that lace hooks are employed at the top of the shoes. I am usually a bit cautious of these, preferring eyelets in shoes but I have to say they feel very solid and secure. The eyelets are metal and seem very tough but have been great so far but I guess I'll need to see how they are in a years time.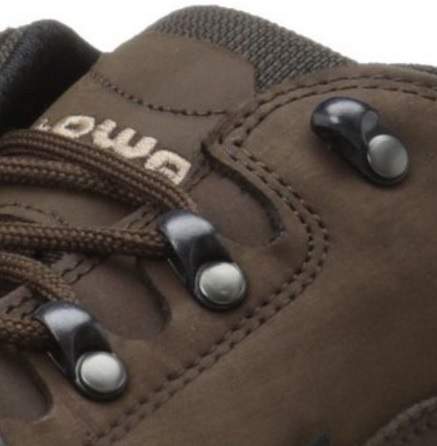 The Lowa Renegade II GTX Lo Hiking Shoe's are waterproof and breathable via their mixture of Gore-tex and nubuck leather. For general waterproof protection, from reading user reviews and from my own personal experience to date, the boots perform very well in this area. Walking through puddles or muddy terrain and so on caused no issues, dry as a bone.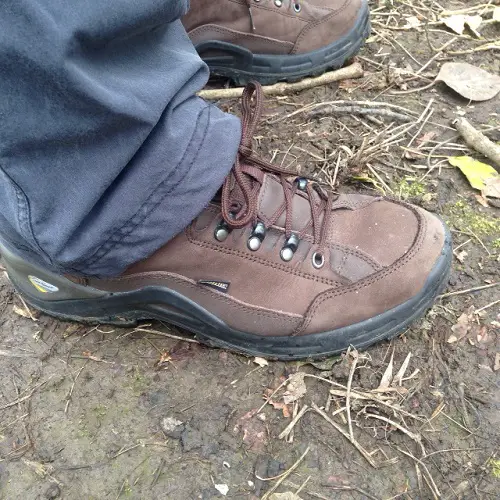 In terms of breathability, the boots also seem to perform well. As mentioned Gore-tex is a main part of the material, so you would expect that to be the case. I've been very comfortable internally so far but I would like to see how they perform at hotter times of year in terms of breathability. I have no reason to think that they won't be a winner though and the many user reviews I read stood to this assertion.
They weigh in at around 2.7 lb /1.2 kg (pair of size 12 US) so they are on the heavier side for a pair of hiking shoes and they do feel a bit chunky when you put them on. However, that chunkiness provides a good sense of stability and sturdiness when wearing them so I'm happy to sacrifice a bit in terms of weight with them being that bit heavier.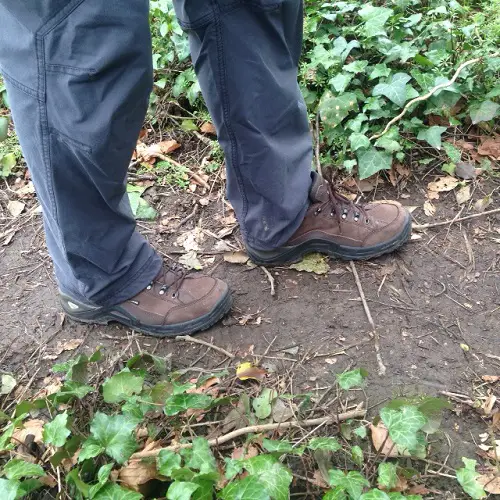 The next thing to look at is sizing. I'm going to run with my personal experience here and tell you what happened with me. When I first got them, I actually got a half size smaller than my normal size as when I first put them on, normal size, they did seem to slip on the heel a fair bit in my normal size, especially in the right foot. However, after wearing the smaller size for a while at home, I realized that that they were too tight on my left foot.
My right foot is slightly longer than my left, so while I had a great fit on the right foot with a half size down, it was tight on my left foot. So, yes indeed 🙂 , I took them back and reverted to my normal size. I took them home again not 100% sure that this would work out but as I was spending 200 plus bucks, I figured it was a good idea to take time and get this right.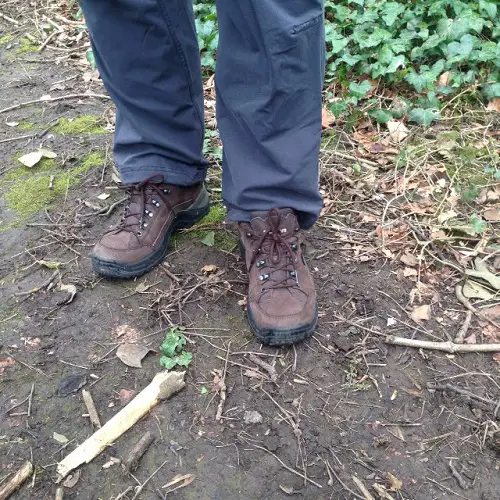 I noticed that if I spent a bit more time lacing the shoes, I would get a better fit in my normal size, however, they still slipped a bit from time to time. I had a hunch that this was due to them needing a bit of time to break-in or adapt to my feet size might be the better way of putting it.
With that in mind, these shoes did take a while to break in but they were never uncomfortable. That is, they fit pretty good from the start but as I wore them more and more, they started to fit better and better as they adapted to my feet.
So, in summary, while a short beak-in was needed for me, to get them that bit more comfortable, I think they're pretty much good to go straight from the box.
Finally, just to add some more perspective, pictured above is the rear profile of the shoes. It's worth noting the tough connection of the mid-sole to the upper, from my experience to date, they are as sturdy and secure as they look!
Update 14/04/16 … some months after first posting:
I continued to wear the Lowa Lo shoes throughout the Winter period and still use them. The shoes have performed very well in nearly all aspects. They're tough and resilient and I have used them for some local hiking as well as day-to-day use and they do perform very well.
The one downside I have noted is that I can't seem to fully break the shoes in. After wearing them for a few hours, my right small toe gets aggravated. I assumed this would go with time but it hasn't as yet. I've never had an issue like this before with any boots or shoes so it's an odd and new one for me. I put it down to the sizing as opposed to the quality of the shoe but it is something I wanted to list here.
Support, Stability and Grip
The upper of the Lo shoes sits on a PU Monowrap Frame midsole. Just in case you aren't familiar with it, the mid-sole is the part of the shoe that sits between the outsole and the insole. It also acts as a shock absorber and helps distribute impact from the trail evenly across your foot. you can learn more about the main constituent parts of a hiking boot here.
Now, again I am going to go with my own personal experience here and skip a bit on the technical jargon and user reviews. I have been very pleased with the stability of the Lo shoes. Simple as that really. I alluded to their very secure fit above when I got the lacing right and that applies to the mid-sole and general construction of the shoes. They just feel tough and sturdy and they have performed very well to date when I've worn them. I can't really say much more than that really I guess 🙂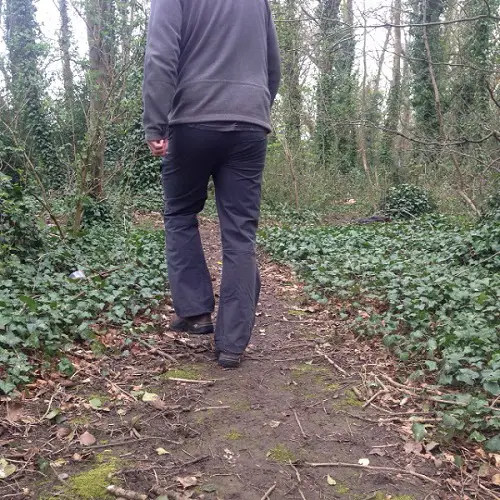 Next up, let's look at the outsole which features a Vibram Renovo outsole. I am a BIG fan of Vibram and I am always very happy when their technology is used in a pair of hiking boots or shoes. In fact, all my current hiking boots and shoes utilize Vibram technology in the outsoles.
If you look at the picture below, you can see the outsole of the Lo shoes. There is a good selection of lugs as you can. The shorter lined grooves at the top and bottom of the shoes enable good grip on sturdier terrain, for example a rocky surface, while the deeper grooves featured across most of the rest of the outsole enable you to still have good grip over less stable terrain, for example slippy mud.
Overall, the Lowa Renegade II GTX Lo Hiking Shoe's are very sturdy and provide very good traction on varying terrain. Below is a side shot of the shoes and I have to say, they look pretty darn good and I am very happy with my purchase 🙂
In conclusion, I thought I would add a photo or two of my pair of these awesome hiking shoes. So far I have used the product promo shots as frankly, they're just much better photo's than I'm going to be able to take to give you a good feel for how they look.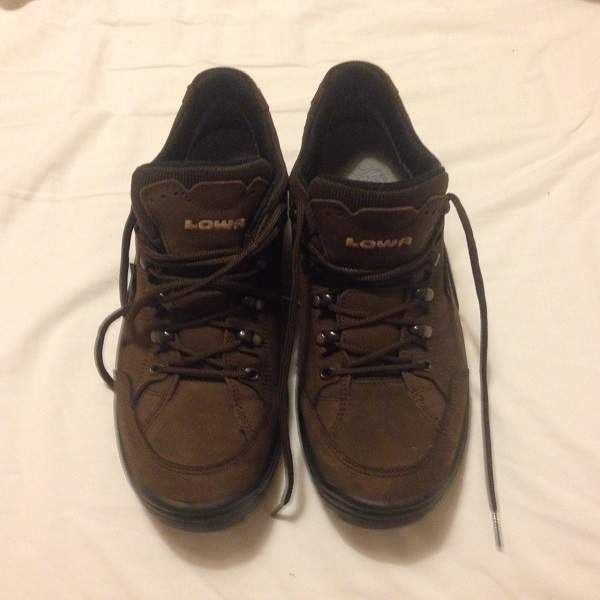 The picture above shoes my Lowa Renegade II GTX Lo Hiking Shoe's sitting on my bed. I'd not had them long but this was when I had decided they were keepers 🙂
Price
The Lowa Renegade II GTX Lo Hiking Shoe's come with a 1 year manufacturers warranty from the date of purchase. Lowa are a top brand so if you experience any problems, you can expect them to be sorted out swiftly.
The retail price comes in at a high price point but if you shop around, you should find a deal. click on the image at the start of this review or any of the links throughout to get live prices on Amazon.
Based on my personal experience, all the reviews I have read, the construction, the brand, etc. I think, the Lowa Men's Renegade II GTX Lo Hiking Shoe's are an excellent pair of hiking shoes. They ain't cheap, but they're worth it. Now, I need to qualify that again in about a years time assuming they keep performing well as for that price, I expect 2 to 3 years of good use from them so we'll see but so far so good!
Best Uses
Simply put, light hiking (ideally on trails), day to day use and any reasonable purposeful use in between. As mentioned at the start of this review, I bought these more for day-to-day use and light walking as opposed to hiking but from using them on some suitable hikes, I can confirm that they will perform well in the hills too.
What's worth noting is that the ascetic look of these shoes is pretty sweet so they look great with a pair of jeans …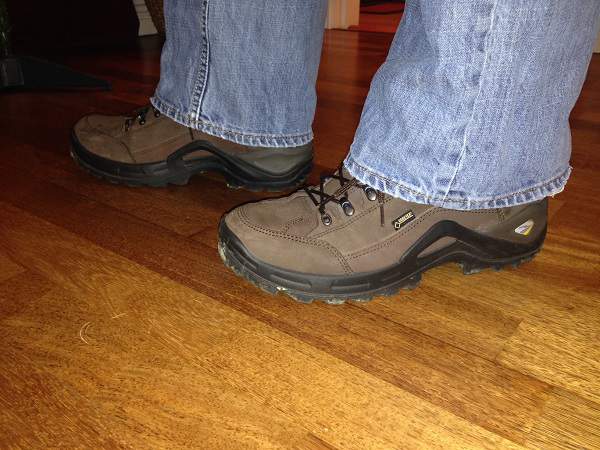 Yes indeed, that's my feet in the photo above which I just had taken in my living room to help illustrate the point … man, they look just great 🙂
In summary, the Lowa Renegade II GTX Lo Hiking Shoe's are a great all round hiking shoe which work really well for day-to-day use.
Customer Reviews
As of the date of this post, from about 210+ reviews I checked out, across multiple retailers, 89% gave the Lowa Renegade II GTX Lo Hiking Shoe's 3 stars (out of 5) or more, 80% 4 stars or more and 61% gave 5 stars so some decent scores overall.
Our Rating: 4.5 (Out of 5)
Conclusion
In conclusion, the Lowa Renegade II GTX Lo Men's Hiking Shoes are a winner! Well, so far so good anyways 🙂 I bought these shoes more as a pair of day-to-day knock around shoes and so far they have been excellent and they will perform well on the trail as well.
They are definitely pricey but I think they will be worth it. Although they are pretty much good to go straight from the box, do be patient with the lacing and give yourself time to get the right size. I found it took me a bit of trial and error before I was comfortable they would work as a good shoe for me. They need a little bit of time to adjust to your feet and do spend time lacing them correctly as I noticed this had a big difference on the overall secure fit feeling, especially in the early stages.
If you're still unsure what type of hiking shoes or boots you should get, check out the hiking boot buying guide and my hiking boot recommendations.
I hope you found this review useful. Please comment and / or share it around your networks if you did. Do you use the Lowa Renegade II GTX Lo Men's Hiking Shoes? What is your experience with them?