The KEEN Men's Targhee III Mid Waterproof Hiking Boots are another top seller. I would put them in the mid range for an entry level hiking boots. They are priced in and around $150 so affordable and accessible for many.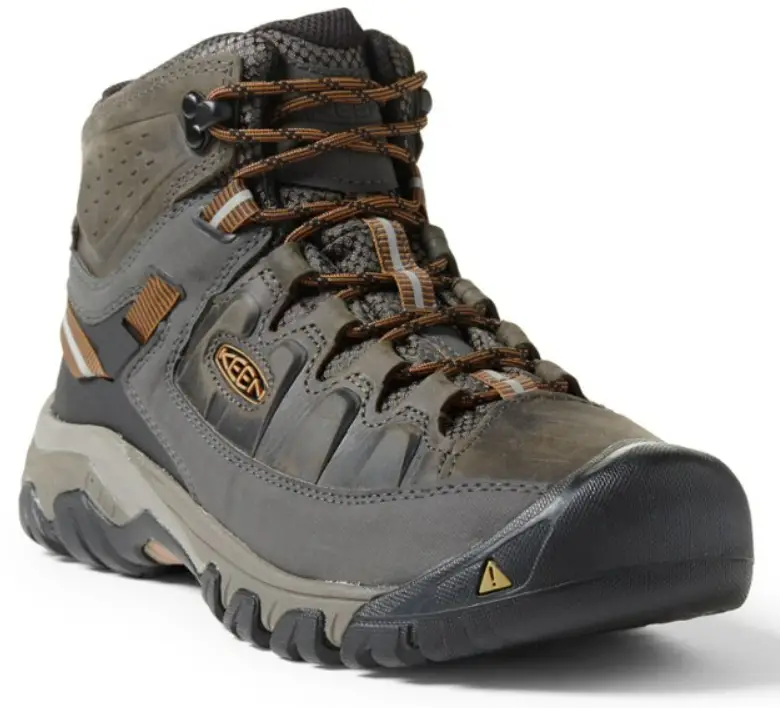 A reasonable light weight mid hiker, the Keen Targhee are good for day hiking 2 to 3 seasons of the year, will work well for day-to-day use too.
Pros:
Reasonable price and value for money
Lightweight
Patented toe box protection
Minimal break-in period
Perfect for normal day-to-day use
Good day hike boots
Cons:
Lace eyelets are made of woven fabric, if they go, boots are most likely done
Not the best option for longer hiking e.g. backpacking, etc.
Some comments on the lugs on the sole coming off after only two months
KEEN Targhee III Mid Hiking Boots For Men Features Summary
Waterproof, leather and performance mesh upper
KEEN All-Terrain rubber outsole for higher-traction grip
Dual-density, compression-molded EVA midsole
Breathable mesh lining
Removable, metatomical dual-density EVA insoles
KEEN.Dry waterproof, breathable membrane
Leather mud shield offers resilient durability
Speed hooks, for easy lace adjustment
Injected TPU heel-capture system for stability
ESS shank offers lightweight support
Resilient, internal shank
4mm multi-directional lugs for traction
Cleansport NXT™ for natural odour control
Environmentally-preferred premium leather from LWG-certified tannery
Weight: 17.3 oz / 489.9 g
Overview
Overall, they have quite a technical look about them but there is also a nice traditional feel added, with a nice mix of autumnal type colors the Targhee III is available in. The upper is made from waterproof nubuck leather and the outsole boasts aggressive lugs to ensure grip on the trail. The KEEN logo appears on the side, rear and sole of the boots. Nothing too 'in your face' on that front. All in all the boots look pretty good and solid.
There are five color combinations to choose from 1. Raven/Tortoise Shell 2. Magnet/True Blue 3. Chestnut/Bossa Nova 4. Black Olive/Yellow 5. Shitake/Brindle. All in all the aesthetics in the boots look pretty good and the boots, on first impressions, seem solid.
It lists many of the features I'd expect in a decent pair of mid hiking boots so I wanted to take a closer look into the usual key areas to see what I could learn about performance, comfort, etc.
Comfort
As always, when reviewing hiking boots, let's start with comfort. The insoles in the Keen Targhee III Mid Hiking Boots for men come in the form of a Removable metatomical dual density EVA footbed. Sounds very technical but let's run through it.
A metatomical insole is an insole that has been anatomically engineered to provide really good arch support and cradle the natural contours of the foot. EVA stands for Ethylene-vinyl acetate (EVA), also known as poly(ethylene-vinyl acetate) (PEVA). EVA is a dense foam which can be easily shaped.
It acts as an excellent and durable shock absorber. For that reason, it's used in many types of shoes. It was first used in the athletics world but it has became a standard across the footwear industry for many different types of footwear.
So, what does that mean in terms of hiking? Well, this is the part of the boot that touches your feet, albeit through your socks, so it is important that it can take a bit of a pounding and protect you from the impacts of the trail.
EVA can perform very well in this area and as it's an industry standard, you are guaranteed a certain level of capability with that kind of design and make-up. The insole, or foot bed, is also removable so you can air the soles out or give them a wash if required.
Padding
The collar of the Targhee III boots are thick and padded and provide ankle support using a torsion stability ESS shank. We'll take a closer look at that further down in another section below.
The tongue of the boots are also padded, as per the photo below, again nothing unusual there. Overall a good layer of cushioning on the tongue and shank which you would expect in mid boots of this style. Padding on boots of this style need to work in conjunction with the lacing system which we'll look at next.
Lacing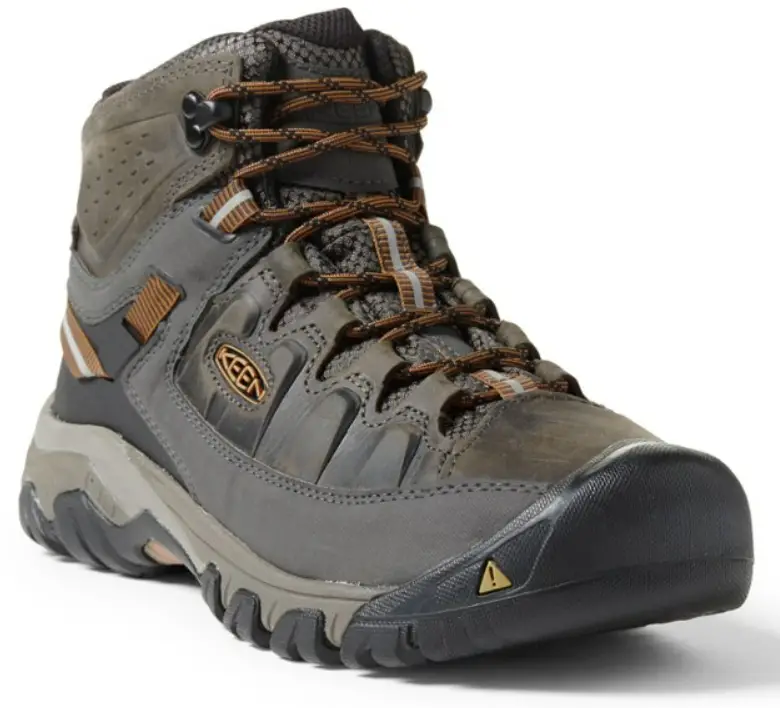 As you can also see in the photo above, the laces tie criss-crossed up to the top of the shank. All fine but the first thing I noticed on these boot was the lace eyelets. As you can see, they're made of fabric. I am always cautious of fabric lace eyelets like this in hiking boots as should one of them go, your hiking boots are more or less done. The photo below takes a closer look at the eyelets.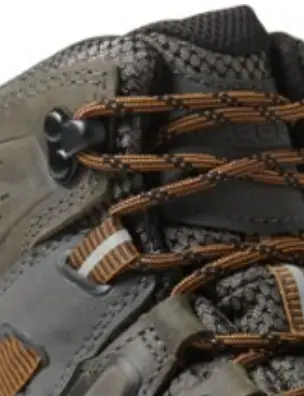 In my opinion, fabric eyelets aren't the strongest way to provide lace system support and if you're unlucky enough to get a pair from a batch that wasn't manufactured well, it could happen that they give sooner rather than later. When I investigated this further across user reviews, sure enough this item came up as an issue for some. Laces eyelets did break and laces broke.
I mentioned the laces as I noted a few people saying that you need to have very specific laces for these boots. However, they also pointed out that in many cases, when they broke after not much use, and they contacted KEEN, they were sent a pair out for free.
An Aside
Now, I am not sure if that is standard but the complimenting of good customer service did come up numerous times when people had issues with the Keen Targhee III boots for men. Always nice to have good and prompt help if the product isn't coming up to scratch 🙂
Also, it is worth noting that I got the impression that if you are unlucky enough to get a pair from a batch that wasn't manufactured well, you will have more problems that you would normally expect. In some cases, falling apart type problems. I guess if you're unlucky and this happens, as long as you have good customer support to fall back on, it should hopefully be more of an inconvenience as opposed to a nightmare.
Waterproof
The Targhee boots are waterproof and breathable via the KEEN.DRY ™ waterproof breathable membrane. How waterproof a pair of boots really is, is hard to judge until to take them out for yourself against your personal expectations. I came across a lot of folks saying the boots were very waterproof but, of course, I also came across quite a few who said that they weren't waterproof at all. The majority of users were in the former, they are waterproof, camp though.
Again, the folks with issues maybe got a pair from a bad batch or something or it could just be that their expectations were too high. Walking across 2 inch deep puddles or across wet ground, you will be fine in the Targhee boots. Of course the harder you push them, into water and so on, the more likely water will get in.
Breathability
In terms of breathability, the Targhee perform pretty good so you can wear them at hotter times of year with no major concerns.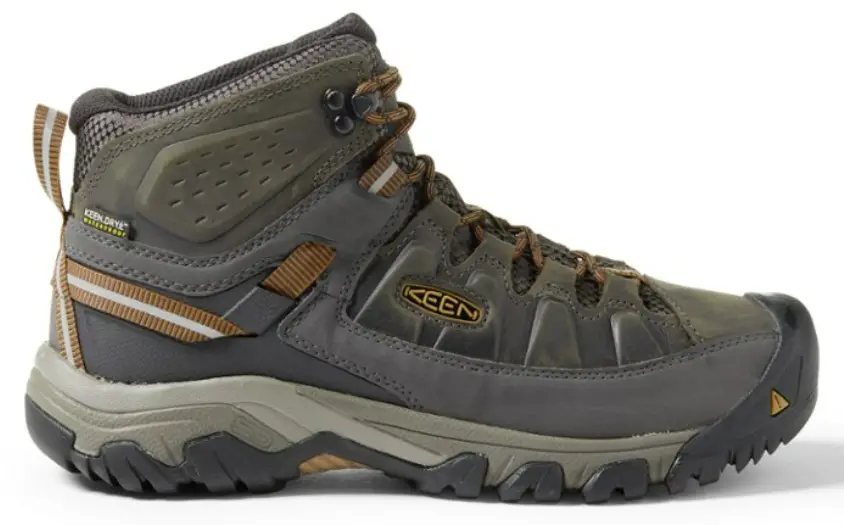 The listed weight is 17.4 oz/493.3 g. so lightweight for sure. With that in mind, I think they work for light day hiking but probably not suitable for backpacking, wearing a heavy pack and so on.
The next thing to look at is sizing. The Targhee III Mid hiking boots for men come in only standard size options, no narrow or wide feet options. The advice on the KEEN website with regards to sizing is to order a half a size larger than your usual size as they run 0.5 of a size small. I saw this same advice coming up on several other sites too. So, if you're normally a size 10, go 10.5 or, on the outer reaches, an 11.
With regards to break-in, the Targhee come up trumps with nearly all users indicating that no break-in period is required. I would expect that to be the case with this style of boots. There's no tough leather to mold to your feet so they should be pretty much out of the box and good to go.
At the back of the boots, pictured above, and on the tongue are boot pulls which you can use to help get the boots onto your feet. Handy for pulling them up over your feet with thick hiking socks on and adjusting them till you get a comfortable position before lacing them up.
Support and Stability
Support from the Targhee Mid Hiking boots is provided via a Dual Density Compression molded EVA midsole. We have already delved into the wonders of EVA with regards to the insole, this time we're at the midsole which is basically the bit that sits between the outsole and the insole. It serves the same purpose as we reviewed above i.e. it takes shock from the ground and helps distribute it evenly across your foot.
The Dual Density bit means that the midsole is made up from material with two different densities making it stronger. Dual density construction is usually incorporated in shoes and boots to help prevent over-pronation (the way your foot roles inward when you walk or run).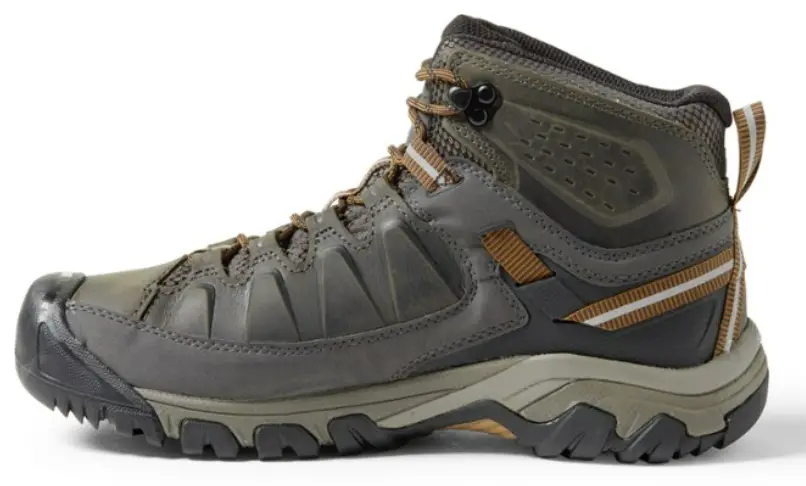 The shank of the boots support your ankles via a torsion stability ESS shank. Many reviewers commented that they were very happy with this aspect of the Targhee boots and felt that when they were fully laced up, they gave very good ankle support.
Grip
The Targhee III features a Non-marking rubber outsole. The outsole features multi directional 4mm lugs and are described as 'aggressive' to help grip terrain to provide good traction on the trail.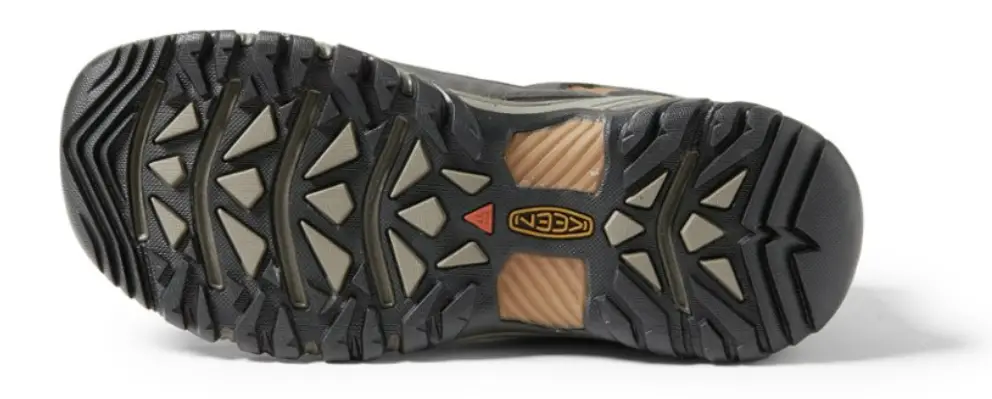 Now, this was one area where I did come across a lot of not so great experiences from users. A lot of folks had issues with grip from the outsole with some commenting that it was practically non existent on wet stones.
The other area I came across a few times from users, was that the lugs on the sole of the boots started coming off after relatively minimal use.
After reading so many reviews, my hunch is that as these boots are manufactured abroad, it is possible that a batch of defective boots got through and so, some people had bad issues. I say this as this seemed to happen for some but of course not for all. If it was a fundamental design flaw, I can only assume everyone would experience the same issue but they didn't.
The positive I took from the video linked above is that, again, the KEEN customer service seemed to sort the problem out pretty quickly and offer alternatives or a replacement. I genuinely feel that this is not an ongoing problem but felt I should highlight it to you as I came across it when researching into the Targhee III Hiking Boots.
Price
The Targhee boots come with a 1 year warranty from date of purchase. As already alluded to above, it does seem that they are pretty good at sorting issues out if you have any with their products.
The retail price comes in at the mid range level for a pair of hiking boots, but if you shop around, if you have your heart set on them, take your time and you'll get a deal on them. Click on the image at the start of this review or on any of the product link below to be taken through to Amazon where you can see a live price.
Based on all the reviews I have read, the construction, the brand, etc. I think that overall, the KEEN Targhee III Hiking Boots are good boots for the price you have to pay. They're a mid range light hiker and so they fall in and around that price area, say $60 at the low end up to $200 at the higher end.
I don't feel that you're buying a pair of hiking boots that will last for many, many years of hard hiking, that's not what these are designed to be used for. If you are new to hiking or enjoy light hiking on well worn trails, I think the KEEN Targhee Mid Hiking boots are a decent option to consider.
If however, you're a more adventurous hiker and like going off trail a lot and into tougher terrain, or if you're big into backpacking, I think you need to look elsewhere as you will need tougher hiking boots that will give you more versatility in a much broader sphere of terrain, conditions, etc.
Best Uses
I think the best uses for the Targhee III Mid Hiking Boots are for light hiking on well established trails. I don't think they're the best option for harder off trail hiking or backpacking. They're a lightweight mid hiking boot and so I would keep their use light.
They will also be fine for general outdoor use, so say fishing, easy camping and that kind of thing or if you like to potter about in the garden, they'll work well for that kind of activity too. They look pretty good as a pair of boots too so they can easily be used for casual and general day-to-day use.
If you're new to hiking and just testing the waters to see if you like the whole Great Outdoors thing, the KEEN Targhee III Mid Hiking Boots are a good option to consider as an entry level pair of hiking boots. They're a reasonable price and will get you started comfortably on the trail with very little break-in and so on required. You won't break the bank with these boots and if you decide that hiking isn't for you, you can still utilize them for normal day-to-day use.
Customer Reviews
As of the date of this post, from about 1400+ reviews, across multiple retailers, 93% gave the Targhee boots 3 stars (out of 5) or more, 87% 4 stars or more and 69% gave 5 stars so they're scoring pretty well with a lot of folks for sure.
Average User Rating: 4.5 (Out of 5)
Conclusion
In conclusion, the KEEN Men's Targhee III Mid Waterproof Hiking Boots are a reasonable entry level pair of hiking boots and a good lightweight hiking boot for more established hikers. I think you are getting pretty good value for money in them as long as you know what to expect from them.
They're not a longer term pair of boots. What I mean by that is that they have a very specific length of service to give you depending on how and what you use them for, how often and so on. They are a very popular pair of hiking boots though and the many reports of good customer service from the company is good to have to fallback on in case things go wrong when you get your boots.
If you're still unsure what type of hiking boots you should get, check out the hiking boot buying guide and our hiking boot recommendations. I hope you found this review useful. Please comment and / or share it around your networks if you did.
Do you use the Keen Targhee III boots? What was your experience with them?