Once you know how to use backpack loops effectively, you can increase your backpack's volume and prevent wet, smelly or dirty items from spoiling your clothes, sleeping bag and other gear.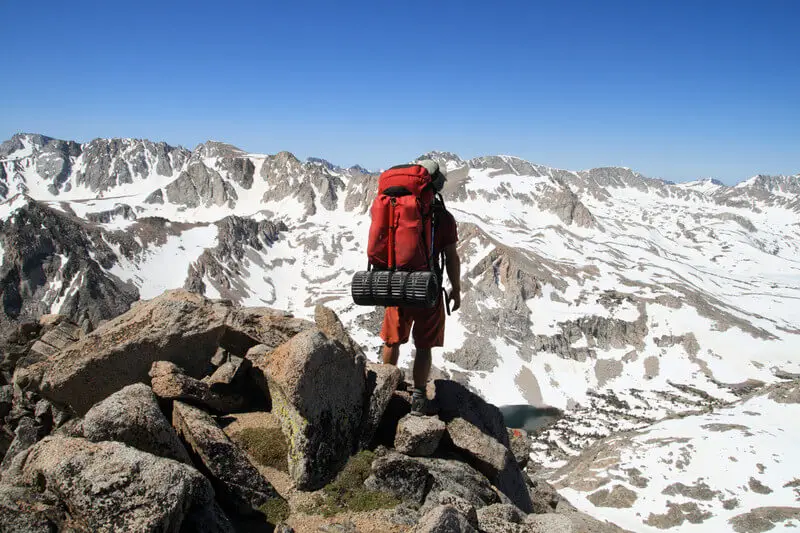 Backpack loops are a great way to carry extra items, yet they should be used sparingly, you don't want a huge extra weight sat at the back of your pack, nor any items that swing and could potentially cause a fall. Let's take a look at the best uses for backpack loops and how to use them to your advantage.
If you are interested in learning about our top backpack suggestions, then please check out the best backpacking backpacks for men and the best backpacking backpacks for women. There are loads of excellent options available there!
What are Backpack Loops?
Backpack loops are webbing loops that are securely stitched into your backpack, allowing you to attach a variety of objects. Backpack loops can come in a series, known as daisy chains or they can also be individual loops located at various points around your pack.
Although reinforced nylon webbing is by far the most popular choice of material, thanks to its strength and durability, you may also come across finer plastic loops.
Backpack loops also come in a variety of sizes, some are large, ideal for attaching bulky heavy items, while others are very small and can be used for smaller items or to construct your own rigging to hold items in place.
How to use Backpack Loops
Most standard backpack loops allow you to simply clip on extra gear with a carabiner or a webbing strap. If you're attaching heavy items it's important to ensure that they are well attached and stable. It makes sense to attach heavy items to at least two backpack loops so they do not swing and put you off balance.
Some manufacturers include a series of small backpack webbing loops designed to be used with cord. If you're looking to use them to carry soft bulky items, simply tie on some elasticated cord and interlace it across your pack.
This will create a custom rigging that will securely hold extra layers or other voluminous, squishy items. You can still clip them on for maximum security.
To create a custom rigging for heavier items, which will help stop them from swaying and bring their center of gravity a little near to yours, attach heavy items as per usual with carabiners or straps.
Then use a non-elastic cord to securely strap them in place by interconnecting your small backpack loops with the cord. Basically, this is like having an extra-strong, very large-weave, customizable mesh pocket, that will work with any item.
What can I use them for?
Backpack loops are designed to carry anything you don't want to put inside your pack. This includes items that may be pointy or have sharp edges such as trekking poles or ice axes.
They are also ideal for reducing bulk within your pack, saving precious space for items that require more protection. Backpack loops are also great for attaching helmets that would otherwise take up an enormous amount of space in your backpack.
Attaching dirty items to your loops will prevent you from getting your gear inside your pack dirty. This also saves on time as you may need to reuse dirty gear several times before washing it, so you won't have to stop to rinse it off and dry each time before repacking.
Obviously, the same goes for wet items. Attaching them to the outside of your pack will not only keep your other items dry inside, but it will also enable them to dry and prevent bad smells and bacteria from building up inside your pack.
This is a common site on the Camino de Santiago for example, where people often attach washed socks and so on to their pack, to dry as they hike. Dirty or wet items may include clothing, footwear, accessories and anything you may have just dropped in that muddy puddle.
You may also want to attach any items that smell strongly in your backpack, rather than placing them inside with your clothes and sleeping bag. This is especially true for stoves that may have retained some fuel residue, saving you from having to pack extra layers around it to contain the smell.
Frequent Use Items
Backpack loops are ideal for attaching frequent use items. One quick clip and your hands are free, yet gear such as your trekking poles or ice axes are just to hand when you need them.
Laminated maps, external pouches containing smaller items or snacks and water, even messenger bags are all typical examples of items you may want to attach to the outside of your backpack.
You may also find that any last minute, nearly forgotten items from camp are more conveniently clipped on and repacked later when stopping. Especially when travelling in a group and everyone's ready to go. The same goes for shared items that you're taking in turns to carry.
Many people also tie parts of their sleeping system, like a roll mat, to the outside of their pack as they can be quite bulky to carry and won't fit inside a backpack well, if you use one.
Apart from attaching dirty, bulky, pointy, smelly and frequent-use items, backpack loops can also come in use to tie down your pack securely when traveling.
You'll feel much more secure knowing your pack and gear are tied down on to a luggage rack for example or the back of a pickup. Heavy falling backpacks are not likely to damage your stuff, but they could concuss somebody or fall off a moving vehicle.
Disadvantages
Before you start attaching items to your backpack, it's important to remember that heavy items need to be properly secured. Heavy items should really be carried inside your pack, close to your back and center of gravity.
Having a heavy item attached to the rear of your back is going to pull down on your shoulders and tip you back. So, if you're thinking of going for any distance with a heavy item clipped on, you may want to think again.
Also, items that are clipped on, are prone to swinging and can destabilize you. This is especially true for heavier items. Apart from being irritating, this can be dangerous when you're faced with narrow paths, inclines, descents and rocky, crumbling terrain.
Aside from causing slips and falls, swinging items can also cause your pack to chafe or give you shoulder ache.
Any bulky or pointy items that you have attached to the outside of your pack can also prove hazardous for other people hiking in your group and will most definitely slow you down.
This is particularly true in wooded, dense areas or narrow sections of trail where you may end up tangled up in the vegetation.
In summary, be sure that anything you attach to your backpack using backpack loops is secure and is not freely moving about.
Conclusion
Once you know how to use backpack loops correctly, they will become an invaluable feature that will save you time and hassle, keeping your pack better organized, cleaner and allowing you to fit in what you need most.
Whether you choose to attach gear such as helmets or ice axes, wet or dirty clothing, even other attachment points, the real benefit of backpack loops is their flexibility and ease of access.
Just make sure that you're comfortable with any extras attached before setting off, rather than having to stop early on to attempt to repack stuff, that's always a pain 🙂