If you've got a trip coming up and you're planning on covering some ground, either sightseeing, hiking or country hopping, a decent backpack is going to be indispensable.
With a backpack, you'll have your hands free for photos, messaging and refreshments, and you won't have to worry if the terrain is anything other than smooth and level.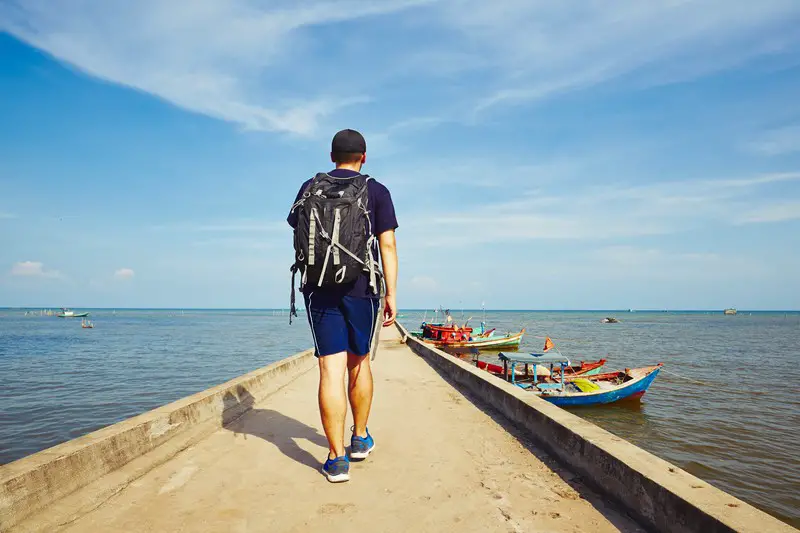 If you're wondering how to pack a backpack for travel, read on and get the low-down on how to plan, organize and pack when you're using it for all your varying adventures.
Plan
Before you can even think about starting packing, its essential to plan what you really do need. Not only will this prevent you from over-packing, it will also help you to ensure you have all of your essentials, rather than having to unpack and check for various items.
It helps to visualize all the gear you're planning to take. What's more, this will give you some perspective of whether it is going to be practical, or even possible, to take everything you think you'll need.
Once you have your stuff set out in front of you, go over each item carefully and if you're not 100% certain you'll be using it frequently then put it to one side.
If you manage to scale back your packing to a reasonable weight, you can always add one or two items back in. While you're in the planning stage, favor multi-use items or clothes that easily mix-and-match.
Any valuable items, or large stocks of disposable and inexpensive, everyday items should be ruled out. You don't want to risk losing anything that will be difficult to replace and unless you're heading off into the wilds of nowhere, you'll be able to purchase supplies at the other end as needed.
If you're not checking your pack, this is especially true to save having items confiscated. Even more so if you've got connecting flights in different countries where take-on rules may vary.
Organize
Once you've decided upon your everything you need to pack, it's really helpful to organize your gear. In most cases, you're probably going to be packing and unpacking several times and in any case, it always helps to have your pack organized so you'll know where to find what you need in case of an emergency.
Stuff sacks and dry bags are essential for protection and make repacking a breeze. Roll your clothes where possible for less creases and more effective use of space.
Don't forget as time passes you'll need extra bags to store dirty laundry and any new purchases. It's always good to pack a few empty plastic bags for this type of thing.
You'll find that dirty laundry seems to take up more space than neatly pressed clean stuff and you'll need somewhere to store souvenirs, emergency bulkier replacements and the like, so aim to have at least 20% of your pack's capacity free at the beginning of your journey.
Main Compartment(s)
To best utilize the space available, you should place your sleeping bag, sleep sack or other bedding at the bottom of your pack. You're only going to need this when you're stopping for the night, and a lot of packs come with bottom zipper access.
Place any other lightweight, compressible and soft items at the bottom of your pack. Not only will this save you space, it will also make your pack easier to carry and provide an internal shock absorber for your back.
Note, you'll want to have easy access to both a waterproof and a warm layer, so set these aside for later.
On top of this layer you should place your stuff sacks with items you're not really going to need access to throughout the day or whilst on the go.
So, pack your clothes whilst placing any heavy items near to your back, for optimum weight distribution. It's wise to place any electrical items in waterproof bags and to surround them with softer padded items if you're not taking a messenger bag.
This section of packing is also a great place to store a spare bank card, emergency cash and a photocopy of your ID, just in case you lose your wallet or are a victim of theft.
Just make sure you have all the details with your other cards of how to cancel this one should you become parted with your backpack. Many backpacks will have a hidden pocket for just this purpose, to keep things that extra bit safe.
The Top
The top of your backpack should contain items you're going to need on the go, such as a warm layer, waterproofs for you and your backpack and any other gear you don't want in the outer pockets.
Bear in mind that what you may stash in your outer pockets for hiking, you may want to place within your pack whilst navigating busy airports and train stations, city streets and so on where pockets can be easily opened and emptied in the blink of an eye.
Once you've packed up, you should give your pack a good testing and make sure it's comfortable. You don't want to be unpacking and repacking on the go, or suffering with aching shoulders.
Take it for a walk around the block and make sure nothing is moving around and the weight is evenly distributed. Use your compression straps to keep it all in place if you've managed to keep that extra space spare or remove some items if the weight is not comfortable. You can always buy things on arrival if you really need to.
Outer pockets
Use your outer pockets for disposable, low-value items that you use frequently such as snacks, drinks and a book. Don't forget airline regulations on liquids if you're not checking your pack.
You might also want to stick in items such as sun cream, bug screen, hand gel, your Buff, maps, emergency contact info and any other go-to items in your outer pockets. Some of these can also be picked up along the way or on your arrival depending on your travel choices.
Security
If you're checking your backpack on a flight, you'll want to invest in a lock for it. I use this  Lumintrail TSA approved lock, and it works well.
TSA locks can be opened by airport security without damaging the lock or your backpack, so you can enjoy protection without worrying about security cutting your bag open if they decide to select it for a random deep search check.
Locks are much more useful than you realize. Even if you're not checking your bag on a flight they're great for any time when you might be separated from your pack or if you want to have a quick snooze on public transport.
If you're travelling by bus or train for any part of your journey, you'll relax much more knowing your pack is securely fixed to the luggage compartment rail. Locking your pack will provide you with a greater sense of security, especially around tourist hot-spots and if you're using hostels.
Conclusion
It can be tough deciding what you can and can't live without for a trip away, however, in most cases you can probably do without all but the very essentials and purchase any other items if you do really need them.
The downside about travelling with a backpack is having to unpack things to get at all your gear, so spending some time thinking about how best to pack it, is a good idea, to save you having to take loads of stuff out to get at something small.
There are lots of great backpacks now that have a large front compartment zip access as well, so you can access it like a normal suitcase, while also enjoying the convenience and comfort of carrying it on your back.
If you are interested in learning about our top backpack suggestions, then please check out the best backpacking backpacks for men and the best backpacking backpacks for women. There are loads of excellent options available there!
Now you know how to pack a backpack for travel, don't forget to bear in mind any local, airline and travel restrictions before you go. Happy travelling!