If you've ever wondered how to use a walking stick for hiking, or even why you would want to use a walking stick on a hike, then read on to find out all you need to know about using a hiking staff out on the trail.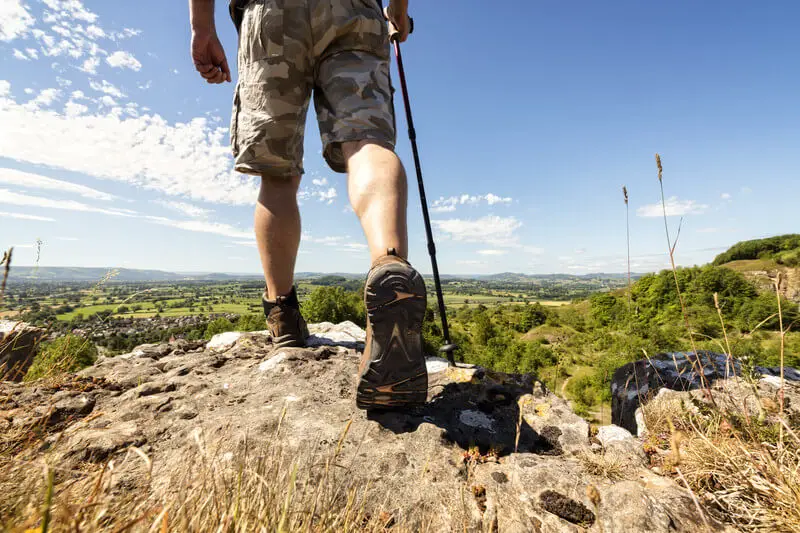 Let's face it a lot of us tend to think walking sticks are just not for us. There are, however, plenty of situations where using a walking stick out on a hike makes perfect sense.
Also, for the uninitiated, we'll take a look at the different types of walking stick for hiking. These range from traditional wooden staffs or sticks, to modern day carbon-fiber models, via ones that double up as camera mount monopods and even selfie-sticks.  
Walking Stick vs Trekking Poles
We did a whole post on whether a walking stick or trekking poles are better on the trail. As opposed to trekking poles, which are used in pairs, walking sticks are used singularly.
Whereas using trekking poles tends to increase speed and rhythm, hiking with a walking stick is more of a steadying process, with the accompanying stick providing extra support rather than increased propulsion.
Some people prefer to use their walking stick on a certain side, depending upon their gait, any mobility issues or just personal preferences. If necessary you can simply pass your hiking staff over to the other side to provide additional support on that side as needed.
It's worth keeping in mind that trekking poles can be used singularly, and in pairs. I know many hikers who like to use only one pole on the flat but will utilize two on trickier terrain.
Why Use a Walking Stick When Hiking?
Using a walking stick when hiking provides extra support and stability. Some hikers use walking sticks throughout the entirety of their hike, whereas others may only use them for certain sections or in certain circumstances.
Here's some of the most common reasons you may want to use a walking stick for hiking.
Recovery
If you have suffered a recent injury, you may feel more confident getting back into hiking with a walking stick to help to support your weight.
Ascents
You can use a hiking stick to help push yourself up over steep terrain. It can also act almost like a brake too, so when you stop half way up that steep ridge, you can lean against it while you catch your breath.
Descents
Steep descents are made much easier with a walking stick. Using one for descents can also help to take some of the stress off your knees, as well as reducing the risk of a fall.
Contouring
Using a walking stick on your lower side when contouring can help to give you extra stability, especially when on a narrow, crumbling path.
Obstacles
Rivers, boulders, rocky or uneven terrain, downed trees and even mud, using a walking stick can help you to overcome all sorts of obstacles.
From giving you an idea of how deep that creek really is, to providing a stable grip over wet, slippery patches, a walking stick can be invaluable in preventing slips and falls.
Vegetation
Some trails can get pretty overgrown and a walking stick can be useful to push branches and briers to one side, protecting any exposed skin as well as your backpack and clothing.
Snakes and other potentially dangerous animals
Use your walking stick to scare away any potentially dangerous animals. Having a walking stick to hand can be useful anywhere you'd rather test the ground first before placing your feet. A stick can also make you look bigger and more threatening in the unlikely event you have a negative wildlife encounter.
Shelter
Many shelters, such as tarp tents, require a trekking pole or some sort of stick for their structure. There are plenty of uses around camp for a walking stick, from propping things up, to providing a support for a mosquito net or an impromptu sun shade.
Different Types of Walking Stick for Hiking
While there is not a huge amount of basic differences in walking sticks, they have developed somewhat with the times. There are two main types, rigid or collapsible walking sticks, with a vast array of extra options that can be combined for a highly individualized modern hiking stick.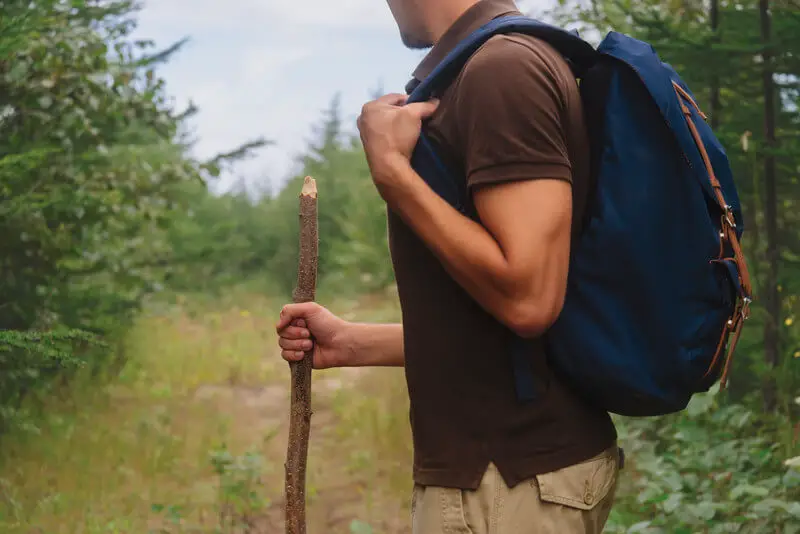 Or you can keep things simple with a plain old wooden staff or stick as in the picture above. Your choice will depend upon your needs, your personal preferences and how you intend on using your walking stick when you're out hiking.
Rigid Walking Sticks
Rigid walking sticks provide extra stability and you don't have to worry about not extending them fully, and risking them folding up or an internal mechanism breaking.
Simple and easy to use, they range from tree branches to more modern cutting-edge carbon fiber designs with additional features. Due to their rigid nature they can be difficult to transport and carry when not in use.
Collapsible Walking Sticks
If you like the idea of using a walking stick for certain types of terrain, but don't want the hassle of carrying one throughout your whole hike, you may like to try out using a collapsible walking stick.
The two most popular choices are telescoping walking sticks, where the pole collapses internally and the sections retract within one another and z-style sticks, where the walking stick is held together by the tension in an internal cable that can be relaxed allowing the stick to "fold" into sections.
Collapsible walking sticks are easier to pack and store, however, you can run into problems if their mechanism for collapsing or locking into place stops functioning.
Additional Features
Once you've decided on either a rigid or a collapsible model, there are plenty of additional features that you may or may not wish to combine.

Material – From traditional wooden staffs to carbon fiber and various alloys, there are plenty of different choices each with their own advantages.
Adjustability – Some poles can be easily adjusted to accommodate a range of different heights. You may also want to adjust your walking stick to better deal with steep ascents or descents, a longer stick will be better for downhill, while shortening your stick can make uphill climbs easier.
Lightweight – Some people prefer heavy, sturdy sticks, others lightweight models. Given the strength in today's modern compound models, you can have the best of both worlds. It really comes down to a matter of personal preference.
Shock Absorbers – some walking sticks have a shock absorber at their lower end. This can be useful for downhill stretches and for anyone with any lingering injuries.
Camera Mount – Monopod camera mount walking sticks save you from dragging a heavy, cumbersome tripod out with you into the wilderness. You can also find walking sticks with mobile phone attachments for the ultimate selfie at the end of your summit climb.
Handles and Grips – whether you prefer a t-shaped handle, no handle or a cork grip for use in hot weather, there's plenty of different options available.
Conclusion
So there you have it, we've taken the mystery out of how to use a walking stick for hiking.
Even if you're not too sure whether using a hiking staff is quite for you, the next time you're headed out over difficult terrain, you might like to try one out and see whether using a walking stick for hiking could make your hikes more enjoyable.
Personally, I prefer hiking poles, they are versatile and easy to use, but traditional walking sticks have their place on the trail for sure.