Learning how to boil water while camping can make your trip a much more enjoyable experience, and is of course a critical component or safety.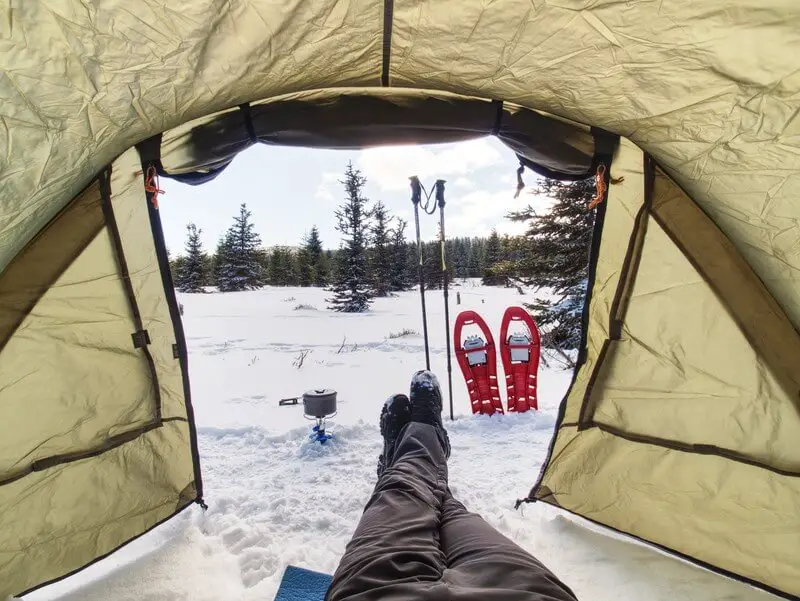 In this article, we'll take a look at why you may need to boil water while you're camping, as well as checking out some of the best ways to do so.
Boiling water while camping is an essential, often overlooked skill that can provide you with safe drinking water when you run out, or if your regular water treatment method breaks. So it's good to have a back up plan in the back of your mind, just in case.
Why you need to Boil Water
Being able to boil water when camping is not only essential for your morning tea or coffee. Boiling water can also be an important way to provide you with safe drinking water, as well as a backup method for when you forget your other water purification methods or if they get lost or break.
Boiling water is also a quick and easy way to re-hydrate ready made freeze-dried meals for quick nutrition, however, having the means to boil water often also means you can actually cook a half decent meal too.
Let's take a look at some of the most popular ways you can boil water while you're camping.
Popular Ways and Devices to Boil Water when Camping
From the simple, traditional campfire to heatsticks, there's a wide variety of devices available to boil water when you're camping.
Traditional Canister Stoves
Canister stoves are generally speaking easy to light and bring water to a boil faster and mush easier than your average campfire. However, you will need to carry fuel with you which will add to your pack weight and take up space.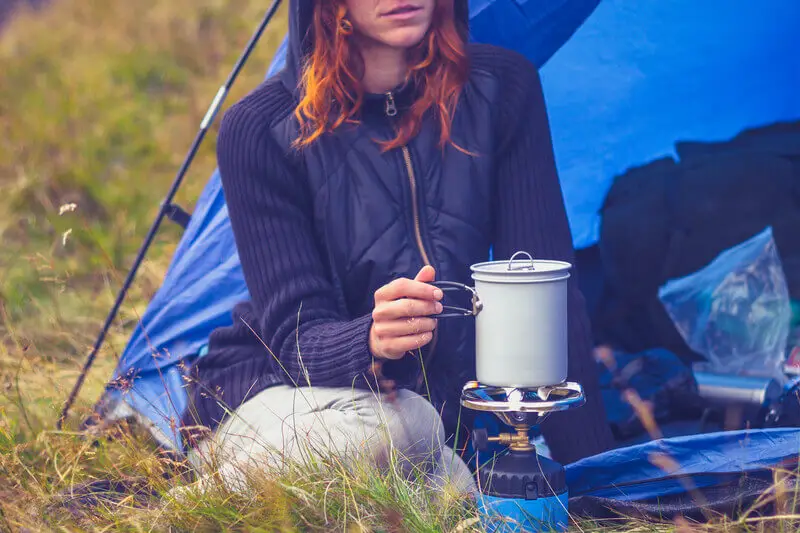 Traditional canister stoves are also good for cooking as well as simply boiling water. Some canister stoves feature easy ignition systems making them simple to light.
Available at a wide range of prices and weights, even basic canister stoves will boil water quickly and easily, making them a popular choice. Be careful with them in windy weather in and around your tent, it's not unheard of for them to set the odd tent on fire.
Internal Flame Kettles
Try out a Ghillie or Kelly kettle for fast boiled water. Thanks to their internal chamber your fire stays lit even in windy conditions and as you don't need any batteries or fuel you can use what you find around your campsite to burn in it.
Your water boils faster and more efficiently as there is less heat lost between the flames and the water than with a traditional stove. The handy pouring spout also makes the kettle ideal for your cup of morning coffee, or for transferring your purified water to another container to cool down.
As the flames are contained it also makes it safer to use in trying areas and conditions, like heavy wind as referenced in the last paragraph. Made from lightweight aluminum, these kettles are light to pack and can be attached to the outside of your pack to reduce bulk.
Campfire
Light a campfire using nearby sticks and leaves for a traditional campfire. You'll have to pay extra attention to its location and make sure that you can keep your fire under control.
They can be quite difficult to light for newbies and might take a while to bring your pot or pan of water to a boil.
We are not fans of campfires, as we believe in leave no trace, but many folks do like to use campfires. Here's a video of the most basic way that you could boil water with next to no equipment, basically a fire and a can.
Other Methods
You could also use newer mini canister stoves such as the Jetboil Flash to reach boiling point in a short amount of time or an integrated canister stove such as the Jetboil MiniMo.
These modern types of stove cut down on bulk and weight. They are also designed to be rapid, although they often can only heat small quantities which makes them unsuitable for groups or cooking.
If you are just looking for an alternative to the usual water purifying systems frequently used on the trail, then you might be interested in trying out the Jetboil.
It is expensive but it can boil water without a flame or light within several minutes. The small cylindrical tool weighs approximately 0.82 pounds and is unaffected by the elements. In fact it is so compact and easy to use that you can even use it on the go.  
Safety Considerations
If you are boiling untreated water from a natural source then there are some important safety aspects to bear in mind.
As boiling water won't filter out or remove any toxic chemicals, if you don't have a specialized filter or you have left it at home with your regular water purification method, then you will need to be extra careful where you draw your water from.
As a rule prefer fast flowing rather than still waters and always go upstream from any farmed land, roads, buildings and any other signs of human activity.
Your stream water will likely contain small bits of dirt and sediment. You can use a t-shirt or other item of clothing to filter your water and remove any large bits. Place your pan, canister or other receptacle full of water over your fire, stove or pour it into your Ghillie kettle.
Bring your water to a rolling boil for one minute to kill off any potentially harmful bacteria and pathogens. If your water is not quite at a rolling boil, then you would be better off leaving it to boil for several minutes longer to guarantee that it kills off any harmful microorganisms.
Also if you're at an elevation over 6,500 feet, you will need to boil it at a rolling boil for at least three minutes as water boils at lower temperatures the higher up you go.
Keep in Mind
If water is in short supply, be sure to minimize evaporation by using a lid or self contained unit. This will also speed up the time it takes to reach boiling point. Some canister stoves come with insulated lidded containers that make boiling water faster and more efficient.
As referenced above, when you have any kind of naked flames, you need to be extremely careful that you don't cause a fire that could quickly spread out of control. Check any warnings and pay heed to any fire bans especially during hotter times of the year when rainfall is scarce.
You'll also need to pay attention to the wind direction, if you're boiling your water near to your tent and equipment a sudden gust could potentially set your tent on fire leaving you without shelter.
Naturally, it's also important to pay attention that you don't burn yourself, either from the flames themselves, or the hot stove, pot or water.
Whereas at home in a standard kitchen we'll automatically reach for a kitchen cloth or an oven mitt, if you're new to camping you may just naturally reach out for that burning hot pot full of water without a second thought.
You may want to play it safe and make sure that your first aid kit has burn cream and appropriate dressings, especially if you're the clumsy type.
Conclusion
From cooking to coffee, being able to boil water on the trail makes life much more comfortable on camping and backpacking trips.
Once you know how to boil water while camping not only can you prepare yourself hot drinks and meals, you also have an effective water treatment system for in case your main water purification method breaks.
While it won't remove any toxic chemicals, if you're stuck for drinking water, boiling stream water found upstream of any human activity is one of the safest ways to treat water and kill off any potentially harmful bacteria and pathogens.