Broadly stated, there is usually no better time of the year to head out on the trail than in Summer. I like hiking all year round, but I thought it would be interesting to assess what I see as some of the benefits of hiking in Summer as opposed to other times of the year.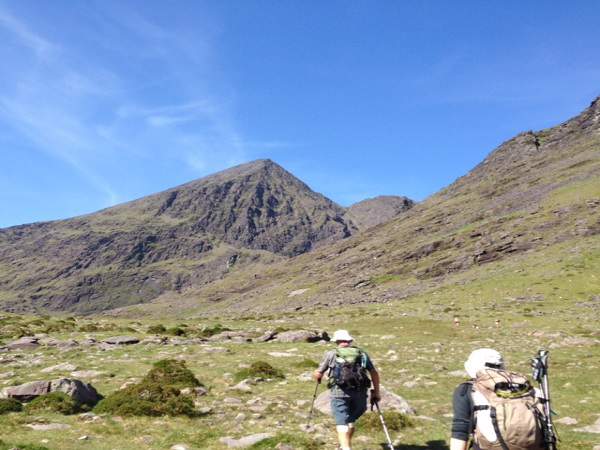 The Weather
First up, the obvious place to start is with the weather. The weather tends to be nicer, in many parts of the world, with more sunshine and less cloud in Summer. Of course, even if it is sunnier and hotter, you still need to be careful when it comes to the sun.
It can cause as many problems as cold weather when you're out hiking in the heat for a long period of time. Dehydration is not uncommon for example and although this can happen at any time of the year, a beating sun certainly increases the likelihood.
The potential to encounter this problem is of course exacerbated in more extreme parts of the world, say hiking in a desert for example.
However, generally speaking, the warmer weather and nicer temperatures make for a much more pleasant hiking experience. I should conclude this section by saying that even in Summer, in temperate parts of the world, you can still get drenched in a downpour and caught out by the weather at any time.
The advantage can be that you may get as cold as you might in Winter, however, I have hiked in the Summer and got drenched in various parts of the world and with a cool breeze and heavy cloud cover, it didn't feel like summer at all, at times!
People are more Likely to Hike
Summer is the perfect time for a beginner hiker to get started as the better conditions mean one less thing for them to factor in when preparing and getting used to what's involved.
Similarly, there are plenty of fair weather hikers who only poke their heads out onto the trail in the Summer time. The thought of dragging themselves across mountains in cold and wet conditions is simply a no no for them.
That isn't an issue in my world as I know plenty of all year round hikers. However, I know a couple of friends who would like to get out on the trail more, but they need to bring their wives out with them too as they only get to spend a day together here and there, what with kids and so on.
Their wives would not even consider setting foot onto any trail if there was a threat of rain!
However, in Summer, it's a much more viable option for many people and you of course tend to see many more people out on the trail in summer that at any other time of year.
Beautiful Views
This one ties in with the weather but it does merit a special point all of its own. Summer is really great when it comes to getting those panoramic views that every hiker hopes to get rewarded with after a long trek up a mountainside!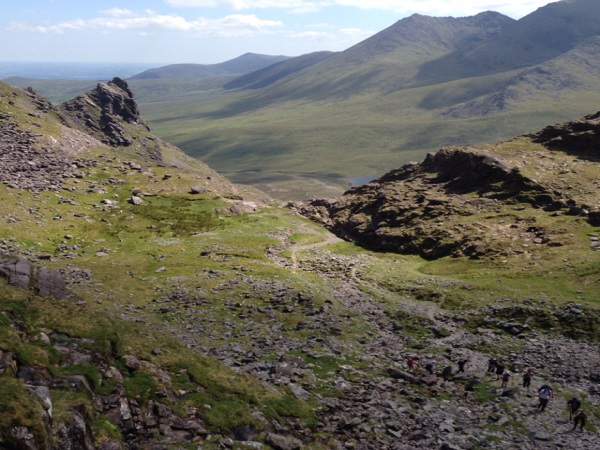 There is much more chance of catching amazing views, and that great photograph to show off to your friends, when the sun is out! Now, of course some places experience sun most of the year round, but for many, summer is the best chance of a blue sky photo opportunity.
I hasten to add that there are plenty of beautiful views to be had on cloudy days too, they can have their own mystique and qualities which are always worth experiencing, but much harder to catch on camera by an untrained photographer like myself!
More Options
In Summer, generally speaking, when you visit a national park or the like, all the various trails on offer tend to be open.
Although it's likely to be a busier time of year so there will be more people too, it does mean there are usually plenty more options to experience on the trail. If you plan ahead, you should get to do the hike you prefer.
At other times of year, due to the weather for example, many trails are closed as they are deemed to be too dangerous. Think of heavy snowfall threatening avalanche, or perhaps the Narrows in Zion National Park, where the river is too dangerous to hike in for periods of the year due to run-off from rainfall and melting snow.
There are plenty of examples of this and overall, it's more likely that in Summer, you have plenty more options to choose from when you hit the trail.
Less Gear to Carry
Again, broadly speaking, your gear bag will be a bit lighter in the Summer. While you always should have extra layers for warmth and suitable rain jacket and rain gear, in summer time, the necessary performance requirements are likely to be less.
For example, as I move through the year, I go from wearing a very thick and heavy fleece in Winter, to a much lighter one in spring and Autumn, to an even lighter one in Summer. In fact in summer, many times, it just stays in my day pack.
Similarly, in winter, I will carry extra pairs of thick gloves and mitts but in Summer, when the temperatures are much better, I don't need this kind of heavy artillery gear in my bag. I of course always have suitable spares for emergencies but there is definitely more leeway when the sun is shining and the temperatures are up.
Conclusion
So, there you have it, some of what I see as advantages to hiking in Summer, as opposed to any other time of the year. Now, as I said at the start, I hike all year round and love what every season brings in terms of experience and enjoyment.
However, Summer is a fine time to experience the mountains and it can be really sweet to hike when nature is in full bloom, and you can really see off into the distant horizon. Summer time certainly brings it's own majesty to an experience on the trail, that is for sure!
What about you? Is Summer your favorite time of year to hike? I'd love to hear your thoughts in the comments below.