Today's post is about a short but very pleasant hike in the Wicklow Mountains National Park that I have done many times. That hike is the two lakes hike in Glendalough in the Wicklow mountains.
I think Glendalough actually means 'The Glen of Two Lakes' in the Irish language although I'm not 100% sure of that. Glendalough is a popular tourist destination in county Wicklow in Ireland. It's close proximity to Dublin means that it's an ideal location for a day trip from Dublin city and surrounds.
This hike is a relatively easy one and takes about 2 / 4 hours depending on your pace. If you're a regular hiker, you'll find this a comfortable hike. If you're completely new, you might want to take it handy enough and just play it by ear as you walk around.
There is a clear trail the whole way and the terrain varies between rocky bits and boardwalk but there are a few steep ascents which could prove tough to legs that aren't used to it.
Getting There
To get started you can park up in several locations in Glendalough. Normally, I park up in the Glendalough hotel as the parking there is free. It's also a nice place to stop in after your hike for a cup of coffee or a bite to eat. The hotel is a bit further down from the actual lakes themselves, so it adds an extra 10 / 15 minutes to your hike.
Not a big deal but if you want you can drive further up past the hotel and there is paid parking available at the upper lake. There are also lots of nice green areas in the upper car park area and some picnic benches if relaxing in the sun is the order of the day.
I should also add that the area is very accessible from Dublin City Center. There are lots of day tours available from various private companies which will take you out and back for the day by coach.
Anyway, for our purposes today, we'll start from the Glendalough hotel.  The map below shows the exact location.
As mentioned above there are lots of hikes to choose from. once you get into the national park there are boards dotted around showing some of the common walking trails people like to take. These walks are highlighted along the way by colored arrows, one color for each walk, so they're very easy to follow.
You can also get a walking trail map in the information center at the upper lake and at the Glendalough Visitor center. You can learn more about these trails and you can download a free map here. This hike is a bit of a mix of a few of the trails listed on the map. Don't be afraid to get a little lost as you venture around, it's pretty easy to find you way back onto a main trail and any wrong turn will likely lead you on another beautiful trail anyway 🙂
Getting Started
Now, I should start by saying that there is no set route to take on this particular hike. You can approach it from either direction from the Glendalough hotel car park or from the upper lake car park.
However, I will cover the route I normally do. Firstly, I head out of the car park entrance and take a left which will take you further into Glendalough towards the lakes. Follow this road all the way down till you reach the upper lake car park which you will pass on your left. Along the way you will see some lovely medieval remnants of old buildings. You can visit St. Kevin's church too as part of this hike but we'll get to that later.
The Upper Lake
As you pass the upper lake car park on your left and continue on the road, it will eventually become a path and merge with another path which comes from the upper lake car park. At this point the upper lake will start to come into view on your left.
It's a beautiful sight on any day of the year. You will have a faint treeline on your left and a mountain rolling upwards directly to your right. On the other side of the lake you also have a sharp mountain ascent.
All this combined provides a beautiful hilly backdrop that cradles the lake in its center. It's worth taking the short walk down to the lake edge itself as the views are beautiful. The lake is peaceful and serene on good days but can get quite wild when the winds are up!
The Quarry
Heading back up onto the path, continue on along with the lake on your left. You will be surrounded by pleasant tree cover overhead for a short while before the path eventually opens up into an open area at the top end of the upper lake.
At this point you will see the two mountains on either side of you join at the end. Where they join a beautiful river flows down into the lake. Again the views are simply fantastic. As you walk towards the river, you will also pass a few old stone building ruins. I believe these were part of an old quarry which used to mine here, for Lead, Zinc and Silver to the best of my understanding.
As you move towards the bottom of the river you will need to walk over stepping stones to get to stay with the path. This is fun and adds a nice mix to the hike but be careful not to slip in, although at worst you'll get your feet wet. You'll also pass some very old mining equipment from way back in the day as pictured below.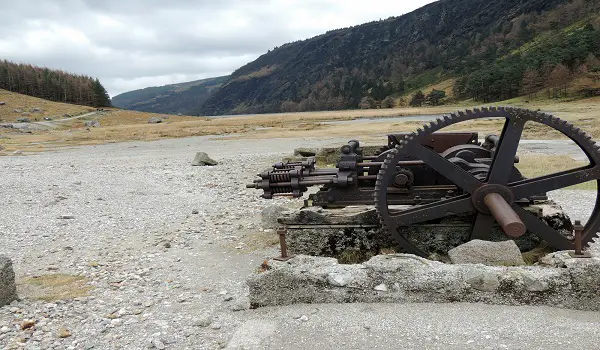 Eventually you'll reach the base of a stony path that meanders up the side of the river. This is probably the toughest part of the hike coming from this direction as it's a steep enough climb to get to the top.
It's again really beautiful though and there is ample opportunity to walk over right beside the river. The sounds of the running and gurgling river provide a comfortable background to this part of the hike itself but going over right beside it is worth it. there are lots of little waterfalls and flowing streams within streams. It's very beautiful.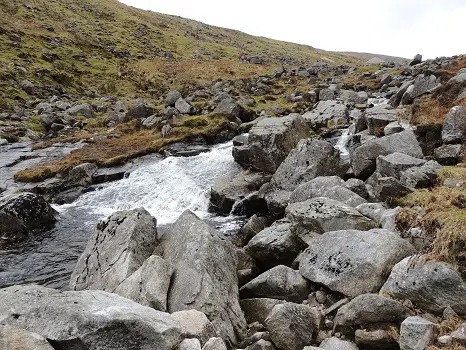 The Foot Bridge
When you get to the top of the river, you will see a bridge crossing over it. The river continues on into the horizon but for this hike, it's as far we go alongside it. We now want to cross over the bridge and head across the stone path. Again you will see some old stone building ruins along the path to your left. It's worth taking a wander over to take a look around. It must have been a tough place to work or live back in the day, that's for sure!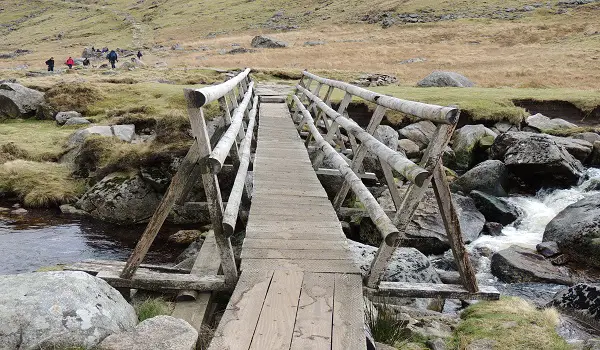 This is an ideal place to stop and have a quick snack or cup of tea or coffee. At this point you're looking back down through the vale and the views are again stunning.
It seems like I am repeating myself when I keep mentioning about the views but in all honesty, until you head into the forest at the end of the hike, all views available to you are just amazing. The forest walk is beautiful too but the views aren't as striking mainly as you are surrounded by trees.
The Boardwalk

After heading over the bridge, keep following the stone steps along the path. They will start to rise upwards and they will eventually come to some boardwalk. This takes you up into an area known as the Spinc.
The boardwalk was put there as the ground in the Wicklow mountains is very marshy so it wouldn't be practical or safe to walk over it as normal. It would damage the landscape too. The Boardwalk is made from railway track sleepers and has lots of round nails sticking out of it. This is excellent for walking on as it provides excellent grip for your hiking boots, even in rain.
The Boardwalk slopes upwards and as you continue to walk up it you will see the lake below you to your left. There is no real place to stop along the boardwalk until you start to come down the other side and single file walking is required the whole way along the boardwalk.
After about twenty or thirty minutes, you will reach the top of the upwards section of the boardwalk. The boardwalk then goes downward in a much steeper descent. Along the way there are a few viewing points which are definitely worth stopping at to take it all in.
The picture below looks back down across the upper lake and in the distance on the right you can see the lower lake.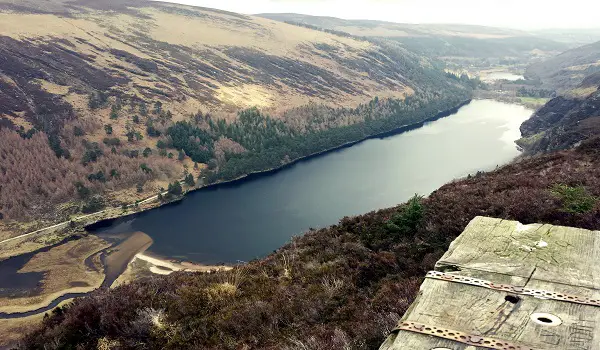 The Forest Walk
The boardwalk continues on downwards and you will notice that it veers off to the right into the trees. You have two options here. You can take either the first exit into the forest that you come to or continue on to the next one. I recommend the last exit if this is your first time, as this will take you closer to the path than runs by St. Kevins.
This is a beautiful part of this walk as you walk downwards for about 15 minutes or so through the forest. Surrounded by trees on either side, it gives one a very secluded feeling as you descend.
When you get to the bottom, you will see a path going downwards alongside a large river. Continue down along this path which will take you towards the car park of the upper lake. As you follow the signs for the car park look out for a  path veering off to the right, I am nearly sure it is signposted, which will take you towards St. Kevins church.
Note, this is another great opportunity to stop off for a short break. You can head into the car park itself where there are bathrooms and a cafe where you can get food and drinks.
St. Kevin's
St. Kevin's is an old monastic site which dates back to the 5th century BC. St. Kevin set it up and over the centuries the site played various roles throughout history. It has an interesting history which is worth checking out. You can read more about it here.
As you walk towards St. Kevins you will have the lower lake on your left. Again there are lots of opportunities to venture closer to the lake on other paths off of the main route. Going to visit St. Kevins is also optional as you can continue onward back towards the car park in the Glendalough hotel. However, if it's your first time there I highly recommend you stop off and check it out, it's an impressive piece of history to walk around in.
Pictured to the right is the round tower beside St. Kevin's. I think this would have been used to hide in when under attack back in the day.
Back to The Hotel
After you've finished exploring and taking in all the history at St. Kevin's, walk back to the main path you were on and continue onward in the direction you were going. Eventually you will see the back of the hotel in the distance. Just stay on route towards it and you will eventually come to another bridge which you cross to take you back to the car park.
Conclusion
Overall, this is a really pleasant hike that will be suitable for most although some will find it tougher than others. What I really like about this hike is the fact that it takes in so many different types of terrain and surroundings.
You start on country road and move to walking alongside beautiful lakes. Then you head upwards on a rocky path alongside a river. After that you move to a boardwalk which traverses marshy bog land before heading down through the thick of a forest. Finally you end up back on man made track again alongside a lake with the option to take in some medieval monastic ruins. Pretty impressive hey?
Another great advantage to this hike is that it is very accessible, save very bad weather, all year round and it is good to enjoy at any time of day or night. I recently did a full moon hike here and with a clear sky, it was just beautiful, peaceful and serene. If you do plan to do a night hike though, be sure to take a head lamp.
It's a pretty special and it's no wonder it's such a popular tourist destination. Even as a hiker who has hiked it on many occasions, it's one hike that never fails to satisfy!
Have you ever hiked along the two lakes in Glendalough? Did you enjoy it? I'd love to hear about your experience so please leave a comment below.