And so, we come to the last stage of hiking on the Camino de Santiago!
This stage runs twelve and a half miles from O Pedrouzo to Santiago. As with my previous blog entry, the group I was travelling with actually did this stage over two days but I will be combining both days into one post.
O Pedrouzo to Santiago
We started from O Pedrouzo and headed for Lavacolla. This was about six and a half miles in total and so was completed in a very short time. People who had been having trouble with their hiking boots and blisters were now pretty hardened up so this was a cake walk in hiking terms.
It was another sunny day and again we walked through dense eucalyptus in shade and peace and quiet. It really was a very serene walk. As we were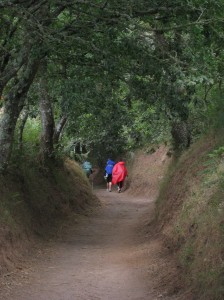 only going a short distance, we didn't set out till much later than previously so we were not on the road till about nine in the morning. By that time the normal caravan of Pellegrino's who set out early in the morning, to take advantage of the cool morning air, were long gone.
We were staying in Lavacolla and I want to make a special mention for a really beautiful country house we stayed in on this night. It's called Xan Xordo. It's located in the quaint countryside of Lavacolla and it really was a beautiful place. I had a beautiful four poster bed and a proper full sized bath! A luxury I can tell you as even though I had been staying in hotels the whole journey to date, so far from roughing it, they all only had showers, no baths. I'm not normally a big fan of baths, much more a shower type of guy but after all the walking of the previous days the opportunity to stretch out in a long hot bath was just divine!
As mentioned, the location was just beautiful. There's a small courtyard in front of the Xan Xordo with a table and chairs for resting in. There's a canopy over the table and it was so cool as it is actually made from grapevines with real bunches of grapes hanging from it! Totally awesome. As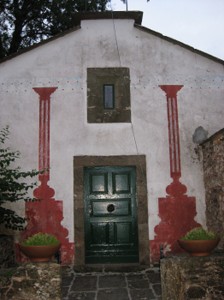 well as that, at the very front of the courtyard there was a tiny little church. This would have been owned by the family who were of means going back generations. It really was something special. A private little church in your front yard, how about that!
The next morning, the final day of hiking, we started out around eight in the morning to make our way to the beautiful city of Santiago. We wanted to be there for the Pilgrims mass which is on every day at noon so this gave us plenty of time to get there.
As we approached the city, we expected hoards of pilgrims on the Camino and things did start to crowd up the closer to Santiago we got. The first major place of note between Lavacolla and Santiago is Monte do Gozo. There's a long hike uphill here which can be tiring but I found it fine on the cool overcast morning that it was.
You will also find many of the one day bus tours starting from this point. They drive and drop off bus-loads of people who then walk back into Santiago to St James Cathedral.
Overall the hike was pleasant and as expected we arrived in good time to Santiago for the Pilgrims Mass at noon.
Conclusion
In my next and final blog post on the Camino de Santiago I will go into a bit more detail on arriving into Santiago, St. James Cathedral and the Pilgrims mass, acquiring your 'compostela' (certificate of completion) and so on. Much to review!
But that was that as far as the hiking was concerned. We had all reached our destination successfully! There were some casualties along the journey with blisters, swollen feet, sore backs and the like but overall everyone did a great job to get there. Approximately seventy miles walked over eight days. Not bad going!
If you want to go to the start of this series on the Camino, click here. If you want to read the next installment, click here 🙂
Have you hiked the Camino? What experiences did you have along the way? I'd love to hear about it in the comments below!