Tent zipper lubricant is one of those things that you might only think about when it's too late, and you're already battling with your stuck zipper as the approaching storm clouds start to unleash their torrential downpour.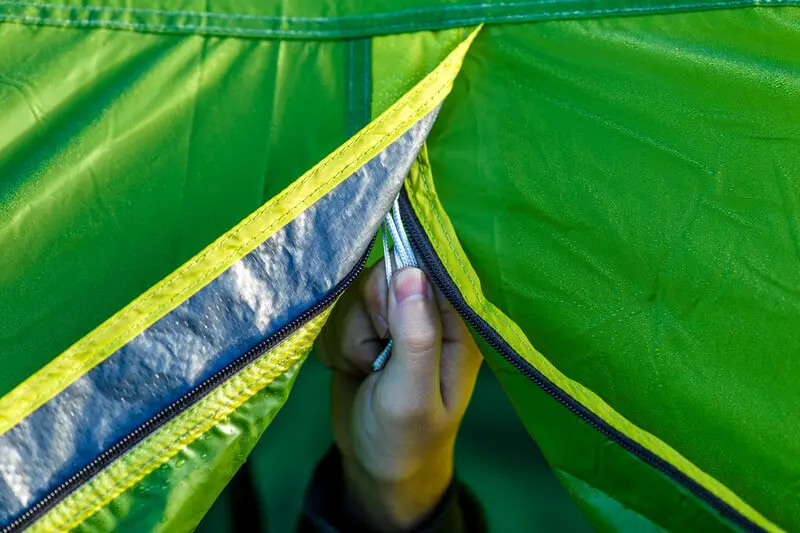 If you like to be prepared, which is recommended when you're out backpacking, then you might want to check out what is the best tent zipper lubricant to make sure that your extended hiking trips go smoothly.
If you're in a rush, and just want to know what lubricant is best, we recommend the Gear Aid McNett Zip Care Cleaner and Lubricant,
it's an excellent product that the does the job really well!
Why Use Tent Zipper Lubricant?
Tent zippers are often the most problematic part of your tent. They can be costly to repair and replace, so it makes sense to take good care of them.
When you're out camping in your tent, you're relying upon your zipper to keep the cold and wet out (and possibly insects too), while allowing you get out and in quickly.
Using tent zipper lubricant can help to reduce wear and tear on your zipper. This in turn can increase the lifespan of your tent. It also helps to prevent wear and tear on the fabric surrounding the zipper from over exerting force at a particular sticking point over time.
Tent zipper lubricant can also save you time and hassle, who wants to spend minutes struggling with their zipper to get out of their tent in the morning. It can also prevent the accompanying frustration which can be a bit of a downer on trips.  
Purchasing  and using tent zipper lubricant could save you time, hassle and money. In extreme cases it could even save your tent, preventing scenarios where the zipper seizes completely and you have to resort to cutting yourself out, not fun!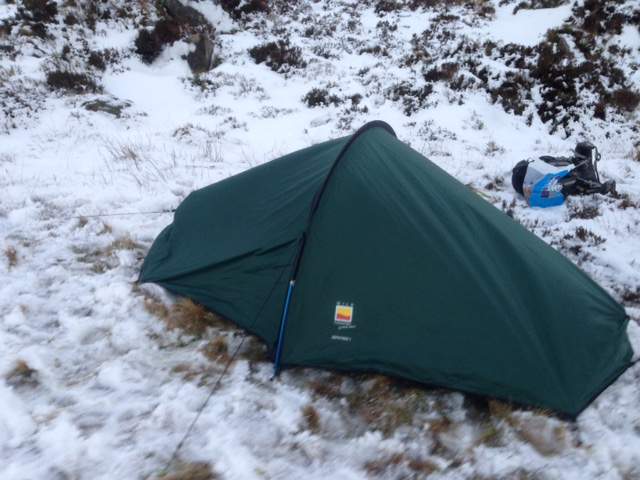 When to Use Tent Zipper Lubricant
Convinced? So, when should you use tent zipper lubricant and how often? I'd recommend scheduling it with any other regular tent maintenance so you don't forget.
If you've not been experiencing any particular problems with your tent zipper getting stuck, you should probably aim to use it every few months. If you use your tent a lot, you may need to use it more regularly.
I find it's best to store my zipper lubricant with all my hiking equipment. Before heading off on a long trip, I inspect all my gear and check everything's in working order.
After checking over my tent I use the lubricant to ensure that I won't have any problems when I'm out on the trail. You can also lubricate your tent zipper when you get home from a trip too after cleaning your equipment.
Inspect your equipment before storing it and note any repairs that will be needed before planning your next trip.
As I often go on day hikes, I regularly use my tent zipper lubricant on my day pack to help prevent wear and tear. I also treat my other backpacks before and after trips.
Your hiking jacket can also benefit from a quick application when you're treating the rest of your zippered gear.
How to Use Tent Zipper Lubricant
Tent zipper lubricant is easy to use and generally comes in handy-sized bottles. Some may have a brush attached to the nozzle cap. Whether yours does or not, be sure to thoroughly clean your zipper before applying the lubricant.
Trapped grit and dirt are one of the main causes of a malfunctioning zipper and they can cause serious damage. So begin by opening the zipper full length and brushing out any dirt.
Next, apply the lubricant. You want to apply an even amount to the entire length of your zipper on both sides. On tents with a large zippered area you may prefer to enlist the help of a friend. Once you've done this pay particular attention to the zipper foot, making sure it is adequately lubricated.
Finally, close your zipper fully, making sure its slides, or rather glides, with ease. Repeat to ensure the product is adequately dispersed over the entire length and within the individual teeth. And voila, a clean, lubricated tent zipper ready for your next camping trip.  
How to Choose a Tent Zipper Lubricant
It's pretty simple, however, there are a few considerations to bear in mind, namely your zipper material and your preference of application format.
When you're choosing your tent zipper lubricant be sure to check that it is suitable for your tent zipper material. Some are made especially for plastic zippers, metal or nylon. Others are multipurpose, so just check before you purchase.
If you're planning on using it for your backpacks and jackets too, you'll also need to bear those zipper materials in mind.
Application formats can vary widely. For the most part it comes down to personal preference and what you find easiest to use. You may also like to purchase an additional mini format to take with you just in case of any malfunction, especially if your hiking buddies are less conscientious types.
If you camp often in sandy, gritty places, you may prefer to purchase a lubricant with a brush top, to take with you to remove dirt and debris from the zipper. Other formats includes sticks, sprays and fine application nozzles.
Recommendation
We recommend using Gear Aid McNett Zipper Cleaner and Lubricant. This is my favorite for several reasons, mainly because I find the non-stick formula to be the best I've tried so far.
Get the Gear Aid McNett Zipper Cleaner and Lubricant on Amazon now!
I mean what is the point of cleaning and lubricating if you're just going to attract extra dirt? Aside from its non-stick formula, I like the handy brush head.
You could even stick it in your backpack and give your tent zipper a quick brush over before packing up. Lastly it's non-toxic and also provides protection against salt, rust and corrosion. Use it on plastic, nylon or metal zippers, it's a great product that does what it says!
Conclusion
Zippers are often an integral part of most essential hiking equipment, and they do the job so well that we tend to forget about them until they begin to malfunction.
Using a zipper lubricant can extend the lifespan of your hiking equipment and help to reduce wear and tear. Using the best tent zipper lubricant will prolong the life of your tent, potentially saving you money and making your trip a more enjoyable experience.
If you don't already own one, we sincerely recommend purchasing a bottle today. We hope you found this article useful, please share it round your networks if you did 🙂