I have mentioned the key point of this post in other posts before but it was illustrated to me again last Sunday while I was out hiking. First off, I should state that I think technology is a fantastic navigation aid for helping you establish your position and where you are on your route.
There is an extensive range of GPS watches, devices and phone Apps available on the market today that offer a really awesome selection of capability for helping you find your way around in the mountains.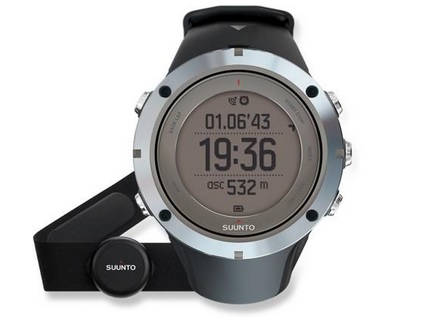 Pictured above is the Suunto Ambit3 Peak Sapphire GPS Watch, click on the image to learn more.
Some of the Apps available on phones today are also really excellent and I love them and really think they're very useful and very accessible. However, when you go to any mountain navigation course they will always tell you that your primary means of navigation should always be your map and compass. Why? Simply put, technology can break and / or not work in certain scenarios.
My Recent Experience
As mentioned at the start of this post, I had a reminder of this last Sunday while out hiking. Basically, I was out doing a recce for a hike I'm helping to lead the following weekend. I actually know the route pretty well but I hadn't been up there in a while so I thought, why not take a hike up there on Sunday. No harm to get a reminder of the route and it would get me out for a nice hike in the process.
Now, recently I have been very taken with the phone App Viewranger. I've only been using it the last two weeks but I have had it on my phone for a while. No real reason why I hadn't used it, I just preferred the traditional map and compass.
Well, I started to fiddle with it a few weeks back and, as I alluded to, I was really taken with it. It is a fantastic App. I bought copies of the maps I use and I can do all sorts of cool stuff with the App and online. For example …
I can make up a proposed route on my maps in minutes with just a few clicks, and I can then sync them to my phone to follow on the ground
I can record a track when I head out on the trail and it will detail lots of useful information about the hike e.g. route followed, distance, height, etc.
I can share tracks with others as .gpx files (GPS coordinate files) and I can download other peoples hikes if I fancy doing them
I can save photo's at way points along the route
etc. etc.
That's listing only some of the neat things the App can do so all in all it is brilliant!
Out in the Field
On Sunday I decided to record my recce hike. I was at the start, turned the App on and hit record. Good to go! Now, it is pretty sweet as when you look at the App on the phone it shows you where you are on the map which is of course really useful … as long as you have network coverage of course 🙂
So, I headed along the route and up to the top of one of the main peaks on it. The ground approaching the top, and the top itself, was covered in snow and there was a thick white mist so basically, the further I went up, the less visibility there was. This wasn't an issue for the majority of the route as for the most part it is very well marked with trails, even when covered in snow. So I didn't need to look at the App so couldn't really test it in challenging conditions … as yet.
However, there was one part I wanted to do from the top of the first main peak. Again, in normal conditions nothing complicated, there are two separate paths going off in the direction to a particular landmark I wanted to locate. As the top was covered in snow though, there was no way to see any paths.
The Top
When I got to the top, it was very windy and cold but all was fine. This was an ideal time to try the App out in trickier conditions. I took out my phone and thought I'd give the App a go to try and locate the path I wanted to follow to take me to the landmark I was looking for.
I had the phone out and sure enough it listed that I was at the top of the particular mountain I was on. I had battery, about 50% (worth noting that the App is quite heavy on juice) and good network coverage so all was good. So, I started to head off in the direction of one of the paths using the phone app.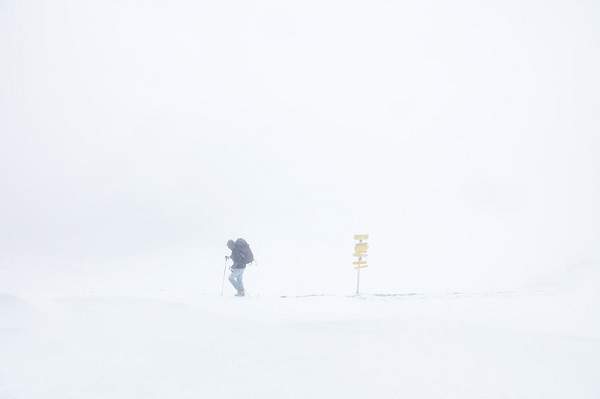 Now, to stress again, visibility was pretty bad, I couldn't see much further than 5 to 10 feet in front of me. With my eyes peeled on the App I followed the path using my phone, I was walking for about 10 to 15 minutes and while I was moving in the direction of the landmark I wanted, I noticed that my location marker on the App seemed to be almost stationary on the map.
I wasn't sure what the story was but I knew I had walked far enough in terms of time and distance to not have came across the landmark and the marker on the map seemed to have just stalled. Hmmnn!?
Then I Spotted the Problem
As I stood there in the snow wondering why the little location Icon on the Viewranger App on my phone didn't seem to have moved, I noticed than I had no network coverage. At the top, I had nearly full coverage so I assumed it would be fine. However, for whatever reason, as soon as I set off on the path, at some point the coverage just dropped.
I wasn't 100% sure of how long the App had not been working so I couldn't make any guess as to where exactly I was using the App, the blanket of white snow and mist surrounding me didn't help of course.
Now, this wasn't a major problem for me as I am an experienced hiker and know how to use a map and compass, which I had with me too of course. The main thing I was doing was trying to test the App out and get used to using it in real conditions.
So, with no coverage, I decided that I would just head back to the top. I wasn't 100% sure where I was but I knew if I just kept going up, I'd get back to the summit, which I did.
When I got to the top, I took out the traditional map and compass and took a bearing from the summit to the landmark I wanted to reach. I also measured the distance so I could time and pace the distance to be sure I didn't overshoot by too much. Using the traditional tools, 10 minutes later I was standing at my landmark, all good!
Food for Thought
As I said at the start, I've mentioned this point on the site numerous times before in various posts but I thought, as I had a very recent reminder of it, it would be good to write this post to help illustrate the point.
When I was at the top of the mountain on Sunday in snow and bad visibility, I was purposely wanting to test out the App. I wasn't in any way concerned about getting lost as I know how to relocate (establish your position at another known point). Worst case, I would just do what I did and head back to the top of the peak, take a bearing etc. No problem.
However, can you imagine if that was someone who didn't have a map and compass? Or did, but didn't know how to use them. How would they have dealt with something like no network coverage in bad conditions? How would they react when they realized their phone hadn't been working and they didn't actually know where they were?
As you can imagine, they would probably be freaked out! They would at best be guessing what their position was and simple things, like relocating to a known position, would probably not even cross their mind, especially if they're not a regular hiker. Those type of things tend to have the inclination to compound and more problems usually build on top and soon enough, they could be in real trouble.
Conclusion
Now, I should say again that I LOVE Viewranger, it's a really cool App and I will continue to use it a lot! However, it will never be my primary means of navigation on the mountains for the same reason I listed above. As I also mentioned at the start of this post, if you go on any navigation course, they will tell you the same thing, technology can fail and while it definitely has it's place, you need to be wary of ever relying on it completely! S**t will inevitably happen at some point 🙂
If you liked this post, please like and share it round your networks.