Today I want to take a look at the Urban Canairie Sun Hat. This is a hat that promises to keep your head cool in very hot conditions.
I was fascinated by this promise and so was looking forward to taking the hat out for a test drive, so to speak. I finally got the chance to do that last weekend on a beautiful hot summers day in June, on a long 26 mile hike.
The sun was belting out from a clear blue sky all day, so I was most definitely going to be feeling the heat. You need to respect the sun when you're out on the trail, so a good hat to protect my head was a must.
I have a bald head, so keeping sweat out of my eyes is also a big one for me, so a sun hat is an important and necessary accessory when I head out on the trail.
In the interest of full disclosure, I wish to state at the start of this review that we were contacted by Urban Canairie and they provided us with two hats to enable us to do a review. The review will of course be impartial to that, but we wanted to make that clear from the get go.
The Urban Canairie Sun Hat
Pros:
Functional hat, definitely keeps the head cooler in hot conditions
Comfortable to wear and adjustable Velcro fitting strap works well
Neck Visor option is sensible and easy to use
Cons:
Arguably this could be both a pro and a con and I suspect it is a key element of what makes the hat work, but the 'kepi' style of the hat, is taking a bit of getting used to for me
Urban Canairie Sun Hat Features Summary
Material composition: Polyester and cotton made using 65% recycled bottles and 35% organic cotton
Hat designed to keep your head cool in the outdoors
Features a flat top and a mesh venting system which enables the release of heat and lets air flow through
Urban Canairie sun hats are lighter and keep you cooler than baseball caps or wide brim hats, offering the right balance of sun protection and heat-venting comfort
Patented design, made in North America: The Urban Canairie sun hat is manufactured in Canada, with fabrics & components from the U.S.A.
Overview
Urban Canairie are a North American company who came up with the idea for a hat that would keep your head cool in hot conditions.
This was borne out of many frustrating days out on the trail in hot conditions, when the standard hat options like baseball caps, etc. would lead to an overheating effect around the head.
This led the owner and inventor of Urban Canairie hats, Mark, to start fiddling with his baseball cap to try and make it more comfortable for wearing in those conditions. After numerous experimental trials, the Urban Canairie Sun Hat was born!
Functionality
This is the area, as a hiker, that I am always most interested in. Sure, I want gear to look good, but functionality is my main driver. To that end, I was pretty pleased with the performance of the Urban Canairie hat.
My main test for this was based on very subjective experience. As I referenced above, I have a bald head so I tend to sweat a lot when hiking in hot conditions.
I need a hat to keep sweat build up out of my eyes, as I don't have hair to absorb it. This typically means the front of my hat gets drenched in sweat as it seeps into the material, and I also notice a lot of trapped heat around my head.
I can report that the Urban Canairie hat definitely handled this heat and sweat build up way better than my normal sun hat. The mesh venting system combined with the 'kepi' style construction, worked and let the air flow well, letting hot air out from around my head, and cooler air in from outside.
Comfort
Next up, is comfort. The hat was easily adjustable via a Velcro strap at the back, as pictured in the photo below, so it was easy to adjust to my head size to get a comfortable fit. With that in mind, the hat will be easily adjusted to varying head sizes.
Although the front of my hat did get damp, it was nowhere near the level of what my normal sun hat would be. The area in and around my head was also noticeably cooler in general, just with the air vents alone, so it seemed to make a significant difference in terms of comfort.
The hats all come in light colors, which again should help in terms of reflecting rays of heat.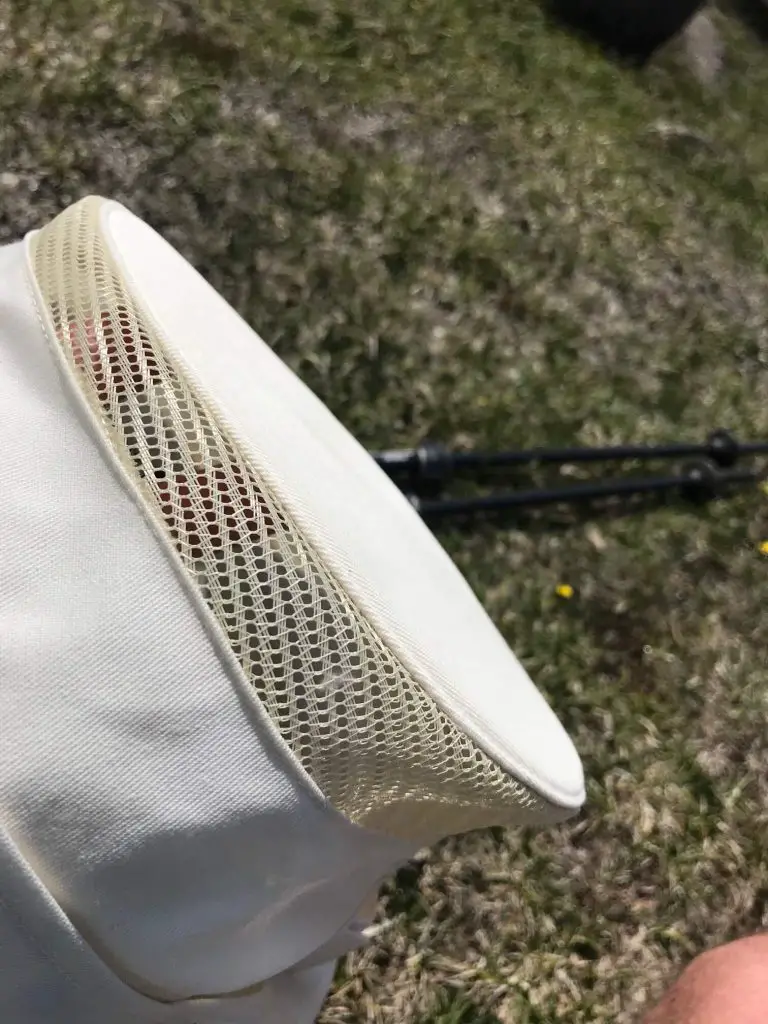 The next thing of note, is that there are two styles / types of the Urban Canairie hat, and with one of them, you can connect a visor to protect your neck as in the image below.
I was thinking that this might be a little annoying rubbing on the neck, but the material is such that I didn't notice it when wearing it. The visor is a practical addition to a hat like this, a necessity for very hot conditions, say if you were hiking in the desert and the like.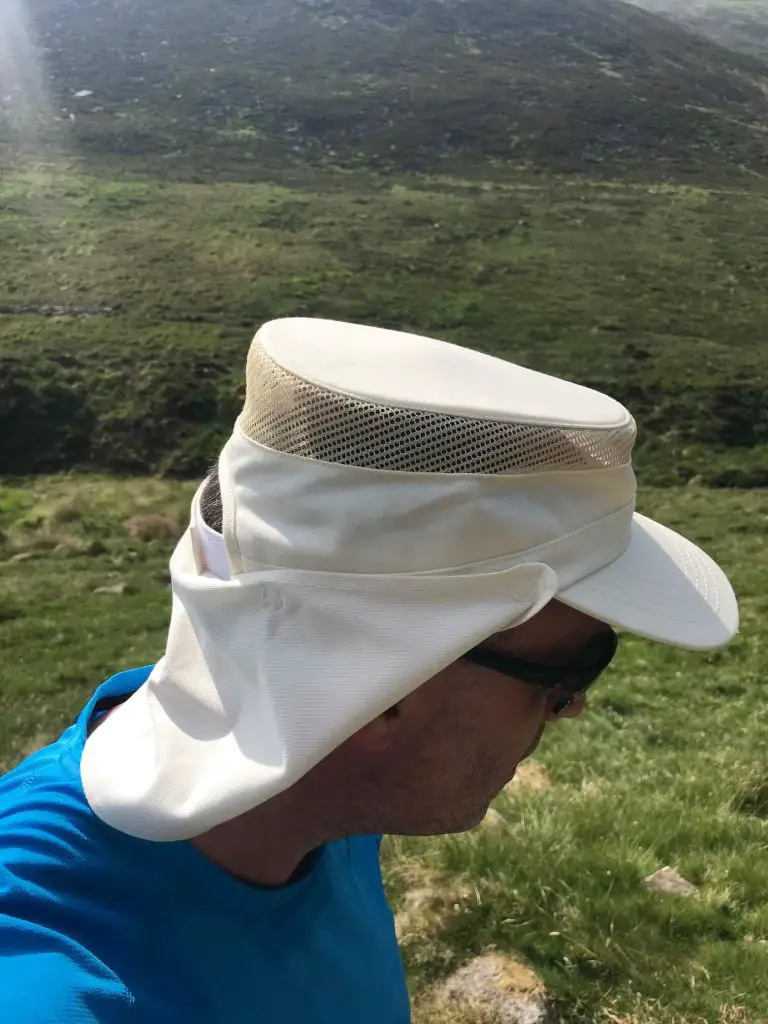 Other Points of Note
Urban Canairie are environmentally conscious and this is indicated in the make-up of the hat whose main component materials are a durable and lightweight, polyester and cotton blend, which is composed of 65% recycled bottles and 35% organic cotton.
As a lover of nature, it is always positive to see this being taken into consideration in the manufacturing of gear.
Urban Canairie also note in their sales material, that due to the design and construction of their hat, you don't get 'hat head', which apparently is where your hair is left in the shape of the hat after you wear it for a long period of time (Thank you for the explanation Google 🙂
Being light on the top, this is obviously not a major concern for myself, but could indeed be a point of note for all of you folks lucky enough to have a head of hair that would make Chewbacca proud!
Best Uses
The best uses for the Urban Canairie hat are really any outdoor activity in hot conditions, but particularly hiking, backpacking and the like. The hat is also perfect for general day-to-day use, out and about town, and such.
Our Rating 4.5 (Out of 5).
Conclusion
Overall, the Urban Canairie hat is a very functional hat for hiking on the trail in hot conditions. It works well and I was very comfortable wearing it all day (I wore both hats I had to try them out, one with neck visor, one without) on my eleven hour hike in the hot sun last weekend.
There is a lot to like about these hats aside from functionality too. Their environmentally friendly construction is a welcome addition to functional capability, as is it's lightweight make-up, easy to pop in your day pack for carrying, neither heavy or bulky.
If you're in the market for a good sun hat, you could do a lot worse than checking out the Urban Canairie Sun hat, they work well and do as they say on the tin.
If you're still unsure what type of hiking hat you need, check out the hiking hat buying guide to get some more ideas and inspiration. I hope you found this review useful. Please comment and / or share it around your networks if you did.