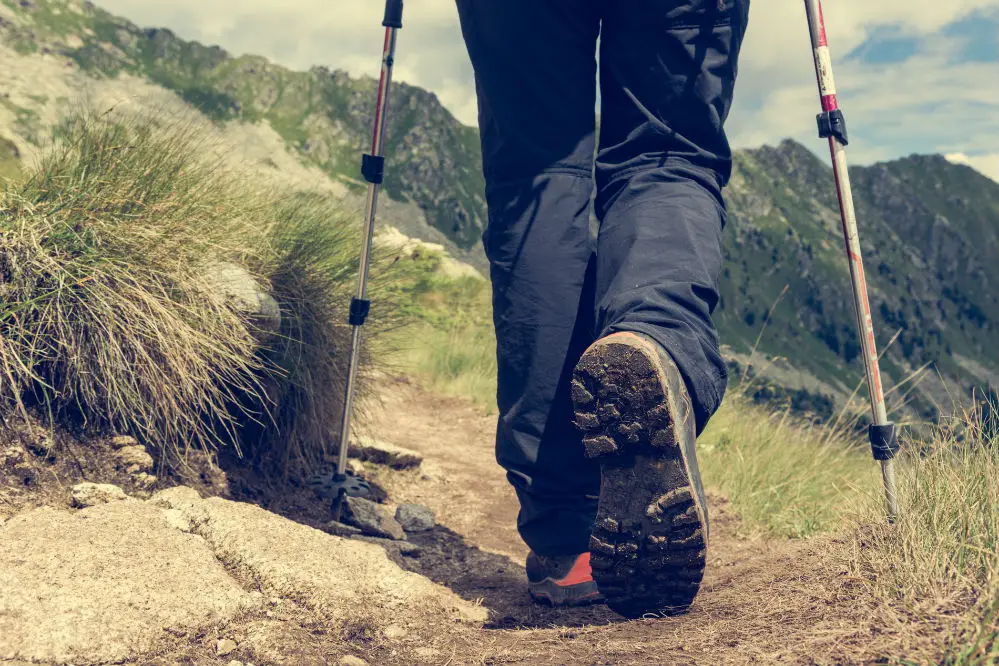 TrailBuddy Adjustable Trekking Poles are a great way for you to make hiking more enjoyable, and in many cases make any walk or hike a safer experience too.
They give users a secure support whenever they are hiking up or down inclines, provide more grip and traction when walking, and they do so on pretty much any type of surface or ground conditions you can think of.
Our review is going to take you through all the main features of these hiking poles and how they can enhance your hiking experience.
Trail Buddy Trekking Poles
Pros:
Multiple attachments
Collapsible / Can be disassembled
Lightweight
Made from aircraft grade aluminum
Cork handles for comfort
Padded straps
Cons:
Attachment tips can come loose
Locking by hand takes practice
Poles click when walking
Summary
The TrailBuddy hiking poles are a really popular and affordable set of hiking poles, with lots of positive user feedback. They are functional and will suit most hikers needs well.
You can get the poles in a range of color options. Whilst the carry case comes in one color only, black, you do get to choose the color of your TrailBuddy hiking poles.
There are lots to choose from and they all have great names relating to nature like: Lake Blue, Beetle Red, Bumblebee Yellow, Moss Green, and Raven Black. Nice!
Let's take a closer look at some of the specific features of these poles.
Lightweight Construction:
The last thing you need when hiking is for any of the equipment or accessories you take with you to add any unnecessary weight. This is the quickest way for your hike to end prematurely because you are exhausted.
Thankfully the TrailBuddy hiking poles are lightweight, due to their aluminum material. They weigh only 10 ounces each, which is the equivalent of a cup of water, so they are not going to cause your arms any strain.
Can Be Disassembled
As you travel to the spot where you plan to hike, poles that can be anything up to 54 inches in length are not exactly the easiest of items to transport.
These poles will not give you that headache, because they can be disassembled or collapsed down. They can be reduced to just 21 inches, so they'll fit easily in your backpack.
Fully Adjustable
As well as being able to disassemble your hiking poles, you can also collapse them. This means they can be set at any height between 24 inches at their shortest and 54 inches when fully extended.
Accordingly, both very tall adults and young children can now use the poles at a comfortable and safe height when they are hiking.
Fliplocks
How you collapse or disassemble the poles is to loosen the lock which is on the shaft of each pole. Many hiking poles use a twist lock, which requires the poles to be unscrewed.
This often requires some force to twist them loose, if they are tight. TrailBuddy poles utilize a lever lock which is much easier to release and tighten than twist locks.
Made From High-Grade Aluminum
You'll find that carbon fiber is used to make the shaft of a lot of hiking poles. Although it is light and easy to carry, on rough terrain where you may have to put a lot of pressure on poles for balance and support, poles can snap.
These poles are made from aircraft grade aluminum which is much stronger than carbon fiber and less likely to break under pressure.
Cork Handles:
Cork is an ideal material to make the handles from, and that is exactly what these poles have. It is a material that gets neither hot nor cold due to the influence of the outside temperature, so the poles are more comfortable to hold.
They also absorb moisture, so your hands should be less sweaty if it is a particularly hot day.
Padded Straps
To aid your grip and balance when walking with the poles, there is a padded strap on each pole. With your wrist looped through this, you are less likely to drop a pole, and the padding means your skin should not suffer from any chafing.
Reduces Pressure On Knees
One of the main reasons many hikers use hiking poles is for support, therefore reducing the amount of pressure that their knees must endure.
Not only will this be positive in terms of the health of your knees, but by taking some of the load of the body as you walk, hiking poles enable you to carry more in your backpack.
Supports Weight
When you are walking or hiking downhill your body is particularly vulnerable to injuries such as pulled muscles, sprains and strains.
The reason is, by the very nature of your movement downhill, there is more pressure on your body. Hiking poles help to reduce that downward force and stress on your body by supporting your weight.
Attachments For Different Surfaces
It's highly unlikely when you are hiking that the underfoot surfaces will be identical. After all, a rain shower can quickly turn the solid ground into a soft, boggy surface.
So that your poles can support you on different surfaces, they come with attachments which are suitable for those you will encounter. Whether the walking surface is snowy, icy, muddy, sandy, rocky, paved, or dusty, you can walk safely on them all.
Carry Case
When you are not using your hiking poles, or need to transport them, you can store them in the carry bag that is supplied with them. It has a pull cord at the top to close it and thus stop the poles from falling out if it is picked up from the wrong end.
Conclusion
There can be many reasons you want to use hiking poles when walking and hiking. It could be you have a weak knee and want to give it some protection.
It might be you find it difficult to balance on rough terrain, or you could want to carry more weight in your backpack and require more support. Whatever the reason, the TrailBuddy Adjustable Trekking Poles can help you.
As well as offer support, they can help you negotiate different ground conditions thanks to the assortment of attachment tips that can be placed on the spike of the pole.
They are comfortable to use, thanks to the cork handles and padded straps, and whether you are tall, short, an adult or a child, they can be adjusted to accommodate your height.
With a useful carry case and the great color options, these are hiking poles that have a lot to offer, which includes value for money given their low price.
If you want to check out more hiking pole models, you can see our top hiking pole picks here.