In this post I review the Black Diamond Trail Ergo Cork Trekking Poles. I mentioned some time back that I have been on the lookout for a good set of trekking poles and these are the ones that are grabbing my attention.
Pros:
Comfortable grip handle made from cork
Poles are lightweight but strong
Cons:
Not as compact as other poles
Black Diamond Trail Ergo Cork Trekking Poles Features Summary
Weight Per Pair : 510 g (1 lb 2 oz)
Usable Length : 74-140 cm (29-55 in)
Collapsed Length : 73.5 cm (29 in)
Overview
The Black Diamond Trail Ergo Cork Trekking Poles are a popular set of trekking poles among hikers and backpackers. Black Diamond is a well known brand and manufacturer of quality gear so I was interested to look into these poles to learn more about them.
They retail at $119.95, probably sitting in the middle ground in terms of price, but you can get a deal if you shop around. They come in one color, Black/Red and they have all the features and specifications I would look for in a set of trekking poles.
If you're new to trekking poles, I suggest you read this post on why I think trekking poles are a good investment if you're planning on doing a lot of hiking.
Comfort
As with any piece of hiking gear, comfort is a key part of the equation. For trekking poles, a key element of comfort comes in terms of the handle and grip. The handle on the Black Diamond Trail Cork Ergo trekking poles is made of, you guessed it, cork. I prefer cork as a handle material as it handles moisture better, e.g. wicks sweat away, in hot or cold conditions.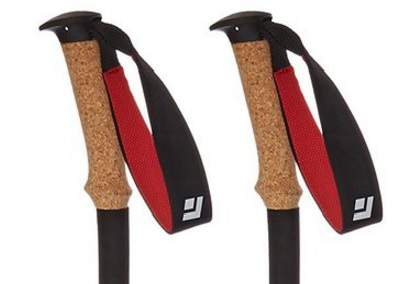 That is, hiking in snowy conditions or in hot and dry conditions, the handle should maintain a more even and regular temperature. Rubber has the tendency to take on the characteristics of the environment much easier and can get slippy with sweat.
The promotional literature mentions the handle has a 15-degree corrective angle which enables an "optimal grip position". In short, it feels good in the hands, and it does. I would describe my hands as average sized. When I gripped them, as mentioned my friend has a set, they felt really good. Hand size, logically enough, is probably one of the most important things to consider when picking trekking poles.
A nice additional feature is the extended EVA handle. That is, below the handle proper, see the picture below, there is another length of what you could call a half handle. It's not like the main handle but it isn't the normal shaft of the pole either.
The idea behind this is that say you're hiking down very uneven terrain and you need to keep re-accommodating the length of the pole as you walk. You can simply slide your hand down from the handle proper to this secondary handle area. This gives you a nice length to work with without having to fiddle with readjustments while trying to negotiate tricky terrain or having to grab the shaft. A cool idea for sure!
Strength, Durability and Versatility
The shaft of the Black Diamond Trail Ergo Cork Trekking Poles is made from aluminium. Not the lightest of possible materials but I was happy with the weight, which I'll look at in a bit more detail below.
In terms of versatility, the poles are telescopic, so they slide up into themselves when you don't need them, a real positive in my opinion. The locking mechanism is called 'FlickLock', a Black Diamond name and, to the best of my knowledge, patented technology. From my experience with them, they were really easy to use and very effective.
The length of the poles when extended is 74-140 cm (29-55 in) and 73.5 cm (29 in) when collapsed into themselves. Overall, a good size for a standard day pack for day hiking. From my research into this, it does seem that they are one of the longer options available when compared to other options on the market. Not an issue for my needs and uses but could be factor if you want to pack it in a luggage bag for travelling. Again, not a big deal but something to be aware of.
The poles feature, wrist loop holes at the top of each one which can be good for providing rest to wrists and joints in that area around your hand. However, from my use of poles I tend not to utilize the loops for the simple reason that I think you could hurt yourself. What do I mean by that?
Well, if you're walking down a rocky trail and you have your wrists in the loops on the handles. Say you slip but one of your poles is wedged between some rocks. The full weight of your body will be forced onto your wrist and could quite easily lead to a sprain or a break. So, these wouldn't be a big thing for me but if you like to use them, all good!
The poles also feature Black Diamonds Flex tech tips made from carbide which are designed in such a way as to break away if you get caught in something, like the aforementioned wrist grip situation, and so prevent you from getting hurt. Personally. I'll still not use the grip loops though all the same 🙂 The tips are fully replaceable which is also a great to have in terms of longevity of your poles.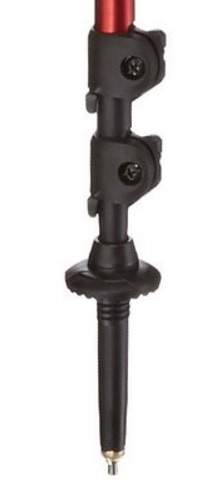 The tips also feature baskets, the circle in the picture above, that help ensure your poles don't go too far into the ground. The poles also come with wider powder baskets, not pictured but think of the bottom of ski poles to get an idea, which you can also attach should you need to. Good for snow and that type of thing.
My friend who I mentioned has a set of these poles, loves them. He's battered them around a year or so now and they are still performing great.
Weight
In terms of weight, they come in at 510g (2 Ib 2 oz) for a pair. I can't say that I have went around weighing a lot of trekking poles but going on how they felt, the weight is good. Not heavy but, I would add here, not too light either. I think a small bit of weight, enough to know you've something solid and sturdy in your hand, is a good thing. Gives you confidence to lean on it in tricky terrain.
Price
They retail at the higher end of the price scale for hiking poles, but if you shop around you'll get a deal. I've added links in this post direct to Amazon where you can get an up to date price. Overall, I think the price is very good for what you get i.e. good function and good value.
Best Uses
Obviously the main use I am interested in is for hiking and I am predominantly a day hiker and they're thumbs up on that score! However these will work great for backpacking and the optional powder baskets should mean that they will work well for snow shoeing too but that isn't something I do a lot of.
User Reviews
As of the date of this post, from about 120+ reviews across multiple sites, 94% gave the The Black Diamond Trail Ergo Cork Trekking Poles 3 stars (out of 5) or more, 91% 4 stars or more and 75% gave 5 stars so some decent scores overall.
Our Rating: 4.5 (Out of 5)
Conclusion
In conclusion, the Black Diamond Trail Ergo Cork Trekking Poles are the poles I have decided to go with. I've listed all the main reasons why that is the case above but I'll do a quick recap before closing this review out.
I'm a fan of the cork, as opposed to rubber, handle and the grip is excellent. The poles are retractable and lightweight enough for my needs. They are sturdy and durable and there is a lot of good user experience with them across gear shops, Amazon, etc.
To top all that off, my friend swears by them so local social proof, if I can use that term, is really the icing on the cake for me.
As mentioned at the start, I will update this review when I have used them for a while and see how they fair in the field after extensive use. However, I expect my experience to be positive and good. If you want to see more top options, check out our favorite trekking poles here.
I hope you found this review useful. Please comment and / or share it around your networks if you did. Do you use the Black Diamond Trail Ergo Cork Trekking Poles? What is your experience with them? I'd love to hear about it!