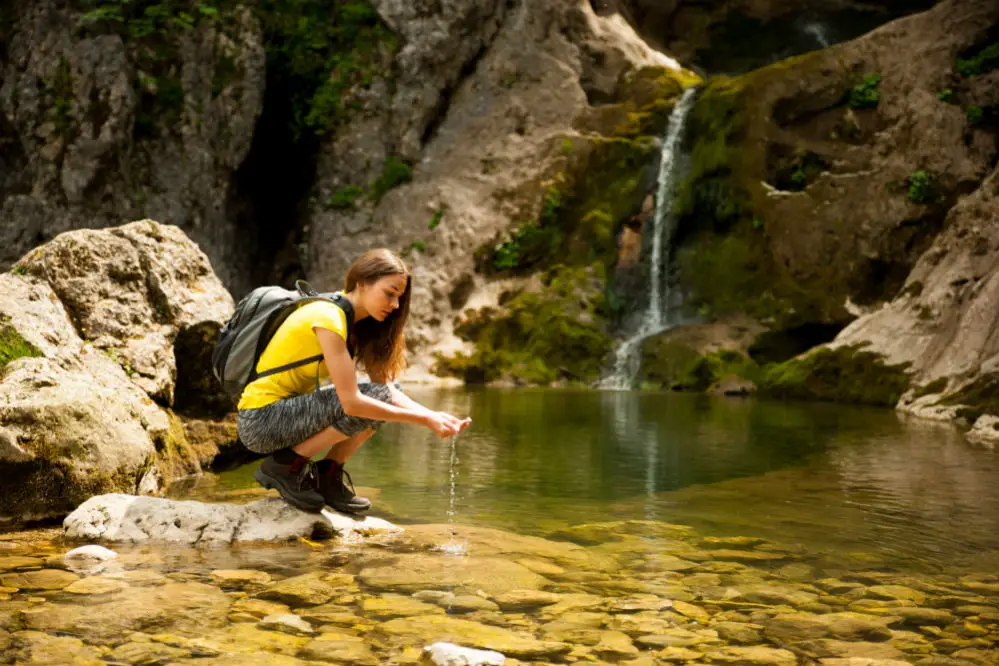 In the event of an emergency or if you find yourself stranded in the wild, one of the first things you're going to want to find is a clean source of water, especially since the human body can last three weeks without food, but only three days without water.
With the help of the Survivor Filter PRO, you'll never have to worry about having access to refreshing and safe fluids. This unique device is specifically designed to transform muddy and murky water into clean and drinkable liquids that emulate the same taste like bottled water.
Survivor Filter Pro
With plenty of features and advantages, this kit could be the next thing you need for your survival gear to ensure you can stay hydrated while out on the trails or in the middle of the woods.
Pros:
Removes chlorine and 99.9% of bacteria and viruses from water
Extracted water tastes similar to bottled water
Fills containers very quickly
Easy to use with the help of the instructions
Works easily when outdoors or at a hotel
Performs better than most high-end water filters
Cons:
Cotton filters become dirty very quickly
Difficult to prime at the beginning
The pump is tiring to use over a long period of time
Features:
Laboratory tested
Filters particles above .01 microns
Triple filtration system
500 ml/minute flow rate
High-quality build
Meets EPA standards
Weighs about one pound
Cleans up to 100,000 liters of liquid
A Detailed Look at the Product
Removes a lot of impurities: The specially designed filtration system in the Survival Filter Pro helps to remove the vast majority of contaminants from potential drinking water, including viruses, bacteria, parasites, heavy metals, and unappealing tastes.
.01 micron-sized filter: Compared to other water filters that only work on contaminants above 0.2 microns, this model eliminates trace elements that are .01 microns and larger.
Triple filtration system: There are three different filtering stages that the water will go through when this is used, helping to remove more debris and offering a more enjoyable source of water. First, the water will be brought through the pre-filter which removes algae and bacteria, then the second filter is made of carbon and filters chemicals, heavy metals, and pollutants. The last stage is the internal ultrafilter which helps remove up to 99.99% of viruses and smaller bacteria.
500 ml/minute flow rate: You won't have to worry about straining to get water out of the filter with the upgraded 500 ml/minute flow rate. Hence, you can use the device directly with a water source or pump the clean water into any container.
Non-toxic and durable: Constructed out of activated carbon, ABS and medical-grade material, steel, and BPA-free components, not only will your water taste clean, but it will also be safer to consume.
Meets EPA standards: There's nothing better than knowing the water you're about to drink is safe, especially if you're hiking or camping with children. You can guarantee that the Survivor Filter PRO meets all EPA drinking water standards, allowing you to have a fresh and refreshing yet safe cup of water with every sip.
Lightweight design: Even though there are plenty of high-quality materials used in its design, this water filtration system is easy to pack in any bag and won't add much weight to your existing equipment.
Cleans up to 100,000 liters: Above all else, you'll finally have access to a water filtration system that gives you more than enough healthy beverages for yourself or your entire family. When compared to other models that can only clean up to 50,000 liters, the Survivor Filter PRO can purify more.
Comparison
Since having access to filtered water is of the utmost importance for people who enjoy spending their time outdoors, you can guarantee that there are plenty of competing models on the market.
Although the Survivor Filter PRO has seemingly everything that you could ever need, the Nalgene Epic Water Filter bottle could be a better option.
Portability: By far, the Nalgene Epic Water Filter Bottle is easier to bring with you on a hiking trip as all of the small components are simple to pack in your rucksack. Also, as the water will be filtered directly into the bottle, you won't have to worry about pumping it into another container after it has been filtered.
Protective sleeve: Another advantage that this product has over the Epic is that it comes with a protective sleeve that will preserve the integrity of the filtration device. In the event that you drop the bottle or it is packed improperly, you won't have to worry about any of the delicate parts being damaged.
Included five-foot hose: If you can't get too close to a potential water source, this Nalgene Water Filter Bottle is equipped with a five-foot hose that allows you to pump filtered water from quite a distance.
Verdict
Even though there are plenty of competitors on the market, the Survivor Filter PRO is a great option for individual use or large groups. With the integrated hose, you can connect the filter to any container you desire ranging from hydration bladders to large pitchers for your whole family to enjoy.
You'll also be sure to appreciate the triple filtration system that gives you cleaner water than what you would get with any competing brand.
As this model helps to eliminate anything with a size of .01 microns and larger, you won't have to worry about the vast majority of contaminants that you would find in most water sources. What also makes it unique is that it filters out viruses, bacteria, and heavy metals.
Conclusion
If you're searching for a portable water filtration system that helps you to pump clean water for yourself or your entire hiking group, this is surely one of the best models to get your hands on.
Not only is it the type of filter that works well with natural sources of water, but it can also be ideal for vacationing in areas where tap water may be slightly questionable.
With the ability to transform dark and murky water into clear and fresh tasting fluids, you'll never have to worry about being without a water source again, and the Survivor Filter PRO will surely become the most used part of your survival kit.