Today I wanted to write a short post on a simple tip to help keep the Great Outdoors in as good a condition as possible for you and all future generations to enjoy.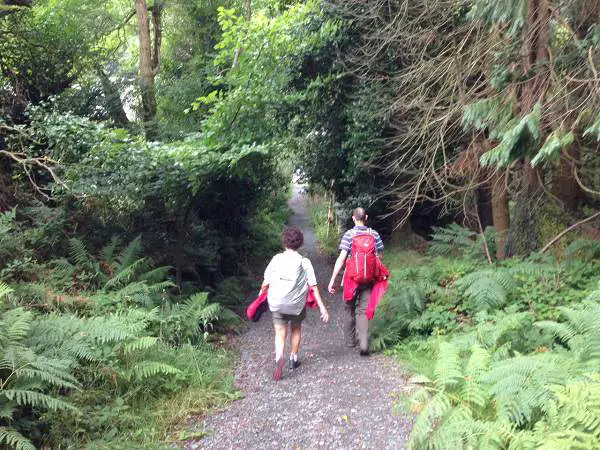 Many times when out hiking you start out on a trail which takes you up through the hills. It can be very tempting to stray from the trail and head off into the wilderness. Going off trail is a truly beautiful thing to do but when you do it, you should do it within reason.
What do I mean by that? Well, as much as possible you should stick to as many marked and worn trails as you possibly can. The reason for this, in the first instance, is very simple. By staying on a well-marked and already defined trail, you won't damage any more of the local environment and ecology.
Now, this may seem very anal and strict. Surely walking in the wilds causes no harm to anyone or anything? Well, not always so. Unfortunately, whether we, as humans, like it or not, we are not a natural part of the wilderness. In short it is not our natural environment so when we go there we are entering the domain of lots of wildlife, flora, fauna, and so on. It's their home, not ours.
That of course doesn't mean we can't enjoy it, we just need to treat it with respect and with the intention of doing as little damage as possible to the surrounding wildlife and environment. Believe it or not, by staying on pre-defined trails, you are helping with this significantly. Why is that?
Think About it
Well, for example, if 10,000 people, over time, go into the hills and all walk in different paths to get to the same spot, every foot step is landing on a new piece of ground each time. If the same 10,000 people all stick to the same trail, then they are only walking, and so at some level damaging, the one place each time they walk and they make a well-worn path.
In many cases, paths of this kind are further marked out by park services and local ranger offices to make the path even easier to follow. In short, you minimize any potential damage by keeping on well-marked pre-established trails if they are available.
Staying on a trail also has the added advantage of helping you know where you are and will help prevent you from getting lost but that's another subject altogether 🙂
It should also be noted that in many cases, it is against the local rules and regulations to stray from the trail so always keep good housekeeping in mind too and know where you can and can't go and do in the area you're hiking in.
Walk in the Middle of the Trail / Path
Even when you're on the trail, be sure to stay on it. What I mean by this is that, many times you can be hiking on a well-worn trail and you come along to a big puddle in the middle of the trail. Invariably people walk around the puddle to prevent them from having to put their boots into the water.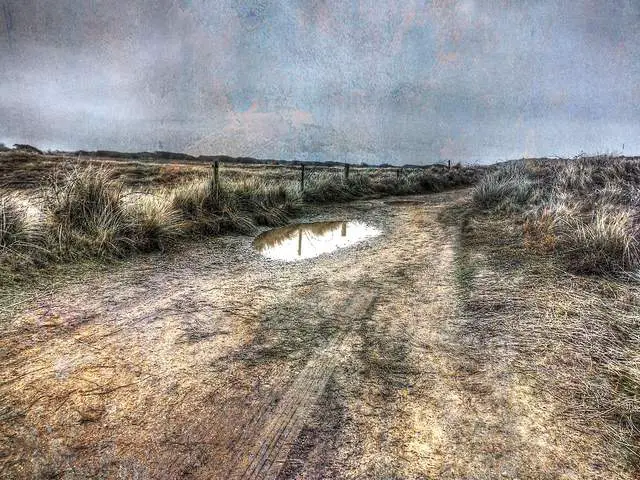 Photo Credit: Martin Cooper
Ideally, when you come across a puddle you should walk through it, not around it! Why is that? Well, by walking around and going slightly off the trail, you have the potential to widen the trail or path even further. This may sound like nothing but it can lead to trail degradation and have a very big impact over time, and the trail can get significantly wider, in quite a short period of time.
Again, this leads to more damage on the local environment and the landscape. A good pair of hiking boots will see you right and should enable you to walk through most puddles and wet spots on the trail.
Conclusion
So, in summary. Try and stick to the trail where you can and always do your best to stay on it regardless of what obstacles you might come across on the way.
It's easy to be tempted to walk off of it and sometimes you may have to. That's fine but where you can, stay to the marked trails. Invariably they will easier to hike on anyway. If you go into areas where there are no trails then just try and be as careful and respectful as you can to the surrounding terrain and environment.
Finally, as always remember to Leave No Trace. By doing that and respecting the wilderness, the trail will be there for for many more people to enjoy in the future.
I hope you found this post useful. Please share it around your networks or leave a comment.