This post reviews a very popular pair of Outdoor Research Gaiters. Last week I mentioned, in this post giving some background on what gaiters are, that I would do a product review post this week on a good solid pair of gaiters available on-line. So here we go …
Links referenced on this page are sponsored links. Please review our full disclosure statement here.
Cascadia Gore-Tex® PacLite® Gaiters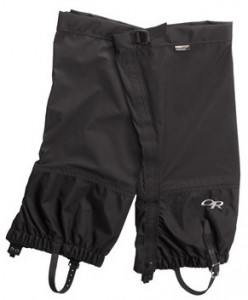 Average Customer Rating: An average of 4.5 stars out of 60+ reviews
Available Colors: Black, Diablo
Where to Buy: sierratradingpost.com
Review
These gaiters are waterproof, lightweight and breathable made with ultralight 70 denier Gore tex. They have touch fasten and snap closures which mean they are easy to put on and take off.
They have a durable 8 ounce packcloth foot section for abrasion resistance and a nylon-supported adjustable rubber instep strap that wraps under your hiking boots securing the gaiter to your feet.
These gaiters are ideal for keeping your boots and legs dry up to your knees for small river or creek crossings. They are also perfect for walking through dirt and debris and will keep offending material safely out and away from your boots.
With the abrasion resistance these gaiters have they will also do an excellent job of keeping your legs from getting snagged on any thorny plants or jagged rocks. As the gaiters weigh next to nothing they are also perfect for carrying in your pack while day hiking.
These gaiters are also suitable for hiking in snow and with their quality construction they will last a long time.
While we're of course always looking for great gear for hiking here at cool hiking gear, I do love it when gear can double over and serve other functional uses and, as with lot's of hiking gear, these gaiters are no different. When not being used for hiking in the hills, they can be comfortably used to help cope with any nasty winter commuter weather, I'm thinking city slush in particular.
Overall customer experience with these gaiters is very positive, see sample below. Where I did see some minimal negative feedback it was all related to sizing and nothing wrong with the actual gaiters themselves. As always, take some time to be sure you get the right sizing option for you.
With the winter months coming, these gaiters will be a good addition to your hiking gear kit and, I really hate to mention this so early but what the hell, would form a perfect Christmas gift for the hiker in your life!
Specs at a Glance:
Waterproof materials: Gore-Tex® waterproof breathable membrane
Length: 18″
Width: 19″
Weight: 6.7 oz.
Fabric: 100% nylon

Conclusion
From all the positive customer experiences I have read, it is clear that the Outdoor Research Cascadia gaiters are a quality offering that are not only well designed and fit for purpose, but they're also a comfortable companion to your hiking boots on the trail. If you're in the market for a pair of gaiters, you could no worse than choosing these!
Have you ever used Outdoor Research gaiters before? What was your experience? We'd love to hear about it in the comments below!