A long while back I did a review on a classic jacket from the North Face, the North Face Denali Jacket for men. Today I thought it would be useful to balance the books, so to speak, and take a look at the female version of this well known and loved jacket.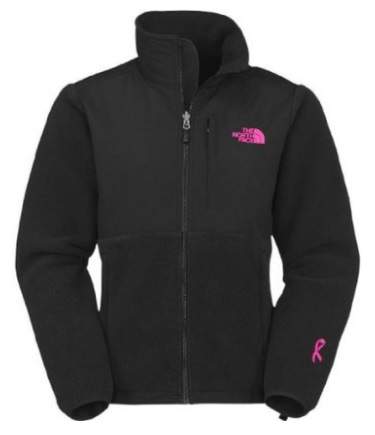 For all intents and purposes, the jacket is the same as the male version except it of course being designed specifically for the female body shape.
Summary

Our Rating: 4 stars out of 5
Available Colors: Black, Graphite Grey / Frosty Blue, Azalea Pink / Vanadis Grey, Pache Grey Heather / Pache Grey, and many more color options available at the link below
Where to Buy: Amazon.com
How does it Look?
The North Face is of course a very well known brand across the globe. They have a reputation for creating both functional and stylish outdoor gear. The Denali fit's well into this category. It looks really well with a nice cut on the female version.
There are a myriad of colors to choose from so you have lots of options when it comes to mixing and matching with your wardrobe.
The Denali is designed in such a way that it will look as cool whether you're sipping a coffee on a shopping trip in the city, or trekking on the trail in your local high hills and mountains.
Functionality
Looking good is all well and good but we are of course most interested in functionality. Looking great while freezing your kahunas off on a mountain side doesn't really count for much. We need the primary purpose of this jacket to fulfill it's function which is of course to keep you warm.
The Denali is a TNF Polartec 300 Series® fleece so it is designed to be warm, lightweight and compressible. The elbows and upper body feature abrasion resistant laundered 2 ply nylon which, in lay mans terms, provides more strength and durability while complimenting warmth.
The Denali has a DWR finish which fends off lighter showers so it will keep you partially dry. Remember though, water protection is not the primary purpose of this jacket, warmth is!
Fit and Size
From reading lot's of user reviews on the Denali, most folks seemed happy enough with the sizing of the Denali. If you have a body shape that isn't average, then you of course need to take that into account when choosing your size.
The jacket is designed to be used either as an outer layer or as a mid layer so you should have plenty of options for layering on the trail. It is worth noting that the Denali is compatible with some of the parka jackets available from The North Face, that is, it can be zipped directly into them as a mid layer.
I've never used one of these combination parka jackets so can't comment too much but I guess it does sound handy to have your outer layers working in tandem with each other.
The jacket has elasticated cuffs and a hem drawcord to facilitate a snug fit and provide further warmth protection by keeping warm air circulating inside the jacket close to your body.
Pockets and Storage
The jacket has two standard zippered hand pockets which are roomy and functional, pretty much what I would expect in a fleece jacket. There is also a Napoleon chest pocket, useful for storing a pack of tissues or a compass for easy access.
Conclusion
Overall, the North Face Denali Fleece Jacket for women is a practical and reliable jacket. It has been around a long while now and has lot's of satisfied customers so you could do a lot worse that buying one if you're in the market for a fleece jacket.
For a hiker, it's a great mid layer jacket and can easily double up as an outer layer in milder weather. From a day-to-day perspective, the Denali scores high on the fashion points and so will really compliment casual clothes. It really is a fleece jacket that can be used for multiple purposes.
It come's in at a pretty good price overall too so, as with the men's version, I think this is a really great option if you are in the market for a a fleece jacket.
Do you have a North Face Denali Jacket? Do you like it? I'd love to hear about it in the comments below!