In this article I review the Ultralight 3K Trekking Poles from Montem. They come in a very well presented package and they deliver in terms of functional use.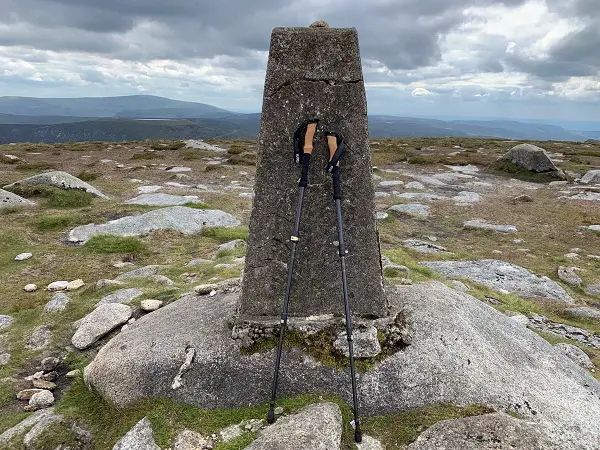 So if you're looking for the snapshot verdict rather than reading the full review, overall they are an excellent set of hiking poles and are definitely worth a closer look.
Note: In the interest of full disclosure, we want to state at the start that cool hiking gear was contacted by Montem, and asked if we would do a review of these poles. We were happy to take a look but as always, we present our unbiased and honest opinion regardless.
Montem 3k Carbon Fiber Hiking Poles
Pros:
Strong and sturdy 100% carbon fiber construction provides excellent support
Lightweight and packable with telescopic design
Functional locking mechanism
Comes with storage bag, baskets and detachable feet
Comfortable cork handles with straps
Cons:
Locking mechanism works well but can be a little fiddly
Montem Ultralight 3K Carbon Fiber Hiking Poles Features Summary:
Material: Woven 100% Carbon Fiber allows for lightweight and compact hiking
Weight: 7.8 ounces (221 gms) per pole
Cork handles
Nylon safety straps
Comes with rubber tips and mud baskets
Durable carbide tips for icy terrain as well as a pair of rubber tips for normal terrain
Modern flick locks to adjust and secure ideal height
Poles compact down from 53 inches (134.62 cms) to 24 (60.96 cms) inches
One year limited warranty
Best Uses: Day hiking, trekking, leisure walking#
Review
So, let's set the scene to begin with 🙂 To enable this review, I took the Montem 3k hiking poles on two separate 12 mile / 20 km hikes, These are about the standard day hikes that I would do, and probably about the norm for most regular hikers.
The aim was to use them in the same conditions I typically hike in, to see how they would fair put under a bit of pressure in the field. Before that however, we had to unpack them.
Packaging
Now, packaging is something I rarely comment on as I am interested primarily in performance, followed by things like design, look, etc. However, in this instance, I feel like these poles should get a special shout out for how they come when you get them.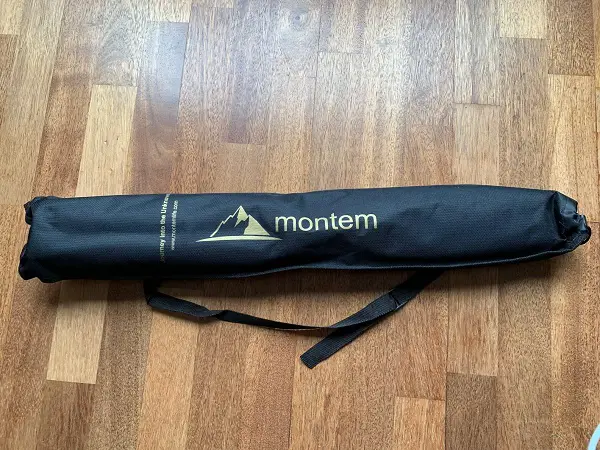 As you can see in the picture above, they come in a nice hiking pole bag, and the poles are also locked into a pole holder, as well as are all the additional bits and pieces e.g. snow baskets, etc. So when you take them out, stuff doesn't fall all over the place.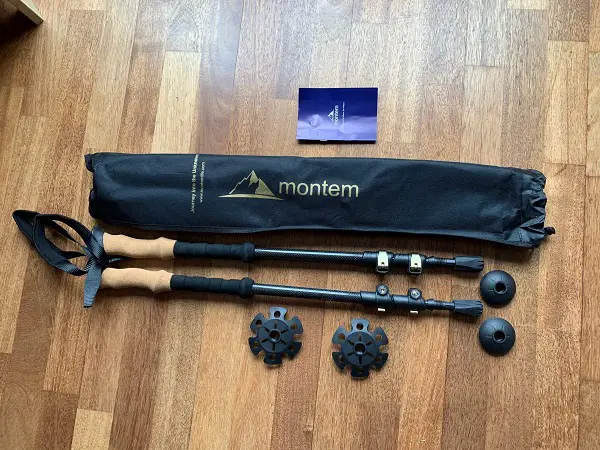 You can see all the contents beside the pole bag in the image above. A handy little instruction booklet was also included, which of course most likely not needed by an experienced hiker, it is definitely helpful to someone new to hiking poles.
If points are to be awarded for presentation, then Montem have succeeded here! The poles in their bag and packaging looked both professional and functional, which of course augured well in terms of performance and functional use.
Height Adjustment
After taking a closer look at all the various bits and pieces included in the pole bag, the next thing was to look at how to adjust the poles, to get them to the desired height.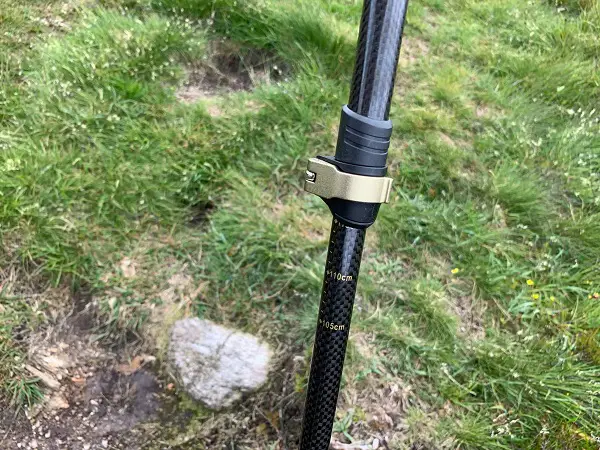 First off, like all good poles, there are clear height markings on each pole, see the image above, so you can see what height you have adjusted a pole to. This enables you to do the same with the other pole so you can easily have both at the same height.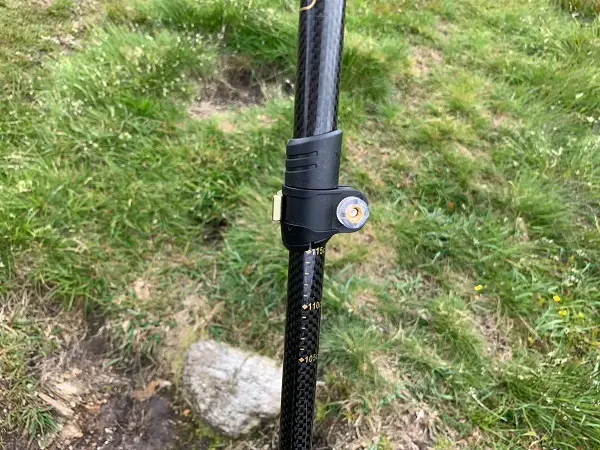 The poles are telescopic, my preference as opposed to folding out, and are adjusted using the latch and screw on the side. You need to open the latch and loosen the screw on the side a bit first, see the white screw in the image above, which then enables you to slide the pole out so you can adjust the height.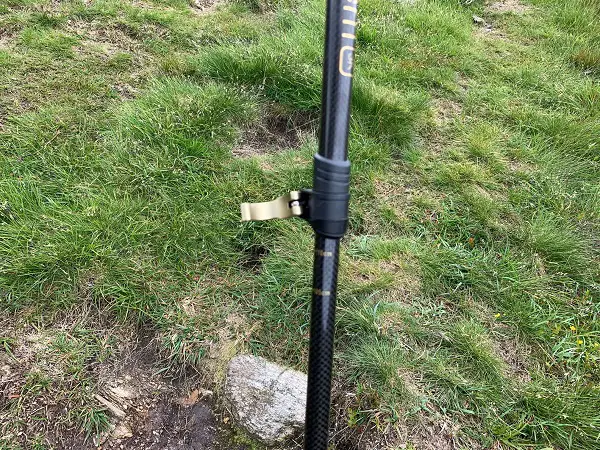 When you have got your desired height, simply tighten the screw and then close the latch (see the latch in the open position in the image above) to hold the pole in place securely. Although a little fiddly, they are easy to use and they work well, with the poles holding securely in place throughout the hikes.
Weight and Durability
So, moving on to taking them out in the field for a full hike or two, the next thing to consider was the weight of the poles. With 'Ultralight' in the product name, I expected this to be an area that they would excel in.
The weight per pole comes in at 7.8 oz (221 grams), and so they are not heavy. In actual use, the weight was comfortable both to carry, attached to my daypack, and when in use while hiking.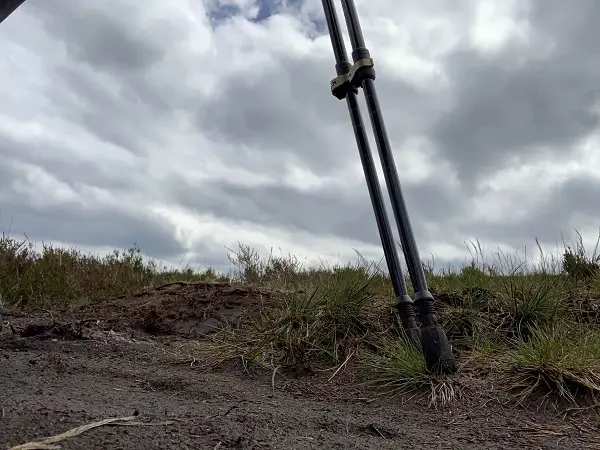 The poles are made from 100% carbon fiber. This of course adds to the weight being user friendly, but also adds positive results, in terms of functional use, for durability.
The poles were sturdy and easily held my weight when I leaned on them while negotiating a tricky river crossing. There was no sense of any chance of them giving out which was excellent, they felt strong and stable.
I also, given that this a review :-), put more of my weight (I'm about 83 kg) on them than I ever normally would, to see how they would feel. I had confidence that they would hold as I did this, and they did, again, they stayed strong and steady,
Handles and Grip
The poles handles are made with cork, which is my preference for hiking poles. The handles felt comfortable throughout and my hands showed no signs of any potential chaffing or anything like that after 5 hours of continued use.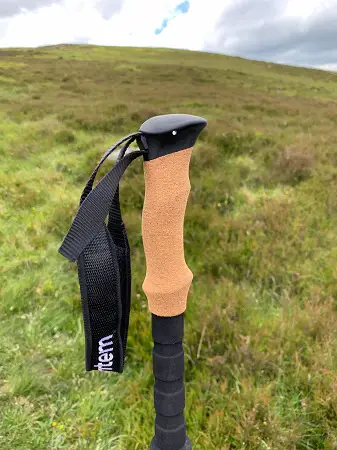 The handles also come with safety straps. These are functional and will work fine.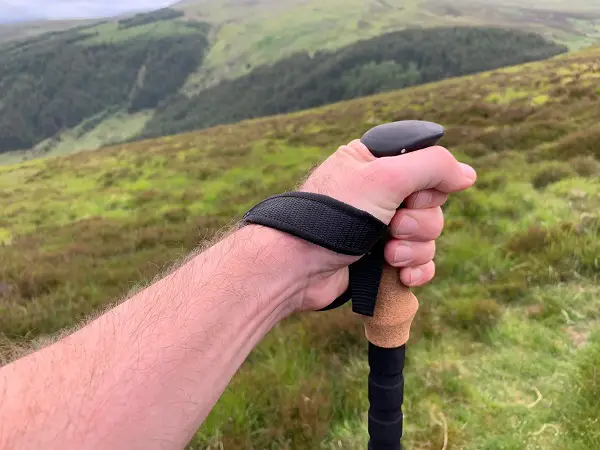 I personally never use safety straps for fear of catching my hand in them if I took a tumble or the like, and potentially breaking or twisting something. But that is just my personal preference, the straps should work well if you like to utilize them.
Pole Tips
I left the rubber tips, on the poles, that they came in, as it worked well for the terrain I was hiking over. If you need the carbide tips however, say for hiking over icier terrain, you can easily slide the rubber tips off to utilize those.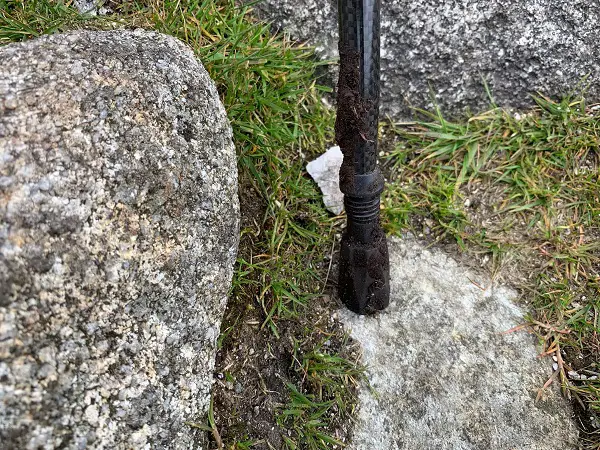 The baskets, etc, also look good and functional, although I didn't get to really test those as the conditions were not suitable.
Price
These poles are at the higher end of the price range for hiking poles, but I can fully see why. They are well designed and they are very well presented in their carry case, etc.
They are also a very functional set of poles that come with all the bits and pieces you could need for hiking in most conditions, over most types of terrain. All in all, I think they give good value for money.
Conclusion
Overall, I was very impressed with the Montem 3k Carbon Fiber Ultralight hiking poles. I hadn't used Montem poles until this review, but given how good they felt to use, I suspect that I will continue to use them.
I of course need to see how they will fair over the longer term, but I feel positive that these poles will be operational and functional for the long haul.
I really hope you found this review useful and informative. If you're new to hiking poles, and would like to see more options, be sure to check out our top hiking pole recommendations.
Happy hiking 🙂