Sorry, this jacket is no longer available 🙁 Please check out our 10 best hiking rain jackets for men to find the best rain jackets available today.
The Men's Berghaus Vapour Storm Jacket is an industry award winning jacket. Developed by the innovative MtnHaus® team, the Men's Berghaus Vapour Storm Jacket is the world's first waterproof venting jacket, designed specifically for the serious multisport athlete.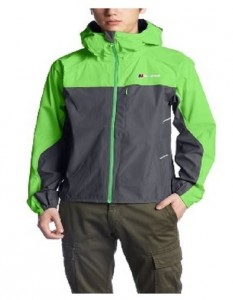 The lightweight GORE-TEX® Active jacket offers the highest degree of protection and comfort whilst still allowing you to move quickly and easily. With the world's first waterproof fully open vents, the jacket has been designed and tested for the world's toughest mountain race 'The Dragon's Back'.
I've added this jacket in as a bit of an outsider as I personally like the look of this jacket.
I like to trail run as well as hike and this jacket definitely offers a nice versatility and if it can meet the demands of The Dragon's Back Race, it has to be top quality. I also have a lot of other Berghaus gear and have always had great experiences with their stuff. Therefore, I expect this to be no different.
In this post we review the main features of this jacket, how well those features work, how durable and tough this jacket is, highlight any drawbacks and list where to get the best deal on this jacket on-line. By the end of this review, you should have a good idea if the Men's Berghaus Vapour Storm Jacket is right for you.
To start, below is a list of the key specifications of this jacket.
coolhikinggear.com is a participant in the Amazon Services LLC Associates Program, an affiliate advertising program designed to provide a means for sites to earn advertising fees by advertising and linking to amazon.com. Please review our full disclosure statement here.
Specs
3 Layer GORE-TEX® Active 100% nylon face
100% polyester back
PTFE membrane Lightweight double ripstop
Durable water repellent finish
Review
There are a lot of really cool features with this jacket. To start the fixed hood has a stiffened peak which ensures you are well protected from the toughest and wildest rainfall. The hood has an active cut which allows for unobscured peripheral vision. There is a single cord system in the hood which offers super quick 3D hood adjustment. The neat addition with this jacket as far as the hood goes is that the cord is actually inside so internal adjustment eliminates flapping or snagging cords. This is perfect for the trail runner but equally useful for hiking in really windy conditions.
The jacket has lot's of ventilation throughout. Waterpoof storm vents allow active venting no matter how hard it's raining while side and yoke venting promote a chimney effect, allowing cool air in and humidity out. This nice circulation effect helps to naturally regulate temperature.
The jacket is made from Gore-tex so the storm vapour jacket has outstanding breathability and comfort through convective heat loss, even when worn with suitable layers.
The back yoke venting 360 reflectivity adds safety and visibility in low light conditions.
A really nice feature, is the asymmetric cuffs with internal thumb loops for improved protection in the worst conditions. This means you can hook your thumb through the loops at the bottom of each arm to help keep your jacket firmly in place. However, the sleeves are also very flexible so the jacket can easily be rolled up the arms when required too.
The hem is also easily adjustable with a single pull rear adjustment feature.
Pros
Waterproof, lightweight, breathable outer layer protects from rain but let's air circulate keeping the body cool.
Stiffened hood enables snug adjustment to fit and ensures rain is kept away from your face.
Lots of ventilation options throughout.
Flexible and easy roll-up sleeves with thumb loops.
Multi-purpose jacket that is perfect for other outdoor sports as well as hiking e.g. trail running.
Cons
Can't see to many with this jacket. I would be a little cautious of the sleek fit for hiking purposes in cold weather but with the right layering system underneath I'm sure it would be fine.
Price:
$349.99
Average Customer Rank: Not available.
Available Colors: Slate Stone & Infinity Green, Aquamarine & Lemon Sour
Where to Buy:
No longer available.