Although external frame backpacks are much less common these days, and arguably less useful than internal frame backpacks, they still have plenty of advantages and can even be considered preferable to using an internal frame backpack in certain scenarios.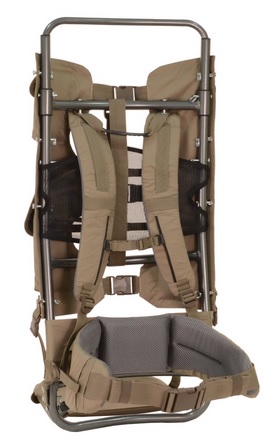 However, before you consider dusting off your old external frame pack for your next hike, let's take a look at how to pack an external frame backpack and why it's important to get it right.
We'll also consider the merits and the shortfalls of external frame backpacks, as well as where and when they can be preferable to use.
Differences Between Internal and External Frame Backpacks
Most obviously, external frame packs have a visible outer frame. External frames tend to be longer and bulkier than internal ones and the pack sits farther away from your torso, with the load positioned higher.
Most internal frame packs are more compact, and they usually have one or more aluminum stays. These rods support the pack load close to your back and can be bent to fit your spine curvature, for extra comfort. Internal frame backpacks carry weight lower than external ones.
As for the pack itself, internal backpacks tend to have a large internal capacity with one or two main compartments. There may also be a couple of attachment points for equipment.
External frame packs generally offer more sections, compartments and pockets, and equipment can be attached directly to the frame itself. They tend to have large load capacities which can be a positive.
Another noticeable difference is their price. External frame backpacks are less common today and they usually come at a cheaper price than their internal frame counterparts.
In fact, there are a great many more internal framed backpacks available for purchase, whereas finding a decent external frame backpack takes a certain amount of tracking down.
Advantages of External Frame Backpacks
In the vast majority of cases, in our opinion, an internal frame backpack, like the one in the image below, is going to be the most preferable choice.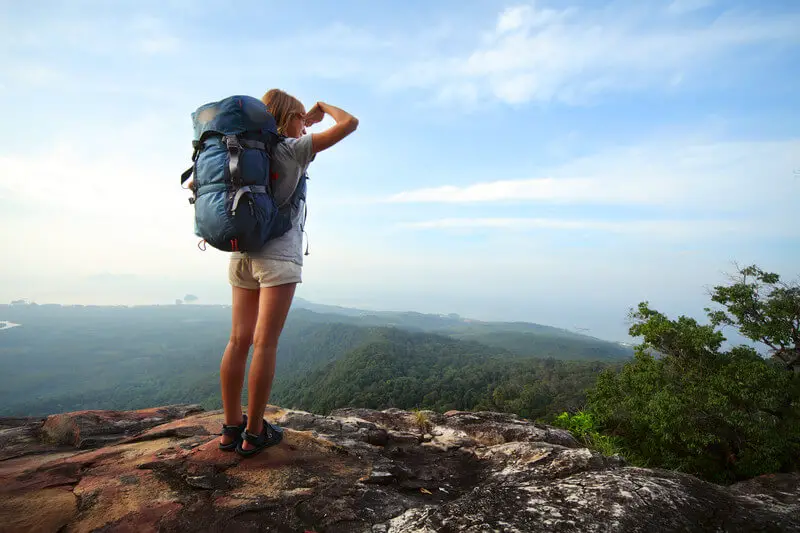 They're streamlined, weigh less, move with your body and maintain your natural center of gravity. Without a doubt, internal frame backpacks are much better when it comes down to balance. 
However, we're all different and sometimes it simply comes down to a matter of personal preference. Preference aside though, external backpacks do have some notable advantages over internal frame backpacks. Here's some of the main advantages of external frame backpacks.
Ventilation
As external frame backpacks hold the weight higher, with the pack further away from your torso, the frame area provides an excellent ventilation corridor.
This can help to keep you cool on hot days and prevent a build-up of perspiration between your back and your pack.
Heavy Loads
External backpacks are better for very heavy loads, thanks to their solid frame and large capacity.
They make heavier loads easier to carry, thanks to their better weight distribution, see below.
Better Weight Distribution
As your pack load sits higher on your back with an external frame pack, this allows for a better transfer of weight to your lower body.
This in turn, makes it easier for you to walk with a straighter back, unlike internal frame backpacks where the lower load encourages you to lean forward slightly, in order to better transfer weight to your lower body.
Carrying Bulky Items
If you're looking to carry excessively bulky items, then an external frame backpack can make doing so much easier.
You can strap items to the frame directly, without hindering your access to the rest of your gear inside your pack. The larger pack capacity can also be useful for larger items too.
When, Where and Why you Might Use an External Backpack
Consider the main advantages of external frame backpacks and it becomes apparent that they do still have their uses.
In certain scenarios external frame backpacks can provide an equally good or even better choice than an internal frame backpack.
So, when do external frame backpacks make a better choice than internal ones? External backpacks can be the better choice year-round, your choice will mainly depend upon other factors.
They can be great in winter for carrying extra equipment and bulky layers. They can also be a good summer choice for transporting heavy extra water on trails that don't have any refill points.
Plus, don't forget their excellent ventilation that will prevent perspiration from building up and down your back.
Location will narrow down your choice of backpack significantly. You don't want to be covering any tricky terrain with an external frame backpack.
They are best for flatlands and actual trails as the frame can get caught in any undergrowth, you may get through just fine with your internal frame backpack.
Any other type of terrain will probably be better suited to an internal frame backpack, which will help you to maintain your balance by keeping your natural center of gravity, with your load held close to your body.
In general, you'll probably prefer to use an external frame backpack over an internal frame one, when you're looking at taking a long flatland trail with a considerable load.
You might also want to consider using one for any special equipment you may wish to take on certain trips such as fishing or hunting gear, camera accessories or if you're attempting family camping off grid.
Basically, any trip where you will need a large capacity and the ability to strap on larger items.
How to Pack an External Backpack
So, now you may have a trip in mind where an external frame backpack would be ideal. But just how do you go about packing an external frame backpack?
Well, the truth is, pretty much like an internal frame one, albeit with a few small differences. Thanks to their external frame, external frame backpacks can appear more forgiving of your packing technique.
The video below highlights some important differences between packing an internal and external frame backpack, worth a look!
The weight isn't right up against your back, it's distributed better to your lower back and you're not going to risk having any items digging into you through the back panel.
However, as external backpacks do not hug your body like internal frame ones, if you don't pack it correctly, its top heavy design will cause you to become uncomfortably unbalanced.
For this reason, it is recommended that you pack your heaviest items near the top and close to your back, when packing an external frame backpack.
This will help to ensure that the load is correctly distributed to your hips through the frame, allowing you to support the heavy load with a straight, upward stance.
Packing an External Backpack
Place any lightweight items that you won't need access to throughout the day, such as your sleeping bag, at the very bottom of your external frame backpack.
Medium weight items should then be placed in the middle and furthest from your back.
Place the heaviest items at the top of the pack, next to your back.
Use the side pockets for go-to items you'll need throughout the day such as drinks, snacks, waterproofs and maps.
Strap any awkwardly shaped, long or bulky items to the frame itself, making sure that they are correctly balanced and securely attached as not to impede your gait by swinging.
Water, pans, and your stove are likely to be among your heavyweight items. By packing them near to your upper back, the external frame will be able to transfer the load more effectively to your hips.
If you pack them elsewhere, you risk the load pulling back on your shoulders. Not only will this cause discomfort, it's also going to put you off balance.
In any case, don't forget to keep any emergency items close to hand, in an easily accessible place and remember to pack in layers, securing heavier, harder items with softer ones to prevent them from moving around within your pack.
Any movement from the interior of your backpack could also set you off balance, causing discomfort and possibly even a fall. 
Further Resources
Why I still pack an external frame backpack – A good article on one person who likes the external frame backpack.
How to pack and hoist a backpack – An interesting article on packing and loading a pack on your back from the folks in REI.
Conclusion
If you're looking to carry a lot of equipment over flatland trails, then an external frame backpack is going to be a good choice for carrying the extra bulk.
Think western desert flatlands and trail hiking in general. With their superior weight capacity and ventilation, external frame backpacks also make easier work of carrying extra water in the heat.
Just be sure you know how to pack an external frame backpack correctly to ensure optimal weight redistribution and balance.
However, for other terrain with your average hiking gear, you're probably going to be better served by your regular internal frame backpack for better balance and ease of movement.
Although if you get the chance, try out an external frame backpack on your next appropriate trekking trip, it may change your mind about the old external frame style backpacks, or it could just reconfirm your faith in today's internal frame lightweight and compact backpacks.