Today I wanted to do a quick piece on how to measure jacket size for a rain shell jacket. To try and elaborate a bit more on what I mean, picture this.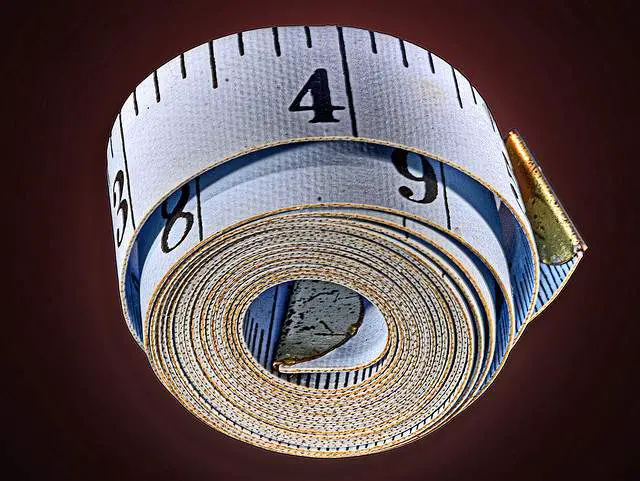 Photo Credit: Randen Pedersen
You're surfing on the net and you come across a really great deal on a rain shell jacket, 50% off! You jump at the chance and click on the link to order online. You start the ordering process and as you're filling in the form, you come to the size section and you have to select a size.
Now, you're probably in one of two camps.
Camp 1: You know your jacket size so easy peasy and you're good to go. Or …
Camp 2: You don't know, or at least aren't 100% sure of it so you need to measure yourself to find out what size you should be aiming for.
If you're in Camp 2, or just curious, read on!
What are the Standard Sizes?
As you know, there are a standard set of sizes:
XS – Xtra small
S – Small
M – Medium
L – Large
XL – Xtra Large
XXL – Xtra, Xtra Large (At least I think the second X = Xtra too 🙂 )
Now, wherever you're ordering from will most likely have an explanation of their actual sizing under each heading above. For example, it will usually be in a table, very similar to the one below.
MEN'S BODY MEASUREMENT (INCHES)
Size


Pant Size​

XS


28-30​

S


 32​

M

34


L  

36​

XL


40​

XXL  

44​

Neck
14-14.5
15-15.5
16-16.5
17-17.5
18-18.5
19-19.5
Chest
32-35
35-38
38-41
42-45
46-49
50-53
Sleeve Length
32
33
34
35
36
37
Waist
26-29
29-32
32-35
36-39
40-43
44-47
Hips
32-34
35-37
38-40
41-43
44-46
47-50
Note: this table is for men only. You can use this as a guide for sure but it is always wise to check the table from the brand as there can be slightly different variations between manufacturers. For example, hip size for a size S could be 38-40 inches for one brand and, as above, 35-37 inches for another.
So, you have the great price, you have your sizing table but you don't know your size. What do you do? Well, traditionally, if you're in the store, you simply try the jacket on and see what fits. It's a good idea just to get your measurements and write them down but if you really have no idea and you sometimes fit a medium size better than a large and vice versa, depending on the clothing item and / or the brand, it is wise to confirm your size before ordering.
However, when you're buying online to take advantage of some great deals, you of course do not have the option of trying the jacket on so …
How do I Measure Myself for a Rain Jacket?
Now, first off, I should point out that if you get a wrong size, all good companies will replace it with a size up or down, no questions asked. That's normal and should be the case.
However, if you want to try and minimize the chances of a back and forth over the postal / delivery service, you can take a measurement and link it in with the sizing table from the brand. How do I do that?
Tools for the Job
Well, first off you will need a couple of things. First and foremost, you need a measuring tape. Ideally one that a clothing store uses, you know, the ones that roll up into a coil nice and easy, like the one in the picture above.
If you don't have one of those, you can shoot for a work man's measuring tape. You know, the ones a carpenter would use when measuring a piece of wood to cut. Many people will have one of these some place.
If you don't have one of those, well you're down to a using a ruler and some string or any other long piece of cord. Note, it has to be big enough to stretch around the widest part of your chest. Using this method, you'll need to measure the string against the ruler to get the measurements, not ideal but if you have nothing else, it will work.
The second thing you need is a willing assistant. A friend or family member should do the trick. I don't recommend asking a stranger but if you're desperate, you never know, someone might help you out 🙂
I jest of course, you can give it a go yourself but it will be a bit trickier, so you probably want to redo it several times to confirm the numbers you're getting.
How to Measure my Size
OK, this is the nitty gritty. As per the table above, you can measure in numerous areas to ascertain your size. To get started, you need to be in a measurable position, so stand up straight with your arms to your sides. Stand in a relaxed position with normal posture breathing at a normal rate.
It's a good idea to put a few layers on while you take the measurements, particularly on the torso, it will simulate you wearing your jacket at a colder time of year and your jacket with need to accommodate a few layers in the winter.
Working from the head down …
Neck
Measure round from the base of your neck, the thickest part essentially. Keep the tape firm but not too tight, think about how much space you need to leave to be comfortable.
Chest
This is one of the most important ones I think. Measure round from the back under the armpits. Be sure to go over the shoulder blades and the widest part of the chest. Again hold the tape taut but be sure to leave some room to be comfortable.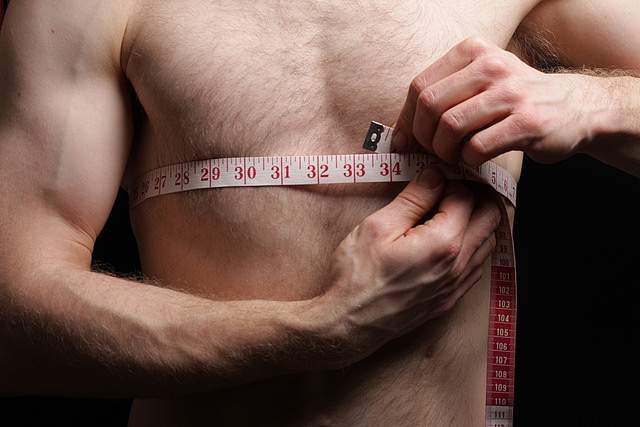 Photo Credit: Phil Gradwell
See the picture above for an example on how to do this but remember, this is hiking so you will need to have some layers underneath when taking a measurement for a rain shell jacket! the method is the same so.
Waist
Measure the actual waistline, let the tape sit in a comfortable position resting on your waist.
Sleeves
Starting at the center of the back of your neck, measure across the shoulder and down towards the wrist.
Hips
Measure where your hips are fullest. This may not always be applicable for a rain jacket but is still good to have as a general guide.
OK, so you have your numbers. Where appropriate, round them upward. Next, go back to the sizing chart and see where your numbers fall in under each item. Obviously, where the majority of the numbers fall into, is the most likely best fit for your size.
If you have any borderline measurements, that is some in one camp but one or two in another, I would lean towards the side your chest measurement falls into. If you're a normal body shape, there shouldn't be wild variances but if you're unsure, measure up again.
What next? Order your rain shell jacket and enjoy!
Conclusion
I hope you found this post on how to measure jacket size for a rain shell jacket useful. When you're buying online, any decent retailer will have a sizing table on their website to reference for the brands they sell. These come from the manufacturer and so are accurate enough to get a good fit.
Also, if you're unsure, you can call them or use their online help, they'll be only too happy to help you out.
However, not everyone knows how to get the right size, and not every site will list how to take your measurements so I thought I'd add this up here for ease of reference. Hopefully it comes in useful.
Remember, even if you take your measurements, order the right size by the table but it is a bad fit when it arrives at your door, fear not, you can normally return it and get a different size. So, worst case, all is definitely not lost 🙂
If you are in the market for a hiking rain jacket, you can check out our top recommendations for men here and our top recommendations for women here.
Please share this post if you found it useful.