Getting the Haglofs Crag Gore-Tex Jacket is an investment in comfort and enjoyment that will remain with you on all your hiking adventures. Not only is this top of the range jacket waterproof, ensuring rain and moisture are kept out, but it's breathable technologies and other comfort enhancing features will ensure your body remains dry and comfortable on the trail no matter what pace you are pushing yourself to.
In this post we review the main features of this jacket, how well those features work, how durable and tough this jacket is, highlight any drawbacks and list where to get the best deal on this jacket on-line. By the end of this review, you should have a good idea if the Haglofs Crag Gore-Tex Jacket is right for your hiking needs.
To start, below is a list of the key specifications of this jacket.
Links referenced on this page are sponsored links. Please review our full disclosure statement here.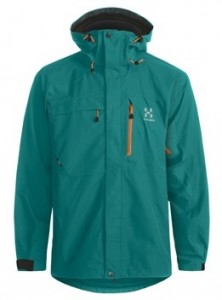 Haglofs Crag Gore-Tex Jacket – Waterproof For Men

Average Customer Rank: 4 stars out of 5 (10+ reviews)
Available Colors: Teal Blue / Kolibri
Where to Buy: No longer available 🙁
Review
In comparison to a standard DWR (Durable Water Repellent jacket) coated jacket where water is only kept out, the Haglofs Crag Gore-Tex Jacket jacket has a waterproof Gore-Tex breathable membrane. The main advantages of this to DWR only are that the membrane pores of the jacket are small enough to stop water and moisture, like rain, from getting in but versatile enough to also let moisture from your body out. This greatly helps with temperature regulation while hiking in varying temperatures which as we know can change considerably as you move in and out of wind, ascend, etc.
To further aid temperature regulation, this jacket has pit zips. These are zips at the side of the jacket under the armpits that can be opened to let in added ventilation. This is a nice feature which we are starting to see more and more of in good hiking jackets and one I personally like and look for.
The hood on this jacket is firm and peaked. This means the hood holds in place so that water will run off and away from your face which is an important feature to have in heavy rain. The hood is also detachable so it can be removed when not needed.
Draw cords and touch fasteners throughout the jacket ensure you can adjust the jacket to find the best comfortable fit for your body.
This jacket also has plenty of pockets which is always a good thing. I like the alternate placed chest pockets, these provide easy access which is perfect for the trail when the rain is pelting down and you don't want to spend time fumbling through pockets inside your jacket and letting rain inside, in the process.
As far as style and looks go, this jacket meets the mark. Its sleek appearance ensures that you will look just as well wrestling your way across town in heavy rain as tackling any mountain trail.
Customer experiences of this jacket are very positive. Some points to note are that you will need additional clothing underneath for very cold temperatures, less than -5C, so you want to be sure to leave enough room for some extra layering if you will be in that range of temperatures.
One issue I found with this jacket that one review mentioned was that it was not a good fit, even in the 2XL size, for very tall men so this might be something to keep in mind if you're very tall. However, I also found a contradictory comment on the same review saying the very opposite! As with any of these things, you always have to be sensible with size and most folks know what works for them.
Pros
Waterproof, Gore-Tex breathable membrane keeps you dry, cool and comfortable on the trail in challenging weather.
Broad collar and peak hood keeps rain away from the face. The hood is easily detached when not needed.
Two layers in the jacket ensure durability.
Plenty of pocket space inside and out.
Pit-zip ventilation.
Cons
Only one color available.
Extra layering needed if it's very cold (this can be viewed either as a con or a pro – sometimes I like the versatility that extra layers give you but not so much when it's very, very cold).
Features
Gore-Tex® waterproof breathable membrane
Rugged two-layer jacket for prolonged use
Reinforced at all critical areas
Stand alone collar with soft brushed fleece interior
Three-way adjustable and detachable hood
Front zip closure with dual external and brushed fleece internal wind flaps
Two torso pockets and two alternatively placed chest pockets
Three inner mesh pockets, one zippered
Mesh torso lining for maximum breathability
Pit zips for increased ventilation
Offset side and shoulder seams
Touch-fasten adjustable cuffs
Articulated sleeves for freedom of movement
Rear hang loop
Two-way YKK® zip with wind flap
Left zipper pull
Drawcord hem
By Haglofs of Sweden
Specs at a Glance
Non-Insulated,Waterproof (All),Waterproof (Gore-Tex®)
Waterproof materials: Gore-Tex® Performance Shell
Seam sealed: Full
Pit zips
Closure: Two-way,YKK®,Zipper
Zipper: Left
Length: 30″ (based on size large)
Fabric: 100% polyester
Lining: 100% polyester
Care: Machine wash/dry
Total weight: 1 lb. 14 oz.
Other Points:
Products returned within 6 months refunded by original payment method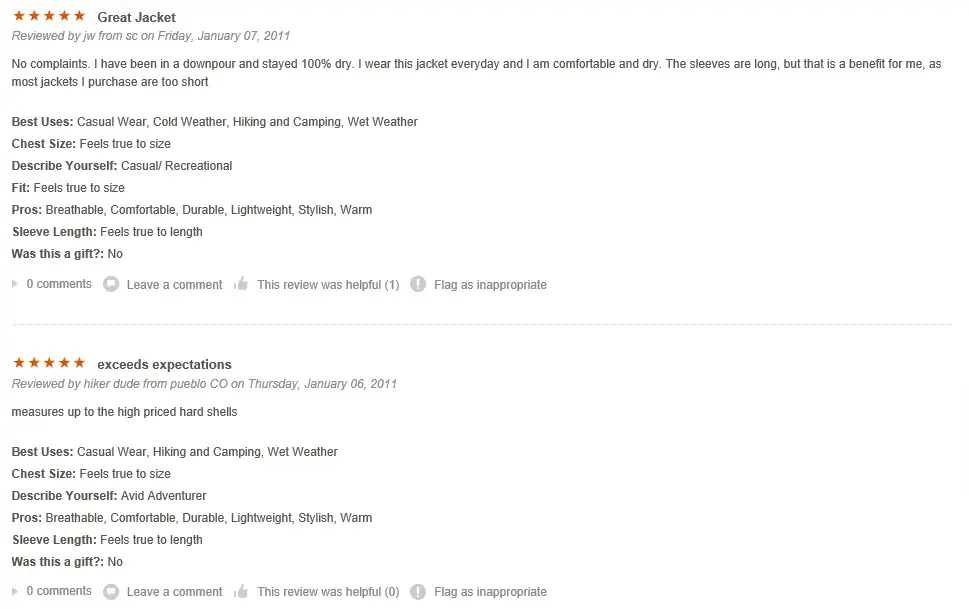 Conclusion
In conclusion, if you're a part time hiker and tend to avoid hiking in inclement weather, I wouldn't go all out and get a high spec quality jacket like the Haglofs Crag Gore-Tex Jacket, there are many more quality waterproof hiking jacket options available that are better suited for casual hiking at a cheaper price.
If however, you're a regular hiker and need a good, solid, functional and aesthetically pleasing jacket for all types of weather on the trail, the Haglofs Crag Gore-Tex Jacket ticks all boxes. With its top level features like the waterproof, breathable membrane, pit-zips, etc. you can be sure you're getting a quality jacket that will give you countless comfortable and quality experiences.
_______________________________________________________________________________________________