Hiking to Machu Picchu is a once in a lifetime trip for many hikers, especially since the introduction of greater visitor regulations and the citadel's huge surge in popularity.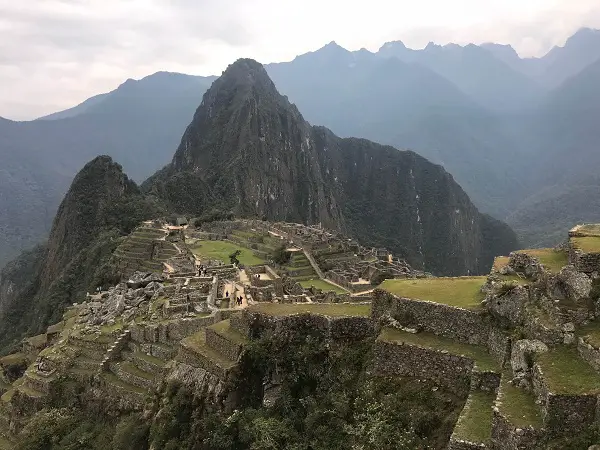 As with any especially meaningful trip, you'll want to thoroughly prepare to make the most of your time and make sure that your gear is up to the task.
So, how do you decide upon the best backpack for hiking Machu Picchu? This was a question that I gave plenty of thought before my Machu Picchu hiking trip last year, and now that I'm all the wiser, I thought you'd like to benefit from my experience.
First though, a little bit about the 'Old Mountain' …
Machu Picchu
Machu Picchu, is the stunning fifteenth century Inca Citadel, carved out of a mountain top at over 2,400 meters above sea level where the Peruvian Andes meet the Amazon Basin, it needs little introduction.
With visitor numbers at record highs, it has never been easier for the uninitiated to fulfill one of the ultimate hiking trips, without needing months on end of planning. You can find out more about the citadel in general at this official Peru tourism website.
When you visit Machu Picchu, you will need to organize various guides and entrance tickets well in advance. To actually hike up to the citadel itself you will need to use a tour company and obtain a permit.
Your tour company will organize this on your behalf, along with your tickets and connecting travel, saving you a lot of time and hassle.
Hiking Trails to Machu Picchu
There are numerous different hiking trails you can take to hike to Machu Picchu depending on your time frame, experience level and fitness.
Whichever trail you decide to go for, you can be certain that it will be an incredible experience, combining majestic mountains, ancient mystery and awe-inspiring views. The most popular trails include the classic Inca Trail, the Salkantay Trek and the Lares Trek.
The Inca Trail
Also known as the Camino Inca, the Inca Trail is Peru's most famous hike. This classic trek to Machu Picchu passes through sub-tropical Andean Mountain terrain complete with numerous archaeological sites of interest.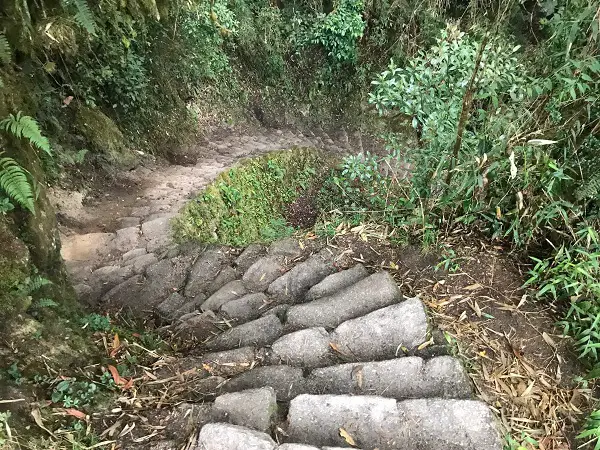 As you hike your way up to the Historic Sanctuary of Machu Picchu you follow the original trails that were taken by the Incas from the Sacred Valley up to Machu Picchu.
It's essential to book early, especially during the busy dry season from May to September. Doing so will increase your chances of getting a permit for the Inca Trail.
It's typically completed on a four day and three night timescale, but there are shorter and longer options available, including combining the Inca Trail with the Salkantay Trek for a week-long trek.
I had the pleasure of doing this September 2018, and it was great!
The Salkantay Trek
The Salkantay Trek offers a diverse trekking experience without permit limitations. Rated as one of the 25 Best Treks in the World by National Geographic Adventure Magazine, if you can't get a permit for the Inca Trail, Salkantay is by no means second rate.
Scale the impressive Salkantay Pass at 4,600 meters, climbing through lowland jungle up to glaciated mountains.
The Lares Trail
The Lares Trail can be completed alone or combined with the Inca Trail for hiking access to Machu Picchu. It tends to be a quieter trail than the Inca Trail or the Salkantay Trail and it provides great cultural insight into the local villages in the Lares Valley, most of which retain old customs and traditions dating back over 500 years.
There are various choices of tour itinerary for the Lares Trek, so you can chose an easier or more challenging variation depending upon your preferences. 
Other Trails
For the ultimate archeological hiking trek, combine the challenging Choquequirao Trek with Machu Picchu. Take a look at the Vilcabamba Trek to avoid the crowds or for a short, easier trek consider the Huchuy Qosco Hike before visiting Machu Picchu
Trekking right up to the Historic Sanctuary of Machu Picchu itself means you'll need to take the Inca Trail which requires a permit and the presence of an official guide.
There are daily limits on the number of people who have access to the Inca Trail, this is currently capped at 500 per day, including hikers, guides and porters.
Taking an official tour means that you will have one of your bags carried for you by a porter. This bag is usually provided by your tour company and you can put your tent, sleeping bag, sleeping pad and whatever else fits up to a 20kg weight allowance.
So, bear this in mind when you're selecting the best backpack to take with you on your hiking trip to Machu Picchu.
The Ideal Backpack for Hiking Machu Picchu
With the porters taking care of the heavy and bulky items, you can get away with using a much lighter, smaller backpack than on your average backpacking trip. In general, I'd say go with your standard, functional hiking daypack.
However, since this is a once in a lifetime trip, you might want to treat yourself to a new backpack just for the occasion, or you may want a little more information on what I found to be particularly useful on my trip. So here's the lowdown.
Capacity
You will be fine with a 20-35 liter day pack for this trip. Resist the temptation to go any bigger and increase your just-in-case list.
You literally only need a day pack, trust me, with the long distances and a bit of altitude, you really don't want to be carrying any more than this or you'll risk making your journey less pleasurable.
As mentioned, the porters carry the bulk of your gear, and that isn't optional. It's not often you get to be on such a spectacular trek with just a daypack on your back, so make the most of it!
Weight
Ideally, you want an average daypack, especially as you won't need to be carrying any bulky or heavy items.
However, don't sacrifice comfort for the sake of a little extra weight. A durable, more solid bag with good padding is a better choice than a very minimalist low weight option for this trip.
You also have a limit on your pack, it can weigh no more than 10 kg including contents, and yes, they are weighed by the officials before you set out.
Comfort
This goes without saying but make sure that your backpack fits well and is comfortable. This includes checking that the straps are well padded and adjusted to your height and build.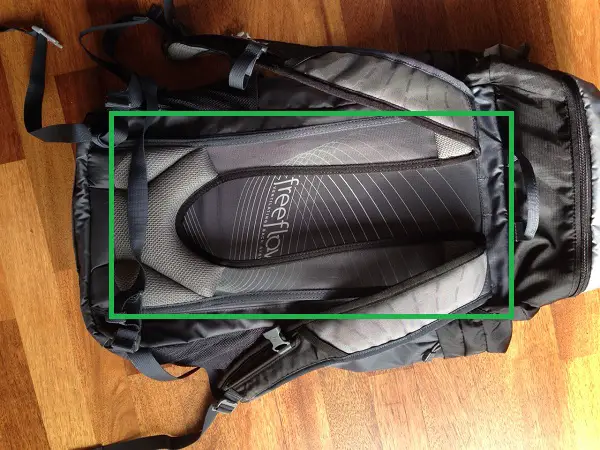 If you're purchasing a new backpack for the occasion be sure to use it several times before traveling to ensure you're comfortable while carrying it.
As Machu Picchu can have a very humid climate, even out of rainy season, any backpacks featuring mesh back panels which improve air flow between your back and your backpack are an excellent choice. Which brings us nicely to our next essential feature, a rain cover.
Rain cover
If your backpack is not 100% waterproof then you're going to need a rain cover. Usually, I am quite cynical about the effectiveness of rain covers with packs, but sometimes, every little helps.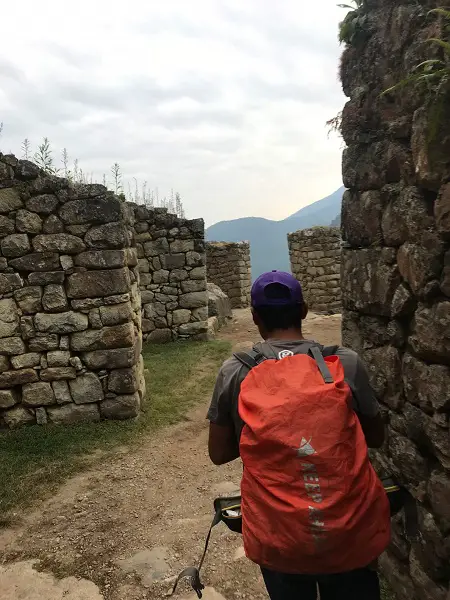 With the high humidity and rainforest climate, waterproof protection is a must, even if you're hike is planned during the dry season. Due to the micro-climates in this highly mountainous area, rain can and does fall at anytime of the year.
Hydration Bladder Sleeve
The warm, humid conditions, combined with steep ascents make hiking Machu Picchu extremely thirsty work.
When humidity is high you need to drink more to stay hydrated, this makes a hydration bladder an ideal choice for this hike. So it makes sense to go for a backpack with a hydration bladder sleeve.
Pockets
As you'll be mainly be carrying things you'll need easy access to on the trail, such as waterproofs, bug spray (get 50% DEET), camera and snacks, it makes sense to go for a backpack that has plenty of pockets.
With the majority of very bulky items excluded from your backpack, you might find a daypack with more sections and compartments, as well as plenty of pockets, more useful. Rather than having your more valuable and fragile items bumping around.
It's also important to check that you've got some decent security pockets, either within the pack itself or on your hipbelt, so you can keep your valuables safe without having to worry.
I also recommend a large mesh pocket that's useful for carrying any damp or dirty items you don't want to put in with the rest of your gear. Extendible mesh side pockets can also be useful for reaching water bottles on the go, if you don't have a hydration bladder.
Conclusion
After my personal experience, I can tell you that the best backpack for hiking Machu Picchu is in fact a regular daypack suitable for hiking.
While it may initially feel a little like cheating, anything bigger will be far too much, and you'll definitely appreciate the freedom of hiking through the magnificent scenery with just a light daypack.
So, keep things simple and make the very most of this spectacular, once in a lifetime hike to one of the new seven wonders of the world.