There's no more important piece of kit than a man's hiking boots, so today I want to review the Asolo FSN 95 Hiking Boots for men. This is a nice and functional boot at a very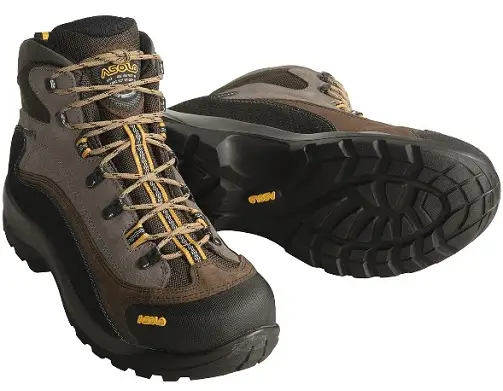 reasonable price.
I think this could be a good choice for the weekend day hiker. So without further ado, let's take a deeper look into this popular boot for the trail!
Summary

Average Customer Rating: 4.5 stars out of 5 (a staggering 2700+ reviews!)
Available Colors: Cendre / Dark Brown, Corteccia / Camel
Where to Buy: Sierra Trading Post
Review
Winner of Backpacker Magazine's Best Backpacking Boot award, the Asolo FSN Gore-Tex® hiking boots are a practical, functional, comfortable and popular pair of hiking boots.
With the versatility to be used for day hiking or backpacking, these boots not only look the part but they also have solid technical credentials to ensure you have a comfortable hike on any trail over nearly any terrain.
A waterproof breathable Gore-Tex membrane ensures any external moisture like rain or water is kept out while at the same time sweat and moisture inside the boot can wick away from your feet. In short, they keep your feet dry and comfortable.
The gusseted tongue keeps water and debris out of your boot while the protective toe rand provides added protection to your feet from hazards on the trail.
The rubber Asobrake traction outsole keeps a firm grip on the trail whatever the terrain, going up or down. The insole is removable and is perforated to increase air circulation.  At 3 lb. 2 oz. these boots are a good weight for the serious backpacker too. It's hard to find fault with these boots!
From reviewing multiple customer experiences with these boots, it is safe to say that the majority of folks are very satisfied. These hiking boots have a staggering 2500+ customer reviews with an overall average score of 4.5 out 5 stars! That is simply phenomenal scoring so you can be assured that you are buying verifiable quality when you purchase this boot.
Pros:
Waterproof, Gore-Tex breathable membrane keeps your feet dry, cool and comfortable for the trail in challenging weather.
Boots can be worn all year round (except in extreme temperatures).
Good price for the quality.
Solid but comfortable with firm ankle support.
Cons:
A significant breaking in period may be needed. No biggy!
Specs (at a glance):
Non-Insulated,Waterproof (All),Waterproof (Gore-Tex®)
Waterproof materials: Gore-Tex® waterproof breathable membrane
Gusseted tongue
Upper: Suede and synthetic
Lining: Gore-Tex® liningRemovable insole
Midsole: Polyurethane
Outsole: Rubbermac rubber
Height: 5″
Weight (pair): 3 lb. 2 oz.

Conclusion
As I mentioned at the start of this post, the Asolo FSN 95 is a perfect boot for the weekend day hiker and will suit most of the year round, depending where you're hiking of course.
I mention it above but it's worth mentioning again, to have that many positive reviews and maintain a very high average customer rating can only speak volumes about the quality of this boot. Basically, there are a lot of satisfied customers out there.
If you're in the market for a new hiking boot, the Asolo FSN 95 should be on your review list. If they don't float your boat, check out these recommended hiking boots, you should find something to meet your needs there.
Have you used the Asolo FSN 95? What was your experience with it? I'd love to hear about it in the comments below.