Today I wanted to do a quick post on a really great tip on what I think is the best way to carry drinking water while hiking. OK, it seems pretty obvious, get a bottle, fill it up and you're good to go.
Well, yes. That is true and that is what I use on my hikes. Or rather, that is part of my water carrying method when I'm out hiking. If I was to say what the best way to carry water while hiking was though, there is definitely a bit more to it.
Water Bottles
Now, as I said above, I love the trusty water bottle and I use it on my hikes. However, I use it to carry surplus water. Before going into that in more detail, I want to have a look at some of the pro's and cons of a water bottle.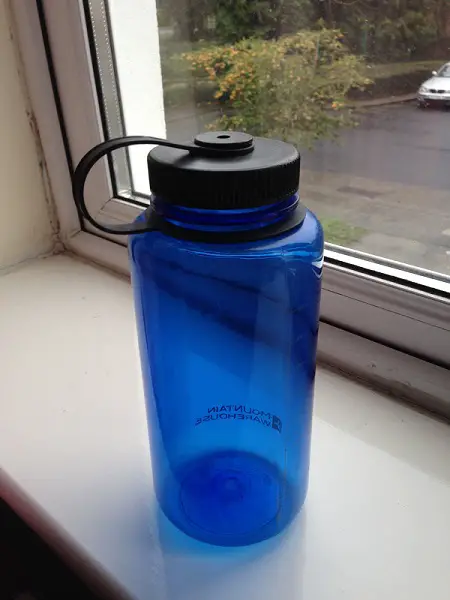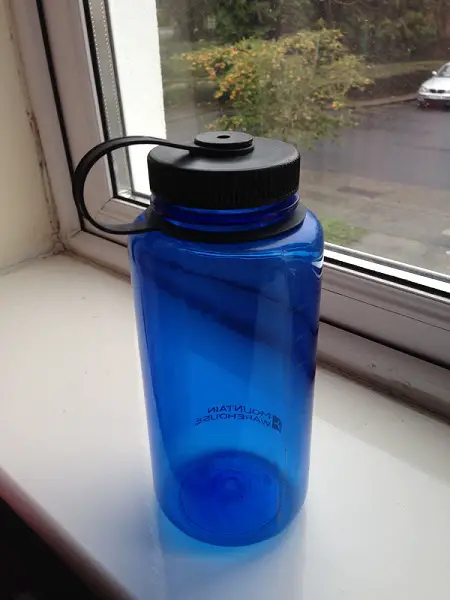 Pros:
It's easy to get one. You can buy a refillable water bottle in any outdoor shop and you probably already have one lying about the house. Failing that, just walk into your local store and buy a plastic bottle of water. Does the job just fine!
If it's in your pack, it shouldn't freeze in very cold weather so definitely a winner on that front.
Cons:
You have to stop to drink from it. That is, stop, take your pack off, get your bottle, drink from it and then put it back etc.
What Else can you Do?
Well, one of the best way to drink water on the move is to use a hydration reservoir or bladder. If you're new to hiking and the outdoors, you may never have heard of one of these before.
I won't go into detail explaining what a hydration reservoir is, see link above, but in brief, it's effectively a bag you carry your water in, that is purpose built to enable you to easily access water while on the move. The bag has a tube that leads out of the bag through your pack and out in front of you. When you're thirsty, you just grab the top of the tube and drink. Easy peasy!
Now, if you just buy a hydration reservoir, you will need a day pack that has what's called a 'hydration sleeve' in it. What on earth is that? Well, a hydration sleeve is simply a purpose built sleeve in your pack in which your hydration reservoir fits neatly into. You can see mine highlighted below, hopefully you can make it out. It can be found on the inside back wall of your pack.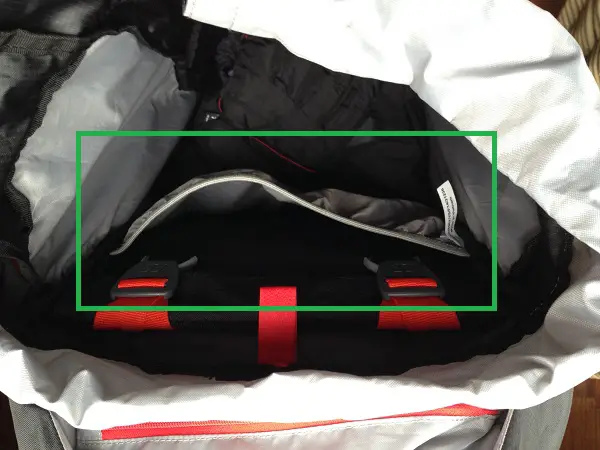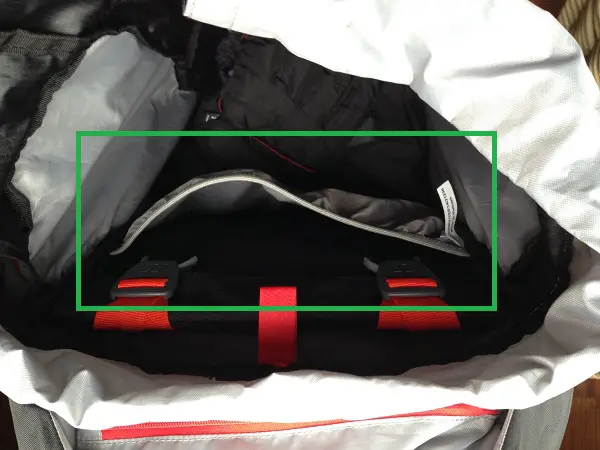 Any good modern pack will have one of these has standard as well as a drinking tube exit hole and holder. Again, not to go into too much detail on those but in brief, a drinking tube exit hole is a little hole where the tube can leave your pack and slide through to the front, see below…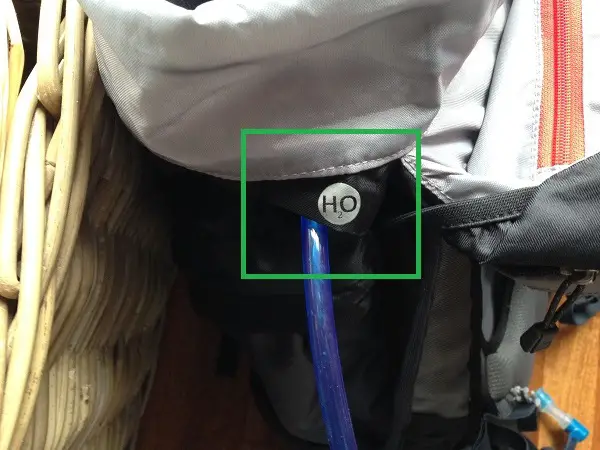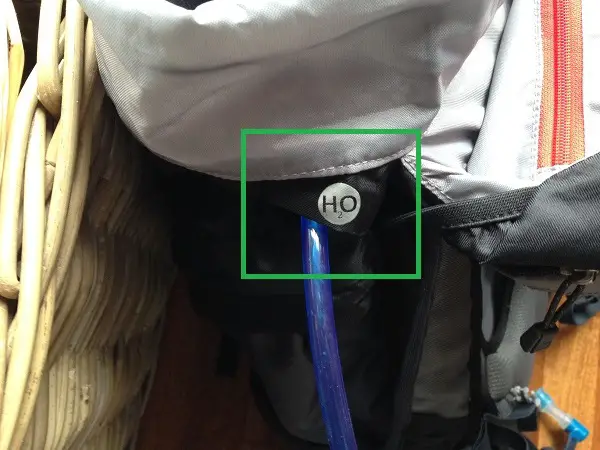 The drinking tube holder, is a little loop or catch on the lapel of your pack that the drinking tube then slides into, holding it in place. This ensures your drinking tube sits right in front of you where it's easily accessible.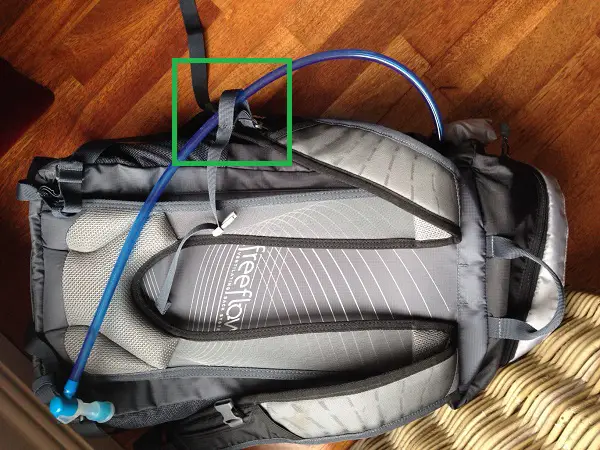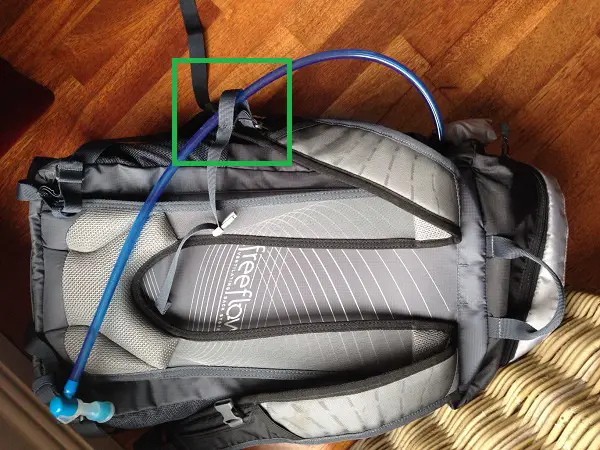 What's so Great About a Hydration Reservoir?
Well, first and foremost you don't need to stop when you need to take a drink. I find this very useful when hiking with a group. I can often get thirsty while hiking and if I didn't have the hydration bladder with me, I'd have to stop to get my pack off to get at my water.
Now, some of the folks I hike with, hike fast so if you stopped every time you wanted a drink of water, you would always be losing ground to the group which would just be a pain for me and for them.
Now, hydration packs have their downsides too. If you're going to hike in very cold weather sub-zero temperatures, the drinking tube can quite possibly freeze. On the other side of the coin, hiking in very hot deserts will also bring it's own set of problems using a standard hydration pack / reservoir. So, they're not always ideal for every environment and climate.
Now, I should add that you can of course get insulated hydration packs too for tougher conditions, and so your water freezing or heating up, shouldn't be a problem with one of those. Hydration packs can also run the risk of bursting in your bag, but that is a rare enough occurrence in my experience. Overall, the standard hydration reservoir should suit most hikers most of the year round.
Also, you need to keep your hydration pack clean, especially if you carry anything other than water in it. I mention this as it can be a bit trickier to clean than a standard water bottle. I only use mine for water though so it's a non issue for me really.
Conclusion
So, in conclusion, I think the best way to carry drinking water while hiking is to first use a hydration reservoir / bladder. This will provide easy access to two or three liters of water while on the move. If you want guidance on how to buy a hydration pack, read this post.
Remember, that to really utilize a water reservoir efficiently, you need to have a pack that has a hydration sleeve and drinking tube hole and holder built into it.
If you're going out on a longer hike on a hot day or if, like me, you're a particularly thirsty hiker, back your hydration supply up with water bottles. You can use them to top up your bladder as you progress.
What do you think? Is this the best way to carry water hiking? I'd love to hear what you think in the comments below.